MLB Award Winners at the Quarter Mark of the 2012 Season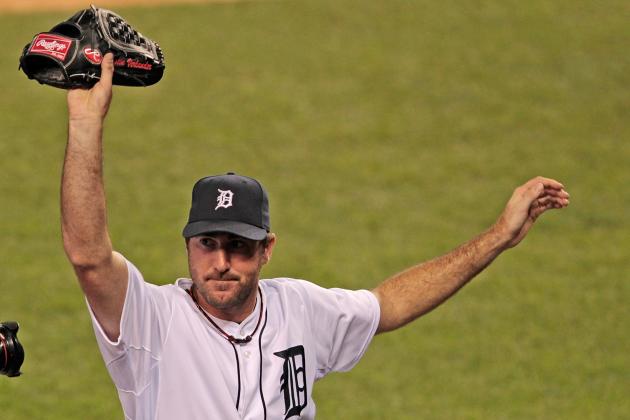 Leon Halip/Getty Images
Justin Verlander - 2011 AL Cy Young Winner
As we reach the quarter mark of the 2012 MLB season, it's fun to reflect upon what we've already witnessed and hand out mock awards to see one of two things: First, did last year's award winners continue their pace from 2011, and second, can players who've performed well so far continue the pace for the rest of the season.
As always, picks are open to debate.
Begin Slideshow

»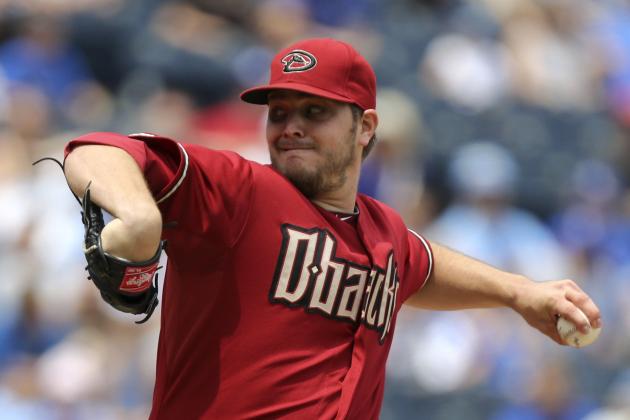 Ed Zurga/Getty Images
Wade Miley
Wade Miley pitched 40 innings in 2011, which means that he still has rookie eligibility for 2012.
In 2011, Miley went 4-2, with an ERA of 4.50 in eight games. This season, he's continued to show promise by going 5-1 so far, with an ERA of 2.14. He has twice as many Ks as BBs and opponents are hitting .233 against him, his lowest average as a pro. Two of his wins have been against divisional rivals, and his lone loss came against St. Louis where he gave up three runs in 5.2 innings. He's also hitting .375 this season.
Runner up: Yonder Alonso, SD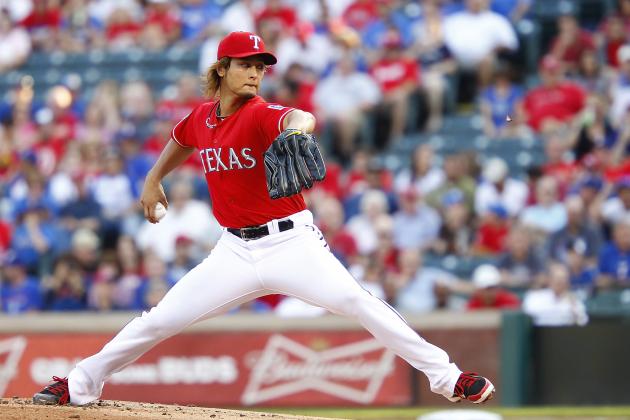 Rick Yeatts/Getty Images
Yu Darvish
Yu Darvish has to be considered a shoo-in for AL ROY if he continues the pace he's established thus far. He's 6-1, has an ERA of 2.60 and is in the top 10 in wins, ERA, and Ks. He hasn't quite proven that he's worth all of the money that Texas spent on him, and only time will tell on that. But so far, he's lived up to the hype that he brought over from Japan.
Runner up: Mike Trout, LAA
Kevin C. Cox/Getty Images
Brandon Beachy
It's very hard to ignore the seasons that Cole Hamels, Ted Lilly, Lance Lynn and Clayton Kershaw have been having.
However, some of Brandon Beachy's numbers are downright nasty: 12 runs allowed, a 1.33 ERA, a WHIP under 0.90, an OBA of less than .180 and only a single HR allowed this season. It's only Beachy's second full season and he has definitely been a pleasant surprise for Fredi Gonzalez's Braves club. Not bad for a guy who had less than 100 games of professional experience entering this season.
Runner up: Lance Lynn, STL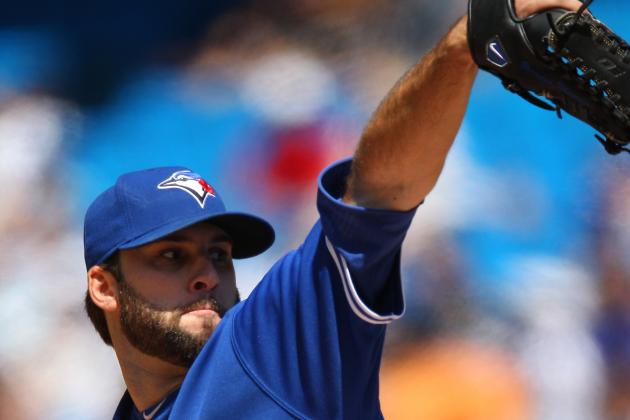 Tom Szczerbowski/Getty Images
Brandon Morrow
In the AL, as of May 21, there were 14 pitchers that had either five or six wins, representing 11 different clubs. Hmm, tough to choose.
So, I'm going to predict a pitcher that currently has five wins, is one of four pitchers to have a WHIP of less than 1.00, is top 10 in Ks and IP, top five in ERA and OBA and leads the league in CGs and shutouts. Those are pretty good numbers to date, so Brandon Morrow is my prediction for AL Cy Young.
Runner up: Justin Verlander, DET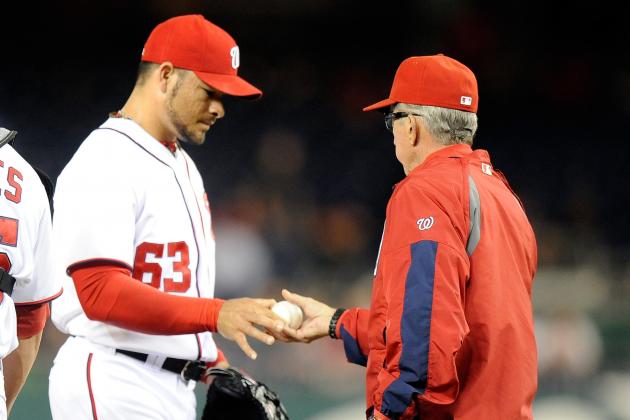 Greg Fiume/Getty Images
Davey Johnson
Is it miraculous what Davey Johnson's done so far in DC? He's got a bunch of inexperienced players playing like their seasoned pros. His LF, Jayson Werth, is on the DL, his closer, Drew Storen, is on the DL (their current stopper isn't even the best Henry Rodriguez the organization's ever had—remember the chocolate bars in Montreal?) and every team in the division is .500 or better.
Washington currently holds one of the Wild Card spots in the NL, and if they do manage to qualify for the postseason for the first time since 1981, Johnson will certainly receive some votes for Manager of the Year.
Runner up: Don Mattingly, LA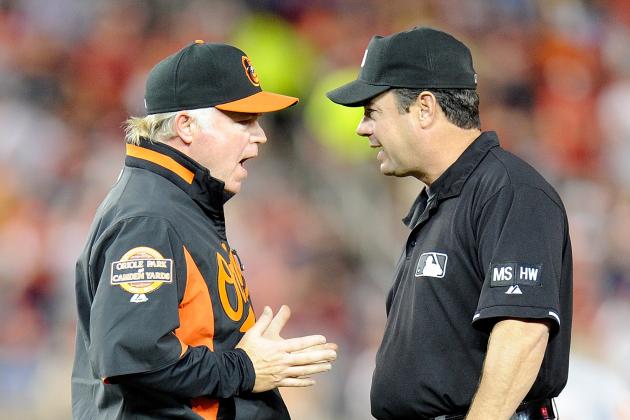 Greg Fiume/Getty Images
Buck Showalter
Umpire: No Buck, you're not in first place.
Buck: Yes we are! Check the standings!
Umpire: You're better than the Yankees right now?
Buck: By almost a week!
Umpire: Boston?
Buck: Even more!
Umpire: What about the other birds?
Buck: We're 5-1 against 'em.
Umpire: You can't be better than Tampa?
Buck: We're two games ahead of them and have won two of three against them so far.
Umpire: Alright, but I'm still ejecting you!
If this keeps up, Showalter should win MOY by a landslide.
Runner up: Manny Acta, CLE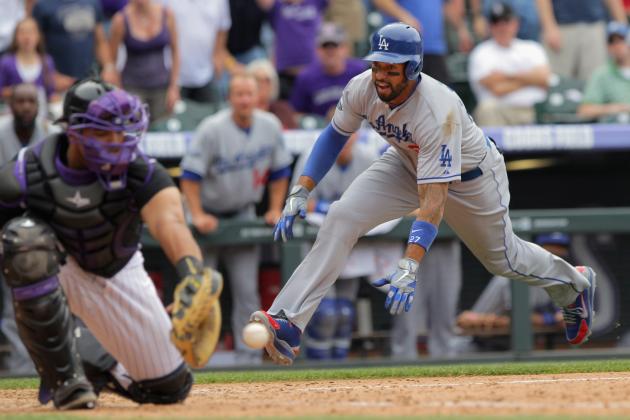 Doug Pensinger/Getty Images
Matt Kemp
Many people are probably still thinking that Kemp should have won the MVP award in 2011. However, the past is in the past and Kemp is responding in the best way possible: by continuing to put up MVP quality numbers.
He's top five in HRs, AVG, OBP, SLG, OPS and runs scored. He's also top ten in RBI and XBH. He's not quite on pace to be baseball's first 50-50 man, but saying his name and Triple Crown in the same sentence isn't too far-fetched.
Runner up: David Wright, NYM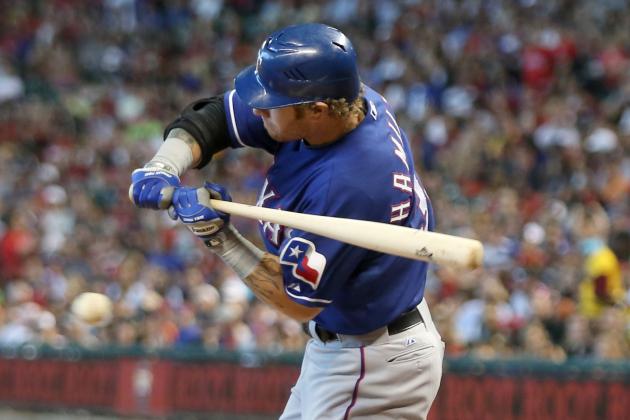 Thomas B. Shea/Getty Images
Josh Hamilton
If this keeps up, Josh Hamilton's going to have a season to remember.
He's first in HR, AVG, RBI, SLG, OPS, IBB, SF and TB. He's second in XBH, R, H and OBP.
He's on pace to win the Triple Crown and with ridiculous numbers. With 18 HRs and 47 RBI over 39 games, it puts him on pace for 73 HRs and 190 RBI (simple calculations: 18/39 x 158 and 47/39 x 158, he's missed 3 games this year already).
The single-season records for both categories are 73 and 191. He's still hitting .389, so hypothetically, Josh Hamilton could win the Triple Crown, and in the process set or tie the single season HR record, RBI record and hit over .400.
Runner up: Derek Jeter, NYY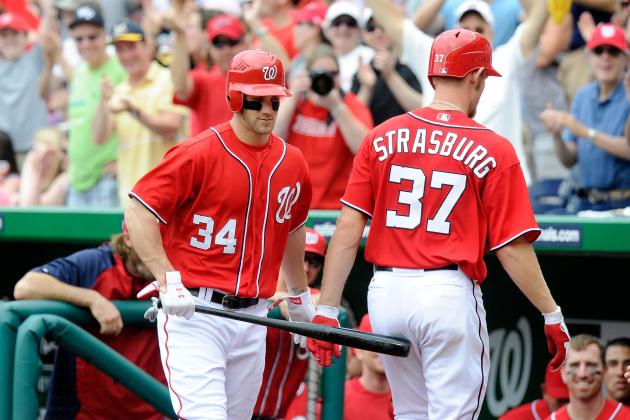 Greg Fiume/Getty Images
New faces for update?
I'm curious for feedback from others. Some of my predictions may be out to lunch, some may be bang on. If you don't like my picks, justify yours, it could make for some great discussion.
I'll update these predictions at the halfway mark of the season. Thanks for reading.