NBA Draft 2012: The Overrated and Underrated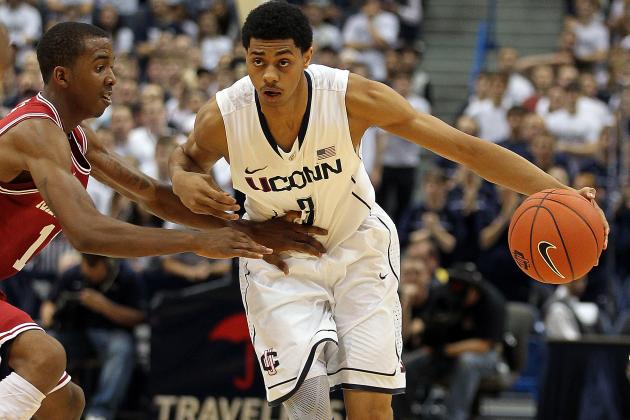 Jim Rogash/Getty Images

The NBA Draft is like Christmas. What does that mean, exactly? Fair question.
Christmas is one of those things that is always better in principle than in reality. The build-up, the excitement, the mysteries - all those things that make Christmas time so enjoyable far outweigh the actual experience of Christmas Day itself.
The NBA draft is the same way. The months leading up to the draft, when players see their draft stock inexplicably rise or plummet based on a few workouts or shuttle runs, always prove to be more exciting than the actual draft itself.
The most exciting pre-draft activities are the endless projections and mock drafts. Pundits and talking heads everywhere pretend to have some inside analysis that makes their predictions more plausible.
Like those pundits, I have my opinions on who the best and worst prospects are.
Unlike the pundits, however, I will not pretend my analysis is more expertly conceived than everyone else.
I watch a ton of college basketball and a fair amount of NBA games. That's really the basis of my insight.
These predictions are based upon what I saw players do on the court. They are not based on how long someone's arms are, or what the player could possibly achieve if placed in the perfect situation with the perfect coach, perfect system, perfect offense, perfect point guard, perfect diet, perfect strength coach etc.
That being said, here are the players I see as the best and worst prospects in the 2012 NBA Draft.
Begin Slideshow

»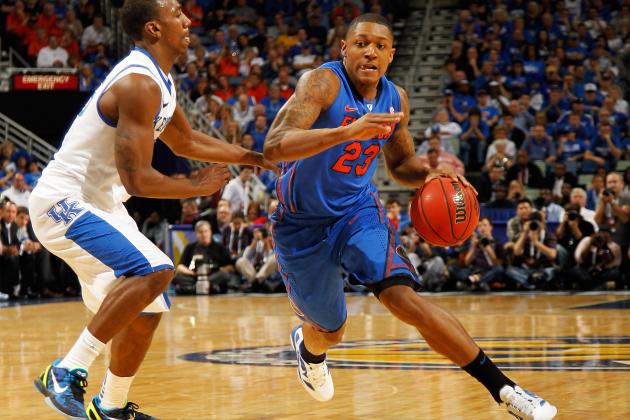 Chris Graythen/Getty Images

Watching Beal play, it quickly became evident that he was too good for the level he was playing at.
His stats weren't overly impressive - 15 points and 5 rebounds per game, 45 percent shooting- but that can be misleading for college players. Case in point: Chris Paul averaged 15 points and six assists per game at Wake Forest, and is now on his way to challenging Magic Johnson as the greatest point guard in NBA history.
Beal has the athleticism and shooting ability to be a top-tier NBA shooting guard, and shouldn't fall lower than the third pick- most likely after Anthony Davis and Michael Kidd-Gilchrist.
Personally, I would take Beal over MKG but I have yet to receive any calls from NBA General Managers soliciting my counsel.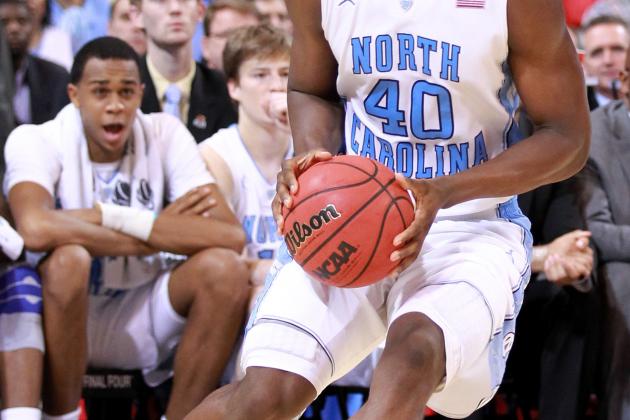 Andy Lyons/Getty Images

Barnes arrived in Chapel Hill as one of the most highly touted recruits of the past decade.
In his two seasons at UNC, I can't recall seeing anything that convinced me he was the type of player that would excel at the next level.
Barnes was selected as a pre-season First Team All-American before his freshman and sophomore seasons, but failed to make the post-season list both years.
His numbers were solid -15 points, 5.5 rebounds per game- but what I remember from Barnes was a steady diet of pull-up jumpers and fade-aways. A player with his size and athleticism should have abused the smaller defenders he faced in college and lived at the rim and foul line.
Barnes showed his inability to create his own shot when Kendall Marshall went down in the NCAA Tournament, shooting 8-30 in the two games Marshall missed. Yikes.
The NBA is a game of isolations and pick-and-rolls, both of which require playmaking abilities. If Barnes can't make plays vs Ohio University, what will he do against Kobe and Durant?
I wouldn't touch Barnes if I was a GM. Smells like busto from miles away.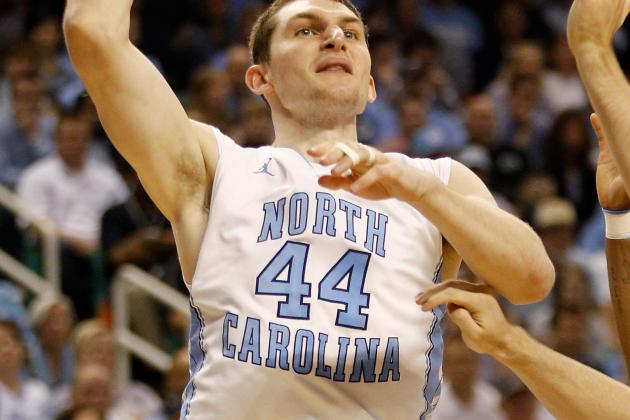 Streeter Lecka/Getty Images

After the first few picks, the NBA Draft is all about value. That means finding the best available player for your given spot in the draft order. Sounds simple, but it's astonishing how many teams screw this up.
This year, no player offers more value for their projected draft slot than Tyler Zeller.
Zeller is a skilled post scorer, capable of finishing with either hand and he runs the floor as good as any seven-footer in recent memory.
In each of his four seasons at UNC, Zeller improved in every statistical category, finishing with a 16/10 and 55 percent shooting on a loaded team his senior year.
Zeller is currently projected to go in the 12 to 15 range, which is a steal for whoever lands him that late.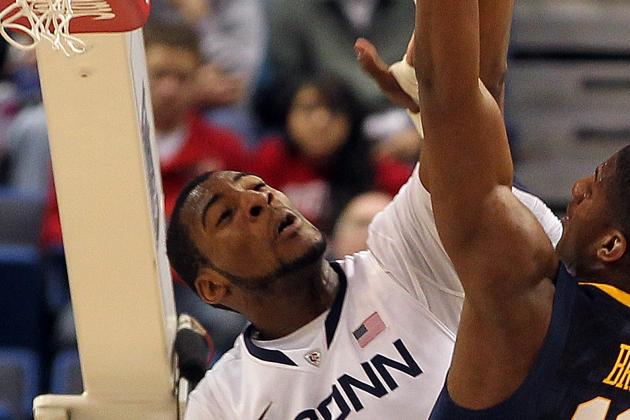 Jim Rogash/Getty Images

As a lifelong UConn fan, this comes from a place of love: Andre Drummond is a terrible basketball player.
Don't be confused by his solid numbers. Drummond is awful.
I know the arguments, heck I used to make them - he's only 18 years old, he's dripping with potential, his athleticism is out of this world, etc etc. That may all be true. But none of it is enough to warrant selecting Drummond over a plethora of more skilled yet slightly less potential-laden prospects.
Drummond has zero basketball IQ and instincts. He has zero offensive skills. He has zero understanding of how to play defense. He shies away from contact. As of right now, Drummond's skill set consists entirely of jumping ability. Is that really something you want to wager the next 3-4 years of your franchise on?
Best case scenario, after a few seasons Drummond evolves into a Stromile Swift type player (that's best case, mind you); someone who will score a few points and block a couple shots per game while frustrating everyone around him every time he shows a glimpse of his world-class athletic abilities. Worst case? He remains the player he is now: a guy who, unless he is catching an alley-oop, is a liability on both ends of the floor.
As much as I hate to admit it, Drummond is a guaranteed bust.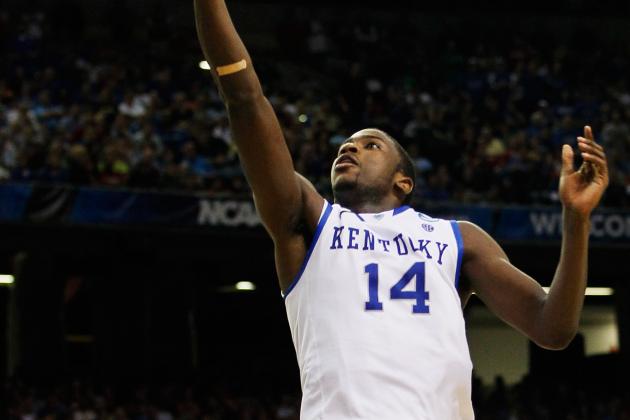 Kevin C. Cox/Getty Images

Michael Kidd-Gilchrist is the perfect example of a player who sacrificed personal glory for team success. His modest statistics don't begin to accurately describe the talent MKG has. Had he chosen to play for a team that didn't start five NBA first round picks, MKG would have had an All-American type season.
Gilchrist's size and ability to attack the rim make him a top prospect in this year's draft. The knock on MKG is his inconsistent jumper, which is fair, but I don't see him as the type of player that will rely on jumpers in the NBA, anyway.
Grant Hill was an NBA superstar his first few years in the league while possessing a mediocre jumpshot. What made Hill so effective was the way he scored on penetration and transition - much like MKG.
No one expects Gilchrist to fall lower than the fourth pick, and I expect him to go second. I don't see anyone other than Bradley Beal and fellow Big Blue teammate Anthony Davis as a more solid pick than MKG.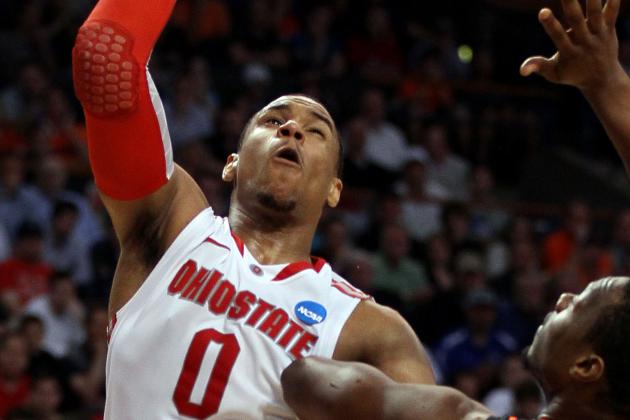 Elsa/Getty Images

What Sullinger lacks in height he makes up for in out-of-shapeness.
Sully's go-to move is a sort of lower-the-shoulder baby hook, which worked great against the Northwesterns and Penn States of the world, but I'm confident to say that move will not be as effective in The Association.
Sullinger plays below the rim. This isn't necessarily a bad thing in itself, but it is for someone without the footwork and post-moves to make up for that lack of athleticism.
The most common comparison I've heard for Sullinger is Elton Brand. I would be shocked to see Sullinger enjoy that level of success in the NBA. Brand was unstoppable in college. He had an arsenal of low-post moves and seemed to have more strength to move defenders off the block and establish position deep in the post.
I watched Sullinger struggle to get shots off against bigger defenders in college. This problem will only be magnified once he sees the Serge Ibakas and Kevin Garnetts at the next level.
Sullinger will be a role-player/second unit type guy on an NBA roster. If he ends up as the next Elton Brand or Zach Randolph, full refund for this article.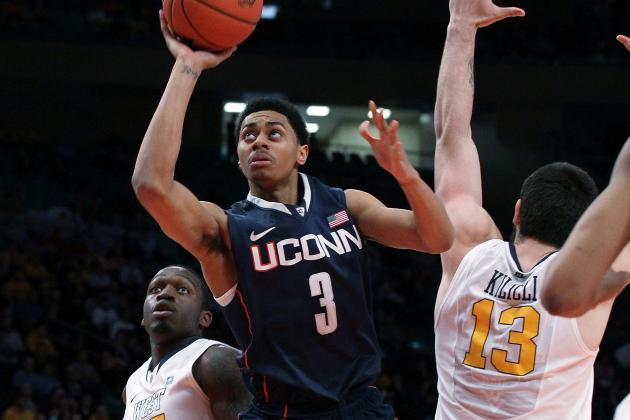 Jim McIsaac/Getty Images

Lamb is projected to go anywhere from 7th to 17th.
He has the talent to justify going seventh or higher, but his laid back style and tendency to drift through stretches of games are concerns that NBA scouts are well aware of.
Lamb has the athleticism and shooting ability to compete immediately for a starting spot on an NBA roster. He should develop into an above average 2-guard and has the potential to reach all-star caliber.
If Lamb drops into the late teens, he is a steal for whichever team grabs him.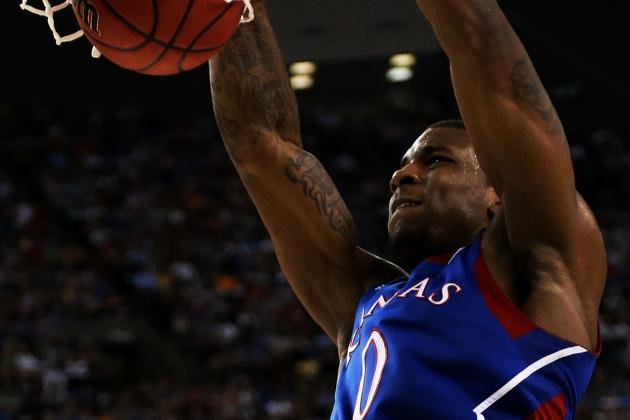 Ronald Martinez/Getty Images

Labeling Robinson as a bust is based solely on the projection that he will go in the top three to four picks.
I loved Robinson's game and work ethic at Kansas. He improved each season at KU, capping off his career with a First Team All-American selection.
The problem is Robinson's effectiveness in college was more the result of his strength and hustle, not footwork and post-moves.
Once he's facing the biggest and strongest players in the world, Robinson's lack of a refined post game will prevent him from living up to the expectations of a top five pick.
Rob Carr/Getty Images

Let me explain - This is by no means a prediction that Henry Sims will become a top-tier NBA center. The idea of Sims being a "sleeper" is based on the fact that he will most likely go in the mid to late second round.
Much like Greg Monroe and Roy Hibbert before him, Sims continued the trend of highly skilled Georgetown big men with the ability to play inside-out.
Sims ability to play the high post and hit the mid-range jumper is ideal for today's pick-and-roll and pick-and-pop NBA style of play.
I think Sims will be a solid contributor on an NBA roster, thus making him a steal in the late second round.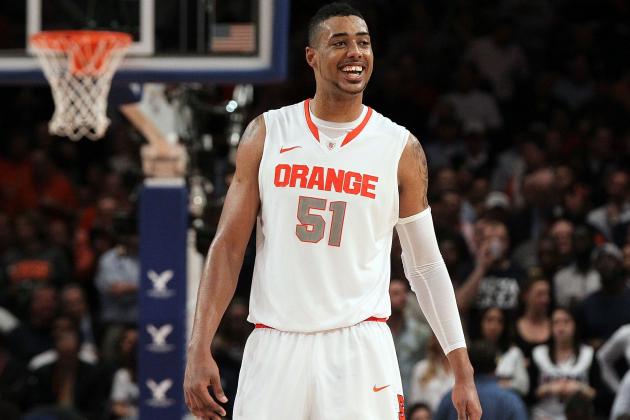 Jim McIsaac/Getty Images

Melo is expected to go in the first round, which puts him squarely in the potential-bust category.
While Melo developed into a solid defender and shot blocker in the middle of the Syracuse zone, he lacks any offensive skills and was a head case throughout his two seasons with the Orange.
Melo is just beginning to understand how to play, and as a first round selection he will not be given much of a learning curve.
Playing the middle of a 2-3 zone is much different than guarding NBA centers straight up. Melo's best case would be to land with a team that won't need his contributions right away, giving him a couple years to learn the game at a higher level.