L.A. Lakers vs. Oklahoma City Thunder Game 5: Live Score, Analysis and Reaction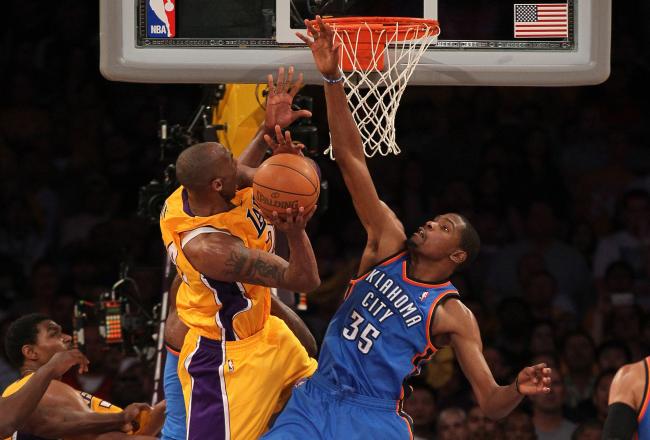 Stephen Dunn/Getty Images
The Oklahoma City Thunder eliminated the Los Angeles Lakers from the NBA playoffs with a 106-90 win Monday night in OKC. They move on to face the San Antonio Spurs in the Western Conference Finals.
Scroll down for updates from throughout Monday's game.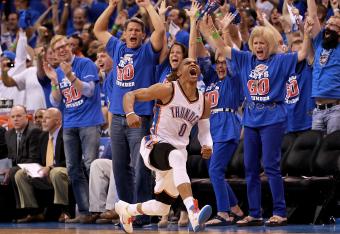 Player of the Game
Russell Westbrook—28 points and one ridiculously exciting circus shot
FINAL SCORE
Oklahoma City Thunder 106 L.A. Lakers 90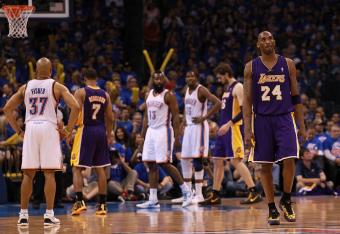 Kobe Bryant gets his 42nd point of the night, but without any help from the rest of his team, it's not even close to being enough.
THUNDER 104 LAKERS 88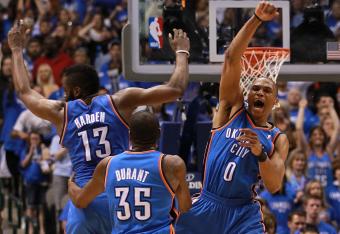 Just remember—The OKC Thunder drafted the following players—Kevin Durant, Russell Westbrook, James Harden AND Serge Ibaka
THUNDER 103 LAKERS 86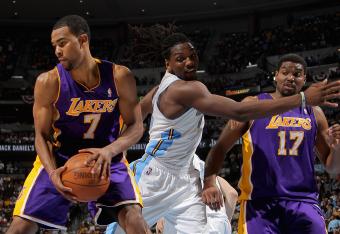 Who's more likely to not be wearing a Lakers jersey next year?
Andrew Bynum or Ramon Sessions?
THUNDER 103 LAKERS 86
Can't wait to see what Westbrook wears at the presser...

— Bleacher Report (@BleacherReport) May 22, 2012
The difference between LeBron's 40-point performance and Kobe's 40-point night?
LeBron helped his team win and did it on just 27 shots.
Kobe didn't get much help from his squad, and he did it on 31 shots (So far).
THUNDER 101 LAKERS 86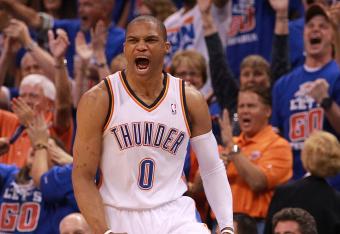 Russell Westbrook gives the Thunder their 100th point of the night. Ridiculous performance again by Westbrook.
THUNDER 101 LAKERS 86
Pau Gasol with an offensive goaltending call that will most likely get him some heat from the Black Mamba.
There's still a chance the Lakers could come back ... But let's talk about how amazing this Spurs vs. Thunder Western Conference Finals will be. Greatest Ever?
THUNDER 99 LAKERS 86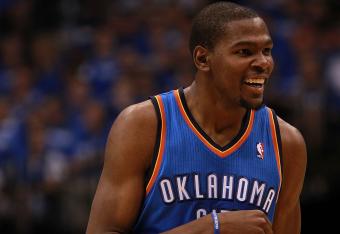 Kevin Durant with a ridiculous jumper. 25th point of the night for the Durantula.
THUNDER 99 LAKERS 84
Bench scoring: OKC 32, Lakers 3
— J.A. Adande (@jadande) May 22, 2012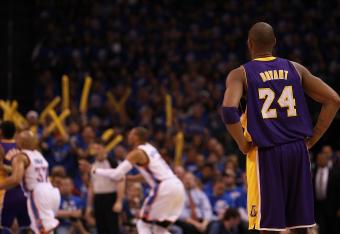 Make that Kobe's 5th slam of the night. 38th point of the night for the Black Mamba.
Quite an impressive performance by Kobe tonight. It's a shame that it looks like it will be too little, too late.
THUNDER 97 LAKERS 84
Let's just say the Lakers lose this one. Who's the most likely to go this offseason?
Mike Brown
Ramon Sessions
Andrew Bynum
Pau Gasol
Nick Collison with another offensive board and put-back. 13th offensive rebound for the Thunder.
Kobe hits a mid-range jumper and puts up his 36th point of the night.
THUNDER 95 LAKERS 82
Metta World Peace hasn't missed a shot all game (4-4 for 11 points), maybe he should shoot some more.
THUNDER 93 LAKERS 79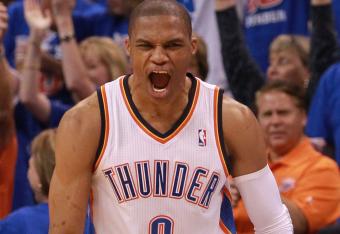 Westbrook with a beautiful finger-roll as the Thunder extend their lead to 16 points.
The Lakers are going to have to put together the quarter of the century if they want to win this one.
THUNDER 93 LAKERS 77
I know Kobe's one of the all-time greats, but a 14-point lead is going to be difficult to overcome.
THUNDER 91 LAKERS 77
Ramon Sessions picks up his 4th personal foul, and is putting together one of the worst games of his career, with 4 personal fouls, 5 turnovers on 1-6 shooting.
THUNDER 91 LAKERS 77
DURANT hits a HUGE three-ball.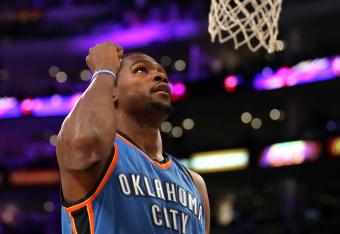 Seriously though, can you tell me why Mike Brown doesn't have Kobe on the court.
This could be the most bonehead coaching move of the season, and that's saying a lot because Erik Spoelstra is still coaching.
THUNDER 88 LAKERS 77—Via a Durant three-ball.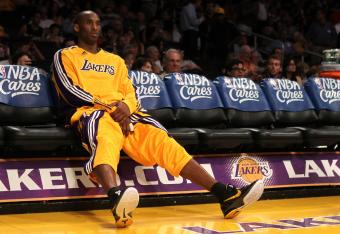 4th quarter is underway. Is it time for the Black Mamba to pass the torch to Durant, Westbrook and Harden?
Kobe's on the bench to start the 4th. If I was Kobe, I wouldn't be letting that fly. No, No, No.
THUNDER 85 LAKERS 77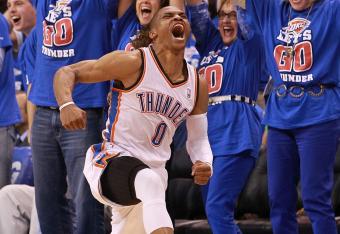 The OKC Thunder close out the 3rd quarter on a 17-7 run. Mainly on the shoulders of Russell Westbrook.
Is anyone going to come up with a nickname for this kid?
THUNDER 83 LAKERS 77 through the 3rd.
RT @NBAonESPNRadio: Westbrook is taking over... Dr. Jack says "the confidence is oozing out of him... they're gonna have to mop the floor"

— The NBA on ESPN (@NBAonESPN) May 22, 2012
THUNDER 83 LAKERS 77 as we near the end of the 3rd.
Epic 3rd quarter by Russell Westbrook. Could he be the best point guard in the game?
Kobe answers with a three-ball, which is followed up with a Russell Westbrook jumper from the foul-line.
Just like Game 4, Westbrook and Bryant could very well start going back and forth in the 4th quarter.
THUNDER 82 LAKERS 76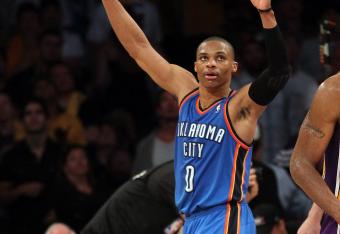 Russell Westbrook gets another chance at a three-point play, drawing a huge foul on Ramon Sessions.
Westbrook is a MONSTER. There's just no way around it.
THUNDER 80 LAKERS 73
James Harden to the basket, hitting an easy transition bucket. THE OKC crowd is rightfully on their feet here.
THUNDER 77 LAKERS 73
This article is
What is the duplicate article?
Why is this article offensive?
Where is this article plagiarized from?
Why is this article poorly edited?