NBA Playoffs 2012: Why the San Antonio Spurs Have the Best Big 3 in Playoffs
May 21, 2012

Christian Petersen/Getty Images
The Boston Celtics' was cute. The Los Angeles Lakers' is kind of nice. The Miami Heat had a ceremony for theirs, and even young Oklahoma City is getting into the act. 
But the San Antonio Spurs have the best "Big Three" in the NBA. It isn't even close. 
Tony Parker, Manu Ginobili and Tim Duncan were getting it done before "Big Threes" even existed. Now they are showing everyone else how a "Big Three" is supposed to work. 
When asked about how many titles Miami would win, LeBron James boasted that his "Big Three" would win "not one, not two, not three…."
James was right. A "Big Three" did win not one, not two, not three, but four titles. 
Except that squad wasn't in Miami. 
It was in San Antonio. 
Ginobili, Parker and Duncan hoisted the Larry O'Brien Trophy in 2003, 2005 and 2007. Duncan added another ring in 1999 before the Argentinian shooting guard and French star came to the NBA. 
The trio looks to add another title in 2012. 
But enough about history. The Spurs boast the best "Big Three" currently playing. 
San Antonio is averaging 102.5 points per game in these playoffs. That is the best in the NBA. 
Duncan isn't the flashiest player in the league, but he is one of the most efficient. Parker isn't going to throw up any insane lobs, but he is an elite point guard and anyone that says otherwise isn't a true basketball fan. Ginobili has the smoothest shot in basketball, and together they are a triumvirate that will bring home another championship.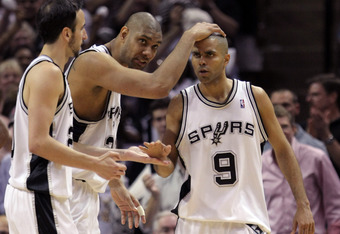 Harry How/Getty Images
I don't grade triads on how many Sports Illustrated covers they have graced or how many ESPN nerds placed that team as their preseason favorite. 
I grade triads on how many wins they rack up. No one can even touch the Spurs in that department. San Antonio's star players are destroying the star-driven NBA mentality.
It is ironic and a modern day paradox.
The NBA has turned teams into a collection of superstars and the only way to win is to have the most superstars in the league.
But that never works. Just ask New York or Miami.  
Basketball is a team game and this trio understands that. San Antonio never wanted a "Big Three." They just went out and developed the best talent they could find. 
Those different talents morphed into one great squad with a three-man core anchoring the team. 
Perhaps, sticking the "Big Three" stamp on the Spurs and packaging them for a country of star-crazed fans is a knock to their brilliance. 
But saying that anyone else in the NBA has a better trio then the San Antonio Spurs is a mammoth knock to the brilliance of Ginobili, Parker and Duncan