Big Ten Football: 2015 and 2016 Conference Schedules Released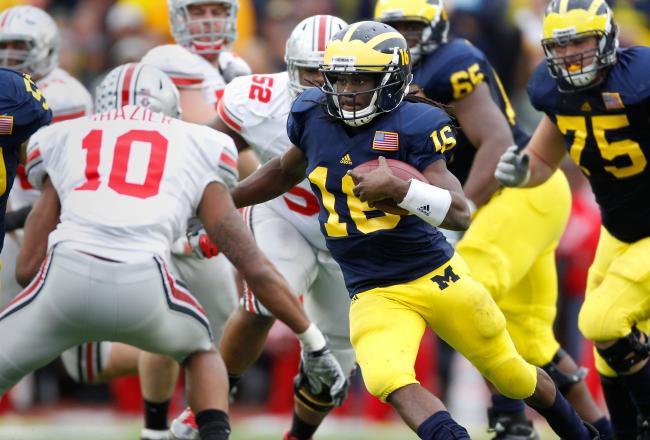 Michigan-Ohio State: the Big Ten's best rivalry, and one of many final-week highlights.
Gregory Shamus/Getty Images
The Big Ten released its conference football schedules for 2015 and 2016 on Monday morning. The announcement is here, and the link to all the conference schedules for 2013 through 2016 is here (.PDF link).
A few quick thoughts:
Nothing's unreasonable
Say what you will about the Big Ten and its sense of self, but it's not sloppy. To that end, there are no outright mistakes in this schedule; nobody's got three home or road games in a row, the bye weeks are parceled out evenly through a six-week stretch in the middle of the schedule and the closest anyone comes to an unreasonable three-week stretch is Nebraska and its Wisconsin-Michigan State-Michigan starting in Week 4 of the schedule. It's all tough but fair.
12 is fine for the Big Ten
The Big Ten had very little need to get these schedules out in May of 2012. There aren't exactly a lot of fans who were waiting to see what weekends they needed off for a road trip three or four years in advance. The message, though, is clear: the Big Ten is prepared for a long future in its current arrangement. Consider that as the rest of the FBS begins its realignment dance once again.
It's all about Thanksgiving Weekend
The last bit of interesting information on the schedule is, well, the last bit of the schedule itself. The Big Ten is preserving every single season finale matchup that was on the books for 2013-2014. Some of the games are rivalries (Michigan-Ohio State, Iowa-Nebraska, Northwestern-Illinois) and some aren't (feel the hatred of Michigan State-Minnesota! This time it's personal!), but it's clear the Big Ten intends to establish a tradition by serializing these final-week games.
That's good. College football programs that have a big end-of-year rivalry game to look forward to every season generally have it better, and fans get the added thrill of a climactic season finale instead of a last game that, aside from being colder, is basically indistinguishable from a midseason matchup.
This article is
What is the duplicate article?
Why is this article offensive?
Where is this article plagiarized from?
Why is this article poorly edited?