Why Paul Kruger Will Have a Breakout Year for the Baltimore Ravens
May 21, 2012

Rob Carr/Getty Images
Even before Baltimore Ravens linebacker Terrell Suggs tore his Achilles' tendon, the entire group of linebackers were under additional pressure this year, none more so than Paul Kruger. Now that Suggs will miss at least part of the season, Kruger's role will be even that much more important to the team.
Before Suggs' injury, Kruger was expected to take over the outside backer job once assigned to Jarret Johnson, who left for the San Diego Chargers in free agency. Kruger's move to starter would make the outside linebackers a more dynamic duo—Johnson was effective, yes, but he was primarily a run-stopper and wasn't required to rush the passer very often.
In fact, when the Ravens wanted a second pass-rushing outside backer on the field, Kruger was often used situationally in Johnson's spot. Though Kruger's playing time last season was brief (just 30.9 percent of the snaps), he did manage to net 15 total tackles, 5.5 sacks and two fumble recoveries.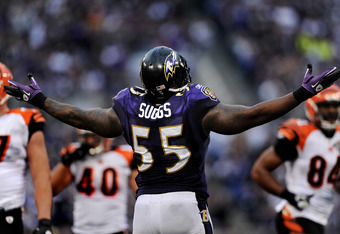 Patrick Smith/Getty Images
This year, because of Johnson's absence and Suggs' injury, Kruger will necessarily be a starting outside linebacker, giving him a chance to really impress. With his size and athleticism, as well as his talent, there's little doubt Kruger will be an impact player for the Ravens' defense this year.
Kruger will be joined at outside linebacker by one of three other players—Courtney Upshaw, Sergio Kindle or Albert McClellan—barring the team picking up a veteran free agent. Upshaw, while a rookie, seems to have the best chance of getting the starting nod, as he performed a role similar to Suggs' in his time at Alabama.
However, Kruger's veteran leadership will be indispensable for Upshaw, who is charged with the daunting task of having to learn on the job. Of the two, Kruger will have to be the more reliable player and try as best he can to compensate for the losses of Johnson and Suggs.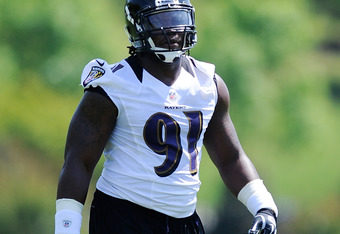 Patrick McDermott/Getty Images
Though Kruger might end up with Johnson's spot rather than Suggs', he will still focus more on the pass rush than run-stopping. Getting pressure on opposing quarterbacks is the bread-and-butter of the Ravens defense, and if Kruger's successes in doing so last season in limited action are any indication, he shouldn't have trouble with the increased workload.
It's practically impossible for the Ravens to truly replace Suggs (let alone Johnson), but the team has built up quite the defensive depth over the seasons, which includes Kruger. Though much will be asked of the fourth-year linebacker this year, he knows what his responsibilities are and he should handle them well.
So well, in fact, that Kruger will easily be one of the Ravens' breakout players this season. Kruger did a lot with a little last season; now that he'll be seeing closer to 100 percent of the defensive snaps, look for him to impress.