Projecting Bryce Harper and Stephen Strasburg's Stats for the Rest of 2012
May 21, 2012

Greg Fiume/Getty Images
Bryce Harper and Stephen Strasburg are on the scene and succeeding for the Washington Nationals.
In fact, the Nationals are currently in second place in the National League East and are looking like they'll be making a run at the playoffs this year.
With the recent injury to Cardinals' star Lance Berkman, it seems the Nationals' chances of making the playoffs have increased.
Currently, Harper is hitting .244 with two home runs and seven RBI in 21 games. He also has three doubles and two triples, showing off his speed very well.
While it's not great, it's almost expected, since he's still 19 years old and didn't have as much minor league experience as most players do before making their MLB debut.
For Strasburg, he's 4-1 with a 2.21 ERA, 64 strikeouts and a 1.019 WHIP.
Strasburg is throwing like an All-Star, going out there and trying to help his team win.
So, how do these guys finish up the year?
I think it's pretty much a given that Strasburg will be an All-Star and get some votes for the N.L. Cy Young award.
By the end of the year, I see no reason why Strasburg won't finish with 13 wins. If he wasn't on an innings limit, I'd put it closer to 17 or 18 wins.
Even with an innings limit, Strasburg is going to get around 170-180 strikeouts and keep his ERA below 2.50.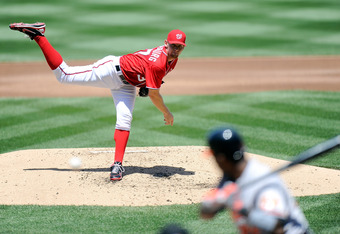 Greg Fiume/Getty Images
By the time next year rolls around, Strasburg will be a top five pitcher in the league.
For Harper, I think the rest of his season is a little more sketchy. It's still hard to get a read on what kind of MLB player he'll be.
He struggled at times in the minor leagues and is still having trouble with his consistency at the plate.
By the end of this year, I believe Harper will hover around .250 with 14 home runs and 62 RBI.
I know that's not what he was hoping for in his rookie season, but until he shows more at the plate, it's hard to predict that he'll have better stats.