NBA Playoff Schedule 2012: Biggest Matchups to Watch in Monday's Action
May 21, 2012

Stephen Dunn/Getty Images
The Philadelphia 76ers take on the Boston Celtics and the Los Angeles Lakers travel to Oklahoma City to take on the Thunder in tonight's NBA action. Both the Celtics and Lakers are coming off losses and are currently in must-win mode.
Here's a look at the biggest matchups in each game of tonight's action. 
Kobe vs. Thunder in Fourth quarter
The Los Angeles Lakers are on the brink of elimination, down 3-1 to the Oklahoma City Thunder. Kobe has had some monster games during the series, but he has struggled during the fourth quarter. The Lakers have blown two leads in the fourth quarter, and Kobe's struggles have been a major reason why. 
Kobe went 2-of- 7 in the fourth quarter of Game 2, which was exacerbated by going 0-of-5 with a turnover in the last five minutes. Game 2 resulted in a Laker loss. Bryant struggled in the fourth quarter of Game 4 as well—another Laker loss. Bryant went 2-of-10 during the fourth quarter and was forcing his shots. 
For the Los Angeles Lakers to win Game 5, Bryant must be much more effective during the fourth quarter.
Bynum and Gasol vs. Thunder Big Men
Kobe Bryant has received most of the blame for the Lakers' fourth-quarter collapses; however, Andrew Bynum and Pau Gasol have also been disappearing in the fourth quarter. During the fourth quarter of Game 4, Gasol and Bynum only scored two points and grabbed one rebound, after going a combined 12 for 23 from the field for 26 points.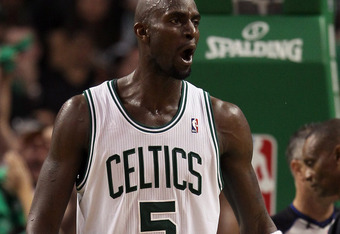 Elsa/Getty Images
The Laker big men have proven that they can dominate the Thunder inside. The Lakers are in win-or-go-home mode, and Pau Gasol and Andrew Bynum must step up in the fourth quarter of Game 5 in order to ensure a Laker victory.      
Kevin Garnett vs. His Age
Kevin Garnett has been all over the place during the Celtic's second-round series. He has dominated games, looking like his younger self, and he has also struggled mightily, showing his age. Garnett did not play well in the Game 4 loss to the Philadelphia 76'ers, and the Celtics suffered. 
Garnett went 3-of-12 from the field, and he posted an uncharacteristic minus-two when he was on the court. Garnett also turned the ball over seven times and was in a funk all game. With Garnett struggling, the team was unable to find a rhythm.
Game 5 is in Boston, and the Celtics need a win. Garnett doesn't need to have a game similar to his 27-point, 13-rebound domination that was Game 3, but he can't turn in a game similar to Game 4. 
Kevin Garnett must be active defensively and on the boards, and he must contribute offensively. The Celtics derive their energy from K.G., and he needs to bring it in this Celtics' must-win game.