NFL Stat Predictions: Stat Lines for the Best Player on Each Team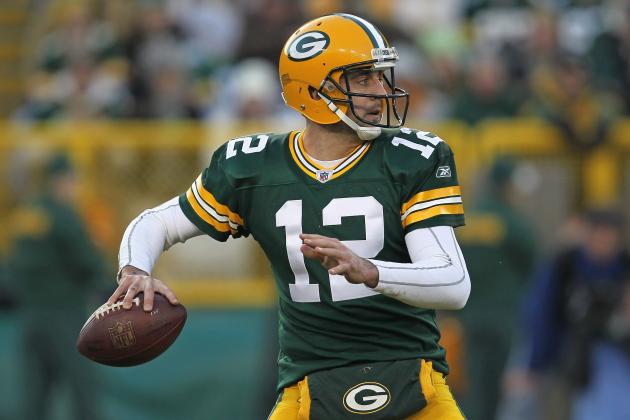 Jonathan Daniel/Getty Images

Stats in the NFL are hard to come by, but the best players on every NFL team seem to always deliver the goods.
When it comes to predicting stat lines for the best players around the league, it's relatively easy.
You have elite quarterbacks like Drew Brees, Aaron Rodgers, Tom Brady and Peyton Manning that are shoo-ins for racking in big numbers all year long, and you have players like Darrelle Revis that are so good they actually have very little stats to show for it.
But then again, you never know which player's season will result in a dud. Ask fantasy football owners. Having said that, these are the predicted stat lines for the best player on every NFL team.
Begin Slideshow

»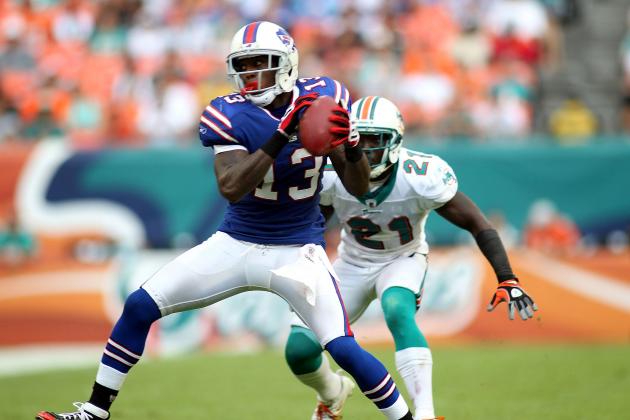 Marc Serota/Getty Images

Though he can be reckless at times, Stevie Johnson is a gem at wide receiver.
Coming off back-to-back 1,000-yard seasons, Johnson has proven that despite his "why so serious?" shenanigans and funny haircuts, he should in fact be taken seriously.
With his developed chemistry with Ryan Fitzpatrick, the young wide receiver will have yet another great year as the Buffalo Bills continue to circle the wagons in a much more positive direction.
Predicted Stats: 1,109 yards receiving, 9 touchdowns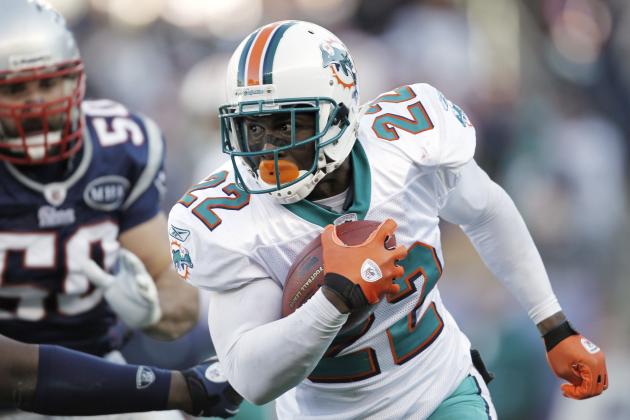 Winslow Townson/Getty Images

If Reggie Bush can build off of the season he had last year, it's not a stretch to call him the best player on the Miami Dolphins.
As far as running the football goes, Bush has never ran the ball with as much efficiency in his NFL career than he did last season. He had a career-high 1,086 yards, and he proved that he can be the go-to guy. But can he keep it up?
Bush has a reputation of getting injured during the season because of his many injuries with the New Orleans Saints, but should he stay healthy, he'll have another big season at running back. Bush will continue to battle injuries and his stats will suffer for it.
Predicted Stats: 549 rushing yards, 143 receiving yards, 5 total touchdowns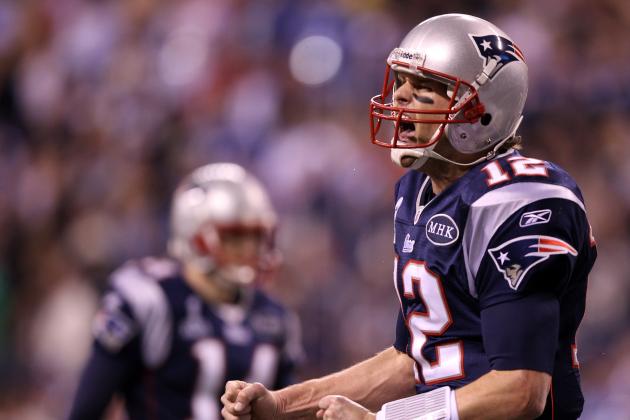 Elsa/Getty Images

Predicting Tom Brady's stats is almost like picking a randomly high number.
Time and time again, Brady has dominated the NFL. In his Hall of Fame career, he's thrown for over 4,000 yards four times and he's thrown over 25 touchdowns in seven seasons.
Take into account that he's coming off of a career-high 5,235-yard season with 39 touchdowns, and it's plain to see that this guy really doesn't have any boundaries when it comes to stats. Having said that, Brady will have another brilliant year, but he'll fall just short of 5,000 yards.
Predicted Stats: 4,978 yards passing, 40 total touchdowns, 11 interceptions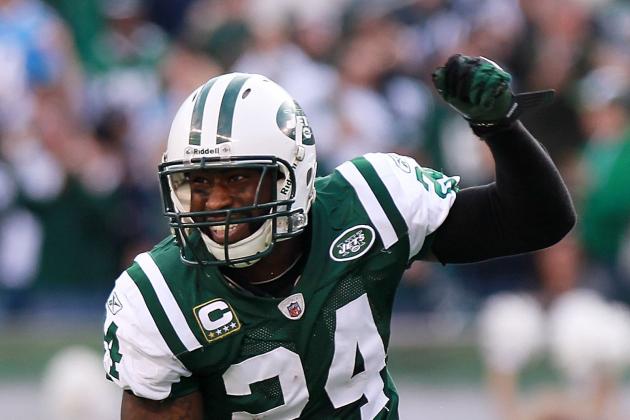 Nick Laham/Getty Images

Stats don't always reflect who your best players are.
Case in point? Darrelle Revis. This is a guy that doesn't record a whole lot of interceptions simply because quarterbacks choose not to throw the ball his way.
And when they do, Revis more than likely knocks the ball down. In his five-year career, Revis has 94 pass deflections and 18 interceptions. But because Revis' abilities are so well-known today, Revis has only recorded four interceptions in the past two seasons.
Quarterbacks will be reluctant to challenge Revis again this year, but he'll still manage to make a few plays on the ball.
Predicted Stats: 56 tackles, 3 interceptions
Al Bello/Getty Images

Ray Rice is the Baltimore Ravens' offense.
Whether you love Joe Flacco or you hate him, everyone can agree that the offense flows through Rice. In the past three seasons, Rice has rushed for at least 1,200 yards while recording at least 550 yards through the air.
The Ravens are golden on defense, and if they want to win another Super Bowl any time soon, they're going to have to ride the back of Rice. He has yet to disappoint in the stat department, and he won't disappoint in 2012.
Predicted Stats: 1,433 rushing yards, 589 receiving yards, 22 total touchdowns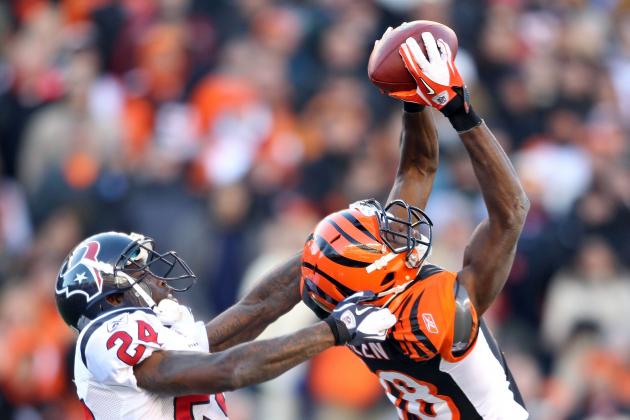 Andy Lyons/Getty Images

A.J. Green came into the NFL like a bat out of hell.
Green had 65 catches, 1,057 receiving yards and seven touchdowns with the Cincinnati Bengals in 2011. Not bad for a rookie, eh?
Green is just another example of those freakish players hailing from the SEC that are NFL ready before they're even drafted. Having said that, I do believe Green will suffer from somewhat of a sophomore slump. And by sophomore slump, I mean fall short of 1,000 yards receiving.
Predicted Stats: 890 receiving yards, 8 touchdowns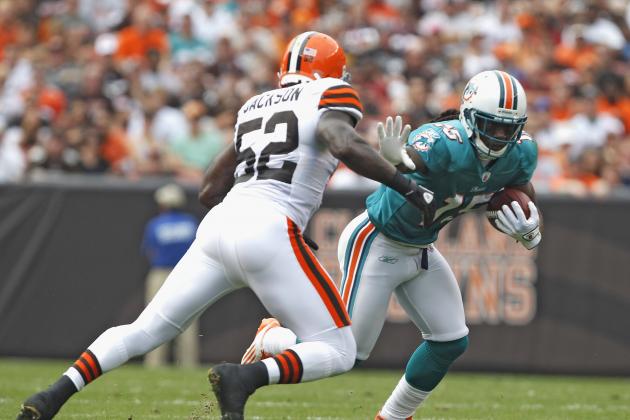 Matt Sullivan/Getty Images

The Cleveland Browns' defense is a solid group because it has a wrecking ball in the middle.
D'Qwell Jackson bounced back from his surgical hiatus in 2010 with an incredible season. Jackson recorded 158 tackles, one forced fumble and an interception with the Browns a year ago, which are some pretty appetizing stats.
Should Jackson stay injury free, look for him to make another big splash in the middle for the Browns.
Predicted Stats: 143 tackles, 2 interceptions, forced fumble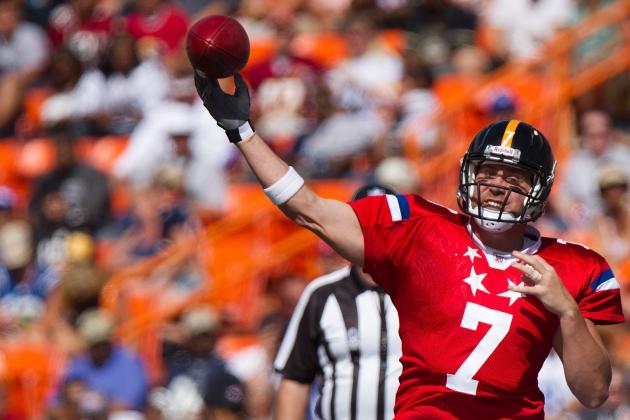 Kent Nishimura/Getty Images

Ben Roethlisberger is a miracle-worker in the pocket.
Somehow, someway he avoids contact and creates windows to get the ball downfield to his speedy receivers. This allows Roethlisberger to rack up some gaudy stats like last year's 4,077-yard season.
Roethlisberger will continue to do his thing in the pocket, and Mike Wallace and company will continue to get open down the field. Expect a career-high season for Big Ben.
Predicted Stats: 4,378 passing yards, 23 touchdowns, 14 interceptions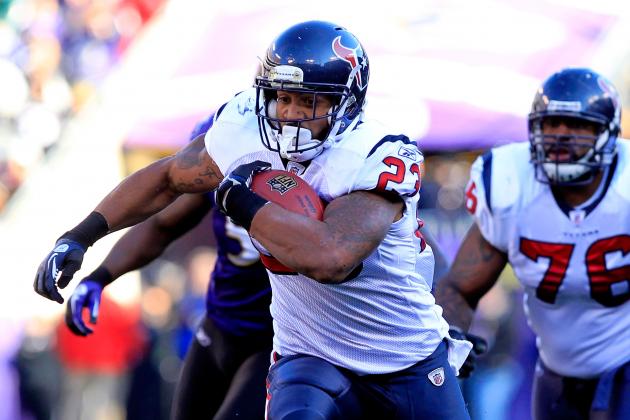 Chris Trotman/Getty Images

Arian Foster's 2011 season fails to compare to his 2010 season.
Foster's yards dropped off nearly 400 yards and he recorded six fewer touchdowns, yet it was still a great season. Foster posted 1,224 rushing yards, 617 receiving yards and 12 touchdowns, but you have to keep in mind that he was battling a hamstring injury as well.
With a much healthier Houston Texans squad, Foster will improve his stats in every category.
Predicted Stats: 1,389 rushing yards, 688 receiving yards, 15 total touchdowns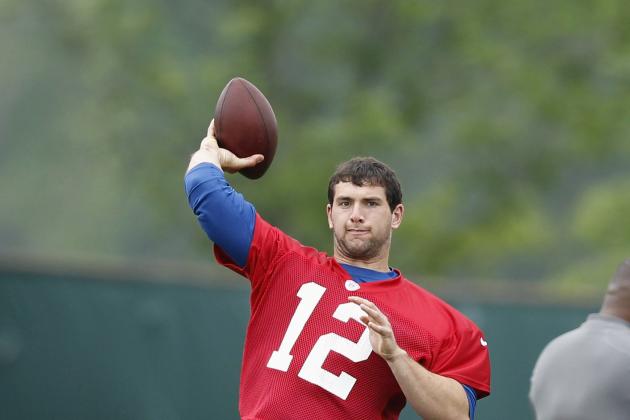 Joe Robbins/Getty Images

Very rarely do you see a rookie get the title "best player on the team."
Andrew Luck is that exception. Luck has yet to play a single down in the NFL, but don't get it twisted; he will be the best player on the Indianapolis Colts. Or at least he better be. After all, they got rid of Peyton Manning for him.
With all of the pressure mounted on Luck's back, he'll make mistakes, but rookies are supposed to make mistakes. While he'll throw a good amount of interceptions, he'll also light up the scoreboard through the air.
Predicted Stats: 3,430 yards passing, 26 total touchdowns, 17 interceptions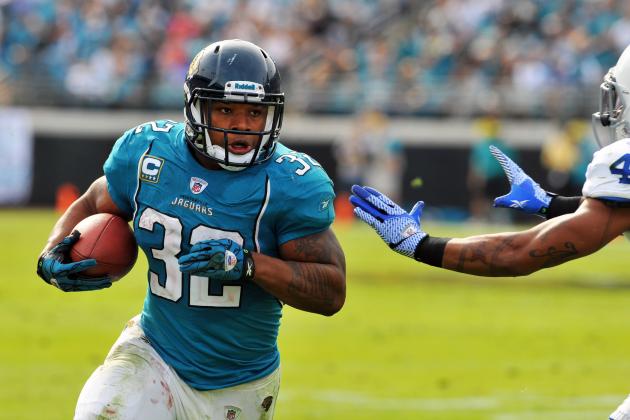 Al Messerschmidt/Getty Images

Maurice Jones-Drew will lead the NFL in rushing next year, again.
Jones-Drew is a rare breed when it comes to running back. He can pound the ball repeatedly, catch the ball out of the backfield and he can block as well.
He had a career-high 1,606 rushing yards last season, and with Blaine Gabbert quarterbacking the Jacksonville Jaguars, you better believe he's going to get his number called often. This will allow Jones-Drew to top his stats from a year ago.
Predicted Stats: 1,793 rushing yards, 299 receiving yards, 19 total touchdowns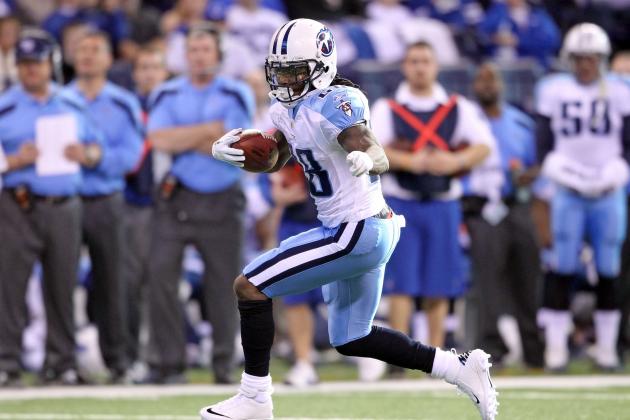 Andy Lyons/Getty Images

Chris Johnson's speed is lethal.
The fastest running back in the NFL recorded 1,047 rushing yards last year with four total touchdowns, and due to the high standards that he's created, that's a down year for him.
With contract negotiations in the rear-view mirror and not a problem going into the season, Johnson should get back to his old self.
Predicted Stats: 1,297 rushing yards, 466 receiving yards, 11 total touchdowns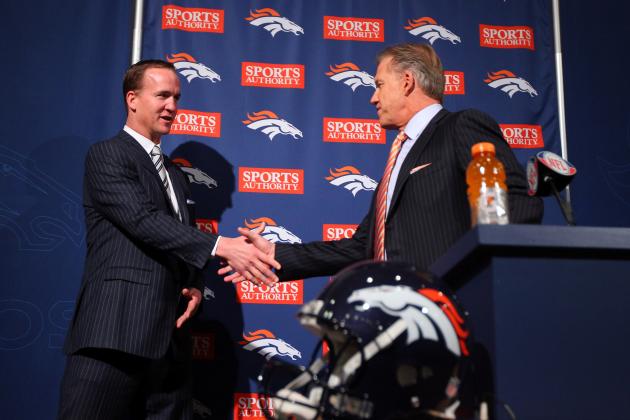 Doug Pensinger/Getty Images

Of all of the stats to predict this season, Peyton Manning's are the most difficult.
Just how healthy is he? Will he settle in immediately with the Denver Broncos and shred defenses just like he did with the Indianapolis Colts?
Normally, I would be skeptical of a player having a huge season given the circumstances that Manning has been dealt. But this is Manning that we're talking about here, and though I expect a few bumps in the road, he will still post Manning-like numbers.
Predicted Stats: 4,302 passing yards, 35 total touchdowns, 16 interceptions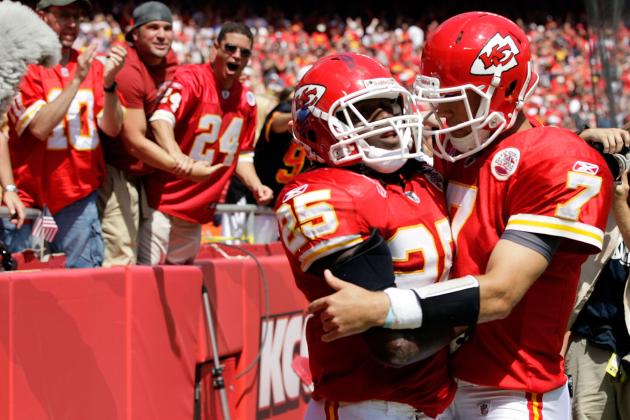 Jamie Squire/Getty Images

Jamaal Charles is coming back with a vengeance.
Before he tore his ACL last season, Charles was quickly becoming one of the most exciting players to watch in the NFL.
And more importantly, he was coming off of 1,467-rushing-yard season with the Kansas City Chiefs. With his rehab going well and his hunger to get back out and play thriving, Charles will rush for over 1,000 yards. It's a bold prediction, but you should never underestimate the drive of a competitor.
Predicted Stats: 1,222 rushing yards, 437 receiving yards, 8 total touchdowns
.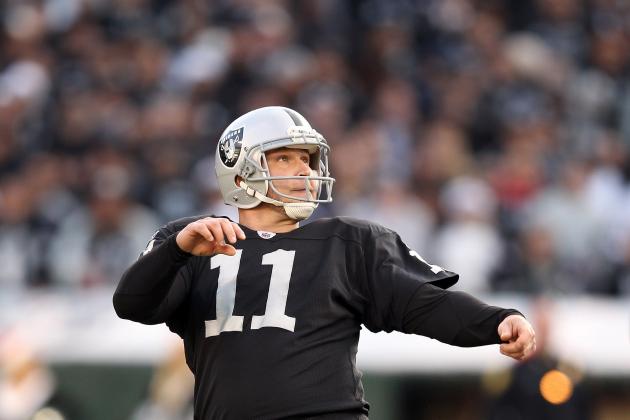 Ezra Shaw/Getty Images

To sum up Sebastian Janikowski in one word as a kicker, it would be powerful.
Having a kicker as your best player isn't a knock against the Oakland Raiders. Instead, it's a testament to how good Janikowski has been for so long.
For four straight seasons, Janikowski has made more than 80 percent of his kicks, and last season, he hit seven out of 10 from beyond 50 yards. That's 70 percent for those of you who are mathematically challenged, and that's a stat that deserves recognition.
Predicted Stats: 30 field goals on 37 attempts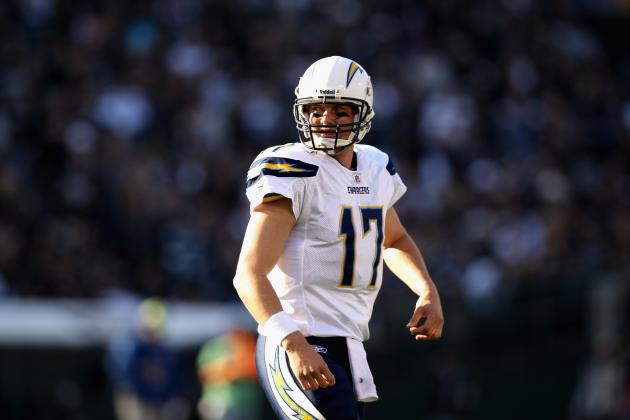 Ezra Shaw/Getty Images

Philip Rivers had a shaky year in 2011.
Sure, he posted a lot of yards through the air and multiple touchdowns, but throwing 20 interceptions is not a characteristic that we've grown used to seeing from him. The previous six seasons, Rivers averaged 13 interceptions per season.
With the absence of Vincent Jackson, Rivers' numbers are expected to decline, but Robert Meachem will provide a nice deep threat option for the San Diego Chargers. Because of that, Rivers will still post pretty big numbers, but more importantly, he'll reduce the interceptions in 2012.
Predicted Stats: 4,423 passing yards, 38 total touchdowns, 12 interceptions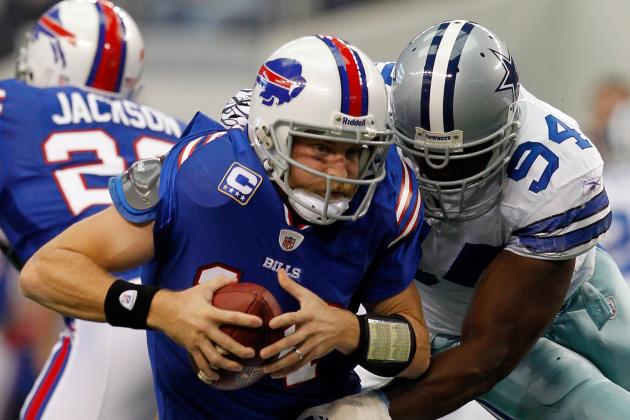 Tom Pennington/Getty Images

Not only will DeMarcus Ware tie his career high for sacks in 2012, he'll also set a new career high for tackles.
The only word to correctly define Ware is the word freak. Yeah, it's overused and it's cliché, but this guy can play so many positions and dominate the game from every single one of them.
And there might not be a better pass-rusher in the NFL. Look for Ware to out-do his 19.5 sacks in 2011.
Predicted Stats: 72 tackles, 20 sacks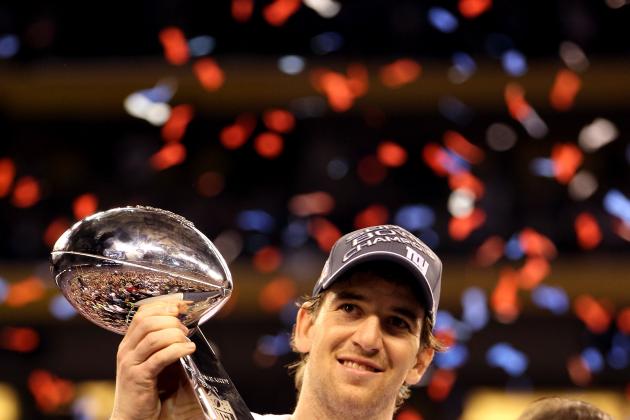 Jamie Squire/Getty Images

Last season taught NFL fans that you simply can't spell elite without Eli.
Coming off of the best season he's ever had, Eli Manning sent a statement to everyone who ever doubted his abilities to play quarterback.
He threw for 4,933 yards, 29 touchdowns and 16 interceptions. And if that isn't enough to impress you, he put together eight fourth quarter comebacks, which is the most by any quarterback during the regular season in NFL history. Manning is simply on a roll, and there's no sign of him slowing down any time soon.
Predicted Stats: 4,788 passing yards, 25 touchdowns, 13 interceptions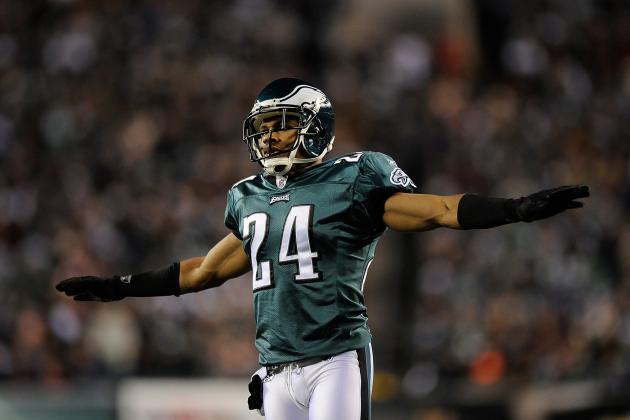 Patrick McDermott/Getty Images

Everything that was said about Revis can basically be applied to Nnamdi Asomugha.
Much like Revis, Asomugha will put wide receivers on an island and they will be covered closely throughout the ball game.
For that reason, his stats are usually low, as he's recorded six interceptions in the past five seasons. Asomugha gets at least two in 2012.
Predicted Stats: 31 tackles, 2 interceptions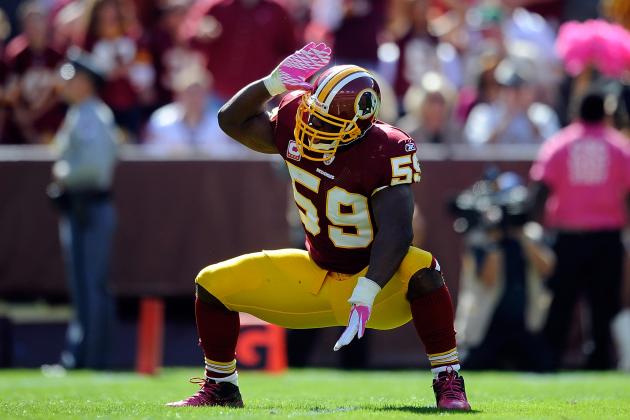 Patrick McDermott/Getty Images

London Fletcher is the heart and soul of the Washington Redskins.
He's their captain, and he backs up everything he says on the field. This is a guy who's racked up 1,782 tackles in his career in the NFL, and at the age of 36, he recorded 166 last season.
Not bad for an old man.
Predicted Stats: 149 tackles, interception, 2 forced fumbles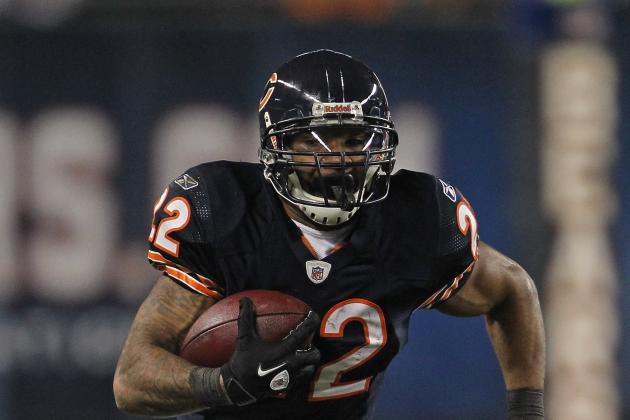 Jonathan Daniel/Getty Images

Let's face it, Matt Forte hasn't had the best of offseasons.
He never received the contract that he deserves, and the Chicago Bears' signing of Michael Bush added insult to injury.
Forte should have fewer carries this season with Bush sharing the backfield with him, but he'll still manage to put up solid numbers due to Jay Cutler being healthy.
Predicted Stats: 922 rushing yards, 230 receiving yards, 7 total touchdowns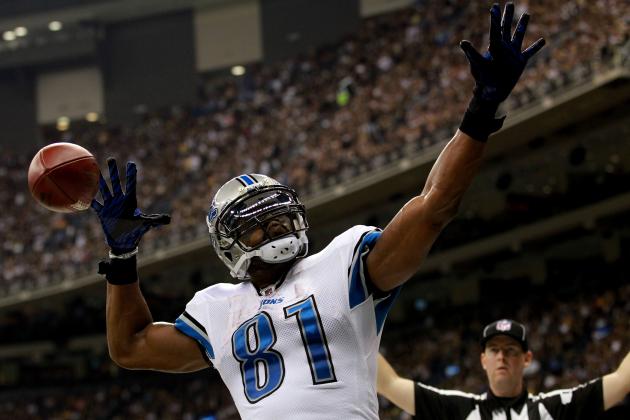 Ronald Martinez/Getty Images

Can Calvin Johnson avoid the Madden Curse?
As much as I don't want to believe in a silly curse, it is strange that players like Michael Vick, Donovan McNabb, Troy Polamalu, Barry Saunders, Brett Favre, Vince Young, Shaun Alexander, etc. all were injured or had their career ended abruptly after gracing the cover.
But fret not, Detroit Lions fans, Johnson will avoid the curse like Drew Brees did in 2010. Johnson is the best wide receiver in the game, and after his 1,681-yard, 16-touchdown season from a year ago, how could you ever doubt this guy?
Predicted Stats: 1,439 receiving yards, 15 touchdowns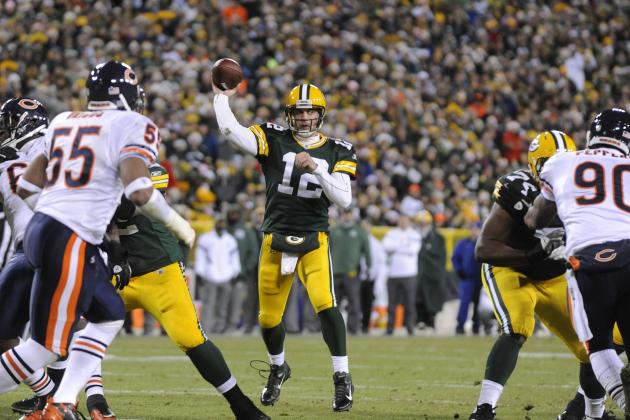 David Banks/Getty Images

Speaking of doubting guys, I don't think you'll find anyone in the country that's a critic of Aaron Rodgers.
Since taking over in Green Bay, Rodgers has done nothing but light up scoreboards. The reigning MVP is coming off of his best season yet with 4,643 passing yards, 45 touchdowns and six interceptions.
With the NFL becoming more of a passing league by the year, don't be surprised to see Rodgers top himself this season.
Predicted Stats: 4,933 passing yards, 47 touchdowns, 9 interceptions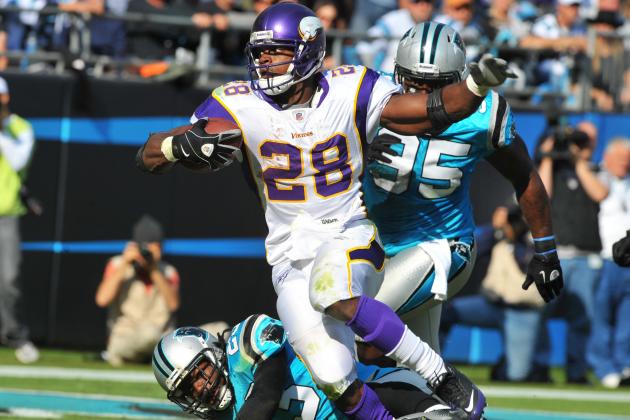 Al Messerschmidt/Getty Images

If Adrian Peterson is going to become one of the greatest running backs of all time, now's the time to put it all together.
For one reason or another, Peterson hasn't come close to his 1,760 yard season in 2008. But yet, nobody questions the abilities of Peterson because of the attributes he brings to the table. The Vikings still don't have a great quarterback to rely on, so they'll have to ride Peterson on the offensive side of the ball.
Peterson comes through with a stellar year.
Predicted Stats: 1,466 rushing yards, 178 receiving yards, 25 total touchdowns
Kevin C. Cox/Getty Images

Matt Ryan is coming off back-to-back great seasons with the Atlanta Falcons, and it's time for him to take the next step in his career.
It's time for him to transcend from a good player to a great player. The New Orleans Saints are reeling after a brutal offseason, and this is the Falcons' chance to take the division. But they'll only get as far as Ryan can take them.
Knowing that, Ryan will take the next step in his career in 2012 and put together his best season yet.
Predicted Stats: 4,254 passing yards, 34 touchdowns, 12 interceptions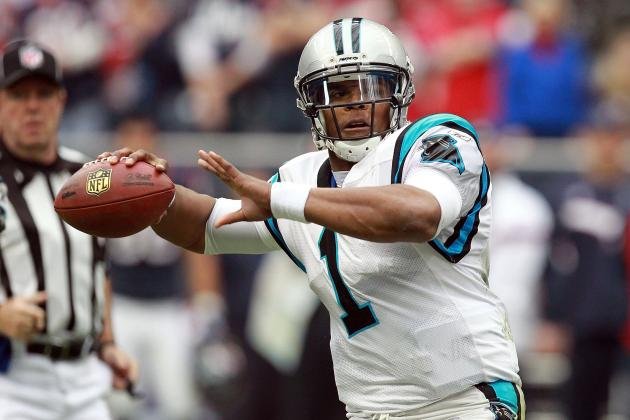 Ronald Martinez/Getty Images

Cam Newton is a once-in-a-lifetime athlete.
Newton can throw the ball accurately, make the deep throw and break the pocket to make something happen with his feet. But what I'm most impressed with is his calmness in the pocket and his willingness to hang in there.
As a rookie, Newton had 4,051 passing yards, 706 yards rushing and 35 total touchdowns. That's unheard of for a rookie, and though I expect him to throw a good amount of interceptions like he did a year ago, I expect Newton to progress as a quarterback.
Predicted Stats: 3,886 passing yards, 759 rushing yards, 31 total touchdowns, 21 interceptions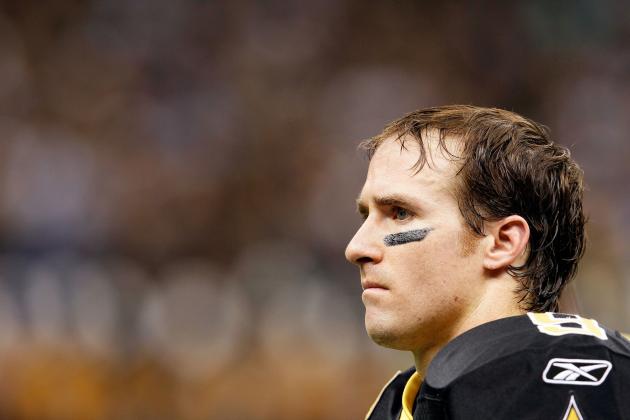 Kevin C. Cox/Getty Images

When it comes to the New Orleans Saints, Drew Brees is "Dat."
That's why it's so baffling that the Saints have yet to give Brees the deal he wants. Without a head coach and with the frustrations surrounding his contract, don't expect another record-breaking year for the man that holds the all-time most passing yards in a single season.
It won't be like his 5,479-passing-yard season from a year ago, but rest assured, Brees will still rule through the air.
Predicted Stats: 4,840 passing yards, 41 touchdowns, 15 interceptions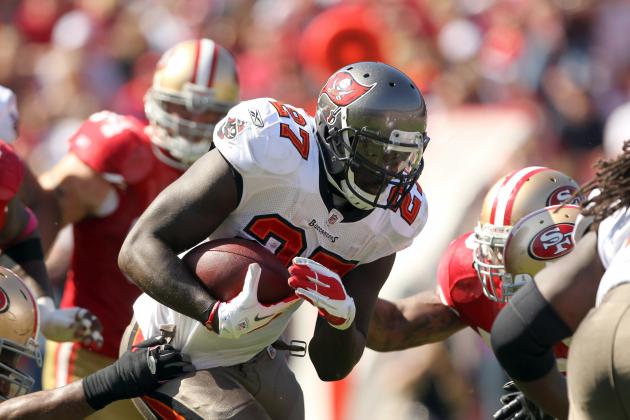 Ezra Shaw/Getty Images

Is LeGarrette Blount the Tampa Bay Buccaneers' best player?
Most likely he isn't, but he will benefit from some fantastic guard play from perhaps the best player on the team, Carl Nicks, and Davin Joseph. However, he will have to share the backfield.
The Bucs selected Doug Martin from Boise State in the first round of the draft, and you don't take a running back in the first round if you don't expect him to play immediately.
Predicted Stats: 845 rushing yards, 193 receiving yards, 7 total touchdowns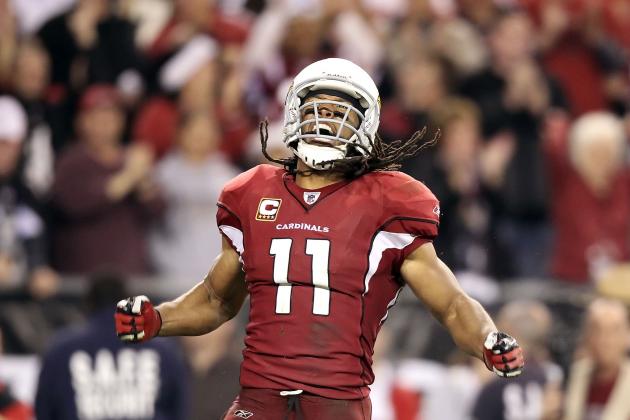 Christian Petersen/Getty Images

If Johnson isn't the best receiver in the NFL, then Larry Fitzgerald has to be.
In the past five seasons, Fitzgerald has went above 1,000 yards receiving, and last seasons' 1,411 yards were only 21 yards short of a career best.
Despite mediocre quarterback play, Fitzgerald was still able to produce those kinds of numbers, and if Kevin Kolb can get his act together, Fitzgerald and Michael Floyd should form quite the duo for the Arizona Cardinals.
Predicted Stats: 1,462 receiving yards, 10 touchdowns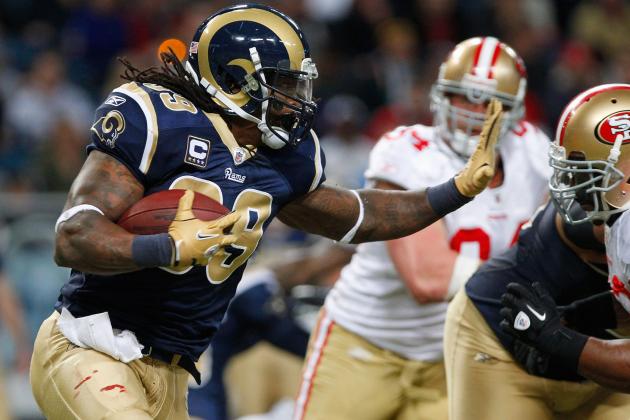 Whitney Curtis/Getty Images

Steven Jackson has had seven consecutive 1,000-yard seasons, and in this day and age of running backs, that's sensational.
Jackson's grueling running style has made him one of the most feared running backs in the league. With a 6'2", 240-pound frame, Jackson runs the ball violently.
Last season, he recorded 1,145 yards on the ground along with five touchdowns. At this point in his career, a 1,000-yard season is simply expected from Jackson.
Predicted Stats: 1,328 rushing yards, 422 receiving yards, 8 total touchdowns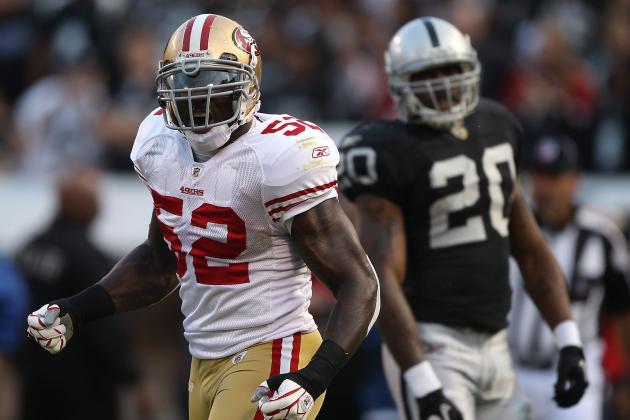 Jed Jacobsohn/Getty Images

Patrick Willis' aggression is a perfect recipe for piling stats.
No matter where you look while the San Francisco 49ers defense is one the field, Willis is somewhere making a play.
It's almost as if he's two people the way he continues to make plays, and his career stats greatly reflect that notion. In just five seasons in the NFL, Willis has record 692 career tackles, 12 forced fumbles and five interceptions.
Willis will continue to pad those stats with yet another season of 100-plus tackles.
Predicted Stats: 128 tackles, 2 interceptions, 3 forced fumbles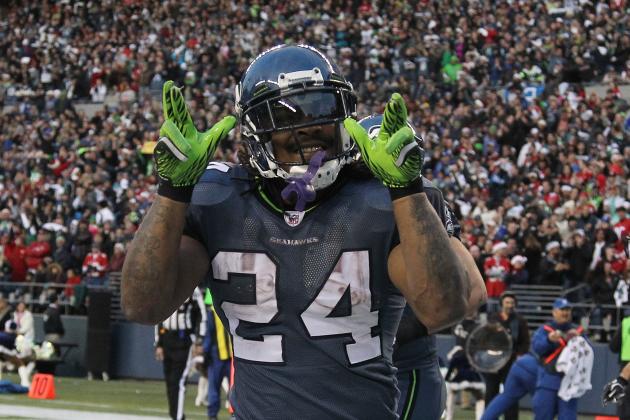 Otto Greule Jr/Getty Images

Get your Skittles ready, Seattle.
Marshawn Lynch took the NFL by storm with his remarkable touchdown run in the playoffs against the New Orleans Saints in 2010, and he followed that up with an impressive 2011.
Lynch is hitting his stride, as he's riding off of a season that saw him rush for 1,204 yards and 12 touchdowns. Lynch stays in the groove in 2012 with another impressive season.
Predicted Stats: 1,188 rushing yards, 235 receiving yards, 14 total touchdowns