Euro 2012: Power Ranking Top Contenders' Chances to Win Prestigious Tournament
May 21, 2012

David Rogers/Getty Images
Now that the Champions League has concluded for the season, the entire soccer world is now focusing on the upcoming Euro 2012 tournament.
This prestigious, once-every-four-years event is taking place from June 8 to July 1 and is one of the most challenging competitions for a nation to win.
Let's take a look at which nations have the best odds of emerging victorious.
Spain – 5/2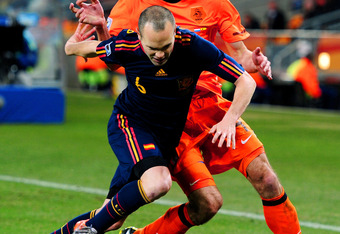 Jamie McDonald/Getty Images
The reigning World Cup champions are the team to beat until someone can dethrone them in a major tournament such as Euro—which Spain won back in 2008.  
They have a strong side with many great players and a proven track record. That is a winning recipe during this type of event. However, Spain still has some major obstacles to overcome.
They will likely be without David Villa and Carles Puyol, two of their key players during the 2010 run. Both are dealing with injuries and are not easily replaceable.
Germany – 10/3
This up-and-coming team has developed quite a bit since their strong World Cup run two years ago and seem ready to avenge their 1-0 Euro finals loss in 2008.
Unfortunately, many of the players on the roster are coming off of a devastating loss in the Champions League. Bayern Munich fell to Chelsea in penalty kicks and may have crushed the will of eight players for the German national team.
It'll take them some time to heal, which is fortunate because Euro is nearly a month-long tournament.
Netherlands – 7/1
Holland has to be excited to get back on the pitch with a chance to win a major championship for the country after falling short in South Africa in 2010.
They will be led by the EPL's top scorer, Robin van Persie and are returning a number of other studs from the World Cup runner-up side.
Should they be able to get out of the group stages, (Holland is with Germany, Denmark and Portugal) this team will be dangerous.