LPGA Rules Official Adversely Affects Pressel-Munoz Match at Sybase
May 21, 2012

Scott Halleran/Getty Images
I normally believe in a fairly strict enforcement of the rules of golf, including league rules and local rules, but the penalty incurred by Morgan Pressel on Sunday seems a bit much.
Pressel suffered a devastating enforcement of the LPGA rule concerning slow play in her semifinal match on Sunday with eventual Sybase Match Play winner Azahara Munoz.
Pressel won the 13th hole of the match to go three up on Munoz. 
The Munoz/Pressel pairing had previously been warned for slow play, being eight minutes behind the prescribed time and two holes behind the other semifinal pairing.
As Pressel and Munoz walked onto the 14th tee, they were informed of the assessment of the penalty for slow play.  The penalty voided Pressel's win of the 13th hole, plus it assessed a one-hole penalty that took her from three up to one up in one easy hole.
In post-round interviews, Munoz admitted that she was probably the slower player in the group.
How can anyone argue that Pressel going from three up to one up, suffering a two-hole penalty, is considered a fair and equitable enforcement of the rule?
Munoz clearly gained a huge advantage from this ruling and was able to go on and beat a clearly shaken and unnerved Pressel.
Thank you very much, LPGA rules official.
I understand the LPGA's desire to demonstrate to the world that women can play fast and do not slow down play on the golf course for other players.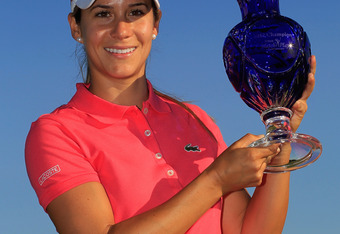 Chris Trotman/Getty Images
The golf media seems to be making a giant outcry for faster play on the PGA Tour, and it is a current issue.
But this is golf.  There is no shot clock. 
A match-play strategy, when trailing in a match, is to slow down and disrupt the rhythm of your playing partner.  That is exactly what Munoz could have been doing.
Munoz was struggling, two down to Pressel.  They weren't playing against a field; they were only playing against each other.   
How does time enter into the equation?
The LPGA has been doing some great things to improve its image, gain sponsors and grow its league.
It got this one wrong.