Pacers vs. Heat: Game 5 TV Schedule, Live Stream, Spread Info and More
May 21, 2012

Jonathan Daniel/Getty Images
Had the Indiana Pacers been able to knock down shots throughout Game 4 on Sunday, they might have woken up Monday morning with a 3-1 series lead over the Miami Heat.
Instead, they opened the door for the Heat to get back into the series; a door that LeBron James kicked in.
James turned in one of the best performances in playoff history, recording the first 40-point, 18-rebound, nine-assist postseason game since Elgin Baylor accomplished the feat in 1961.
But despite the efforts from LeBron, the Heat also needed the 30-point effort from Dwyane Wade, who exploded for a 22-point second half.
With Sunday's win, Miami gained back home-court advantage, but they aren't out of the woods yet, as the Pacers will be looking to exact some revenge and retake the series lead. 
The question for the Heat is if they will bring the same team effort on the glass and on the defensive end as they did in Game 4. 
To counter, the Pacers must utilize their main advantage, something they failed to do last time they took the floor. 
Instead of consistently pounding the ball inside to Roy Hibbert and David West, Indiana decided to jack up 22 shots from behind the arc, only making seven.
Will the Pacers get back to playing physical basketball and try to push the Heat around, or did they wake up a sleeping giant?
Here's everything you need to know about Game 5 in this Eastern Conference playoff battle.
When: Tuesday, May 22 at 8:00 p.m. EDT
Where: AmericanAirlines Arena in Miami, Fla.
Watch: TNT
Live Stream: None
Betting Line: Miami (-7)
Pacers Key Injuries (Per CBS Sports)
No Injuries Reported
Heat Key Injuries (Per ESPN)
Out: Chris Bosh (abdomen)
What They're Saying
James and Wade were outstanding in Game 4 and Miami needed them to be, but can they do the same in Game 5? Did they do enough to earn back the faith of everyone who picked them to win it all? 
Greg Cote of the Miami Herald says yes. At least for now.
It might have been a lesson that we saw being delivered in that third quarter Sunday, or it might have been simply a reminder. Either way, it was this: Do not doubt the resolve and power of LeBron James and Dwyane Wade.

Just don't.

Trust it instead.
Most Important Player to Watch: Dwyane Wade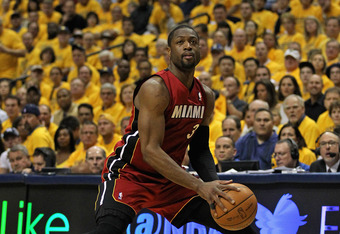 Jonathan Daniel/Getty Images
Wade has made it known that his left knee is bothering him and reports have come out saying that he had to have it drained before Game 3.
For the Heat to stand a chance in Game 5, Wade must turn in a similar performance to Game 4 when he scored 30 points on 13-of-23 shooting. At one point, Wade made 10 consecutive attempts in the second half.
Which Wade shows up could ultimately determine who wins the pivotal Game 5.
Key Matchup: David West vs. Shane Battier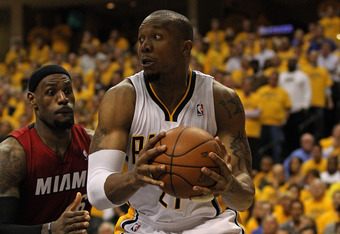 Jonathan Daniel/Getty Images
Really it's West versus whoever draws the assignment guarding him. There's no way the Pacers can win if West turns in a performance like he had in Game 4, where he took only eight shots for the game and scored only eight points.
I thought Battier did an especially good job fronting West, making it difficult for the Pacers guards to dump the ball down low to him. 
To have a chance to win Game 5, the Pacers must get back to feeding the ball into the post and getting West more frequent touches. 
Prediction
Heat 97, Pacers 92