Is It Finally Time We Start Rooting for LeBron James To Win?
Use your ← → (arrow) keys to browse more stories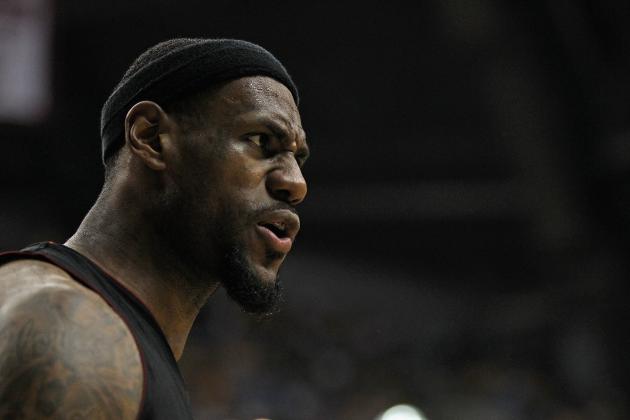 Jonathan Daniel/Getty Images

It's hard not to like 40 points, 18 rebounds and nine assists.
LeBron James put in a ridiculously clutch performance for Miami, helping the Heat take Game 4 of their Eastern Conference semifinals against the Indiana Pacers. For the first time since "The Decision," and maybe for the first time in his career as a professional, I found myself rooting for LeBron. I found myself rooting for the Miami Heat.
This is an uncomfortable feeling. I suddenly want LeBron to win.
There was a point in the second half of Sunday's game where a switch clicked and all the off-the-court nonsense went away. LeBron wasn't the guy who sat across from Jim Gray in a Boys and Girls Club outside of New York City, holding America hostage for an hour. He wasn't the guy who strung along his entire hometown before breaking the hearts of Cleveland fans in the most public way possible.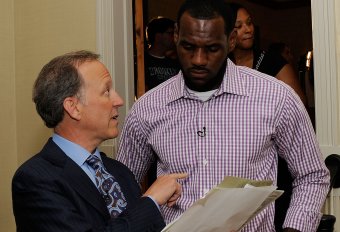 Larry Busacca/Getty Images
On Sunday, LeBron wasn't that guy. He was simply the most talented basketball player in the world coming through when his team needed him.
This feeling truly is uncomfortable. LeBron has been so unlikable for so long, it's impossible to think one stellar performance could change that.
As a sportswriter, part of me wonders if rooting for LeBron could be for professional benefit. The longer LeBron and Miami are in the playoffs, the more chances we have to write about (and potentially write-off) LeBron's "clutchness." When the guy pours in a dominant 40-18-9 performance for the ages, sports experts can still yell about doing it in an elimination game or showing up like that in the NBA Finals.
Really, though, it may be more than professional interests at play. Rooting for LeBron may be more than the subject of a column or a talking point on radio and TV. He is exciting to watch. The backdoor passes to Dwyane Wade. The defensive stops. From a talent standpoint, James is just flat-out fun to watch play.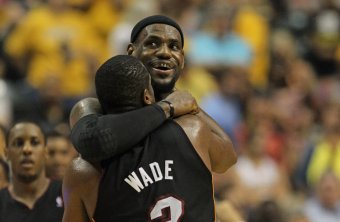 Jonathan Daniel/Getty Images
Which is why this feeling seems strange. Everything we've known about LeBron has led people to reject him as a hero. The Decision. The self-serving ads. The refusal to shake hands with the other team.
Heck, this goes back to high school, when LeBron showed up at an All-Star camp too injured to play, but wore a jacket declaring himself "King James" on the back. In high school.
LeBron has never been easy to root for. And yet somehow, on Sunday, I was pulling for the guy.
James had 14 of his 40 points to go along with three assists and two steals in the third quarter, helping an eight-point halftime deficit turn into a six-point lead heading into the fourth quarter.
In the fourth, James had seven points and pulled down nine rebounds, with one assist and one block. As amazing as his final stat line was, the numbers don't tell the real story of how dominant LeBron looked on the court.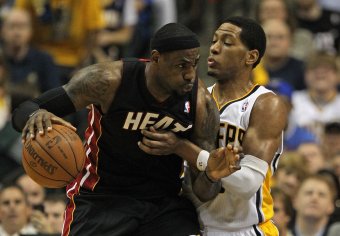 Jonathan Daniel/Getty Images
Every hero needs a villain, and every villain needs a hero. Right now, it's not the Pacers who have become LeBron's villain. They are a likable bunch of players. Though I will say that seeing Danny Granger get up in Wade's face was part of the reason I went from appreciating the Heat's comeback to rooting for it.
Still, it wasn't the Pacers who played the villain. It was the LeBron backlash after every missed shot. It's sportswriters lining up to tell story after story of how he let his team down when they fail, then giving begrudging respect when they win.
It's old. Even if he really is the villain, the story of LeBron being the villain is old. Telling and retelling it is possibly making us the villains now, making him a sort of anti-hero. He can still be hated, though perhaps less hated than those who write about how hated he is.
Who knows how long this feeling will last? It could be a matter of time before LeBron is back to being the easy target, back to looking like the villain.
If the Heat get past the Pacers—no easy feat with the series tied at two game apiece—they will face either the Boston Celtics or the Philadelphia 76ers.
As a Philly guy, LeBron will quickly turn back into the villain for me if the Sixers win the series, but you have to wonder if most NBA fans would rather see the Heat in the finals than the overachieving 76ers. There is no way that Philadelphia can contend with San Antonio or Oklahoma City.
The Heat, with or without Chris Bosh, have a fighting chance. Does that make LeBron the hero, asked to help save the NBA Finals before they even begin?
As for the Celtics, there cannot be anyone outside of Boston who will root for that team. The hatred for LeBron is one thing, but that has to be trumped by the "Boston can't stop winning things" hatred. There is no unbiased fan in his or her right mind who would rather see a Boston team in the finals over Miami.
Yet, if Miami does make it to the finals then the Heat immediately become the villains again.
Oklahoma City is the feel-good team of the league and nobody will want James to beat Kevin Durant to his first title. The Spurs have be one of the most likable (albeit boring) teams over the last decade, making the Heat the likely villain in that series too.
Still, there's a large part of me (and I suspect you if you've gotten this far without shooting off a "LeBron sucks" note in the comments section and clicking off the story before you got to the fourth paragraph) who will be happy if LeBron wins a title this year.
It sounds crazy, I know, but we have to assume he has enough talent to win a title at some point in his career. The sooner he gets his first ring, the sooner we can all move on from this annual storyline. Forget about LeBron—I'd root for that alone.
The sooner he wins his first ring, the sooner the playoffs can be less about LeBron. Which, after writing an entire story about LeBron, seems like something I wouldn't want happening any time soon. Wait, did I just make myself the villain?
These new feelings sure are confusing. Eh, blame LeBron.
(Note: We are experiencing some technical issues with the embedding of the podcast. Please subscribe to the Wide Left podcast on iTunes here. Nick Tarnowski and I talk about LeBron and the Heat but also discuss the UEFA Champions League final with Jon Tannenwald of The Goalkeeper, as well as discuss if the state-of-the-art knee surgery called Orhokine is closer to Tommy John surgery or illegal blood doping. We also touch on the Preakness and ESPN's First Take, if only to link to this hilarious SNL spoof of Stephen A. Smith.)