15 NFL Players Who Will See the Most Dramatic Stat Increases from 2011 to 2012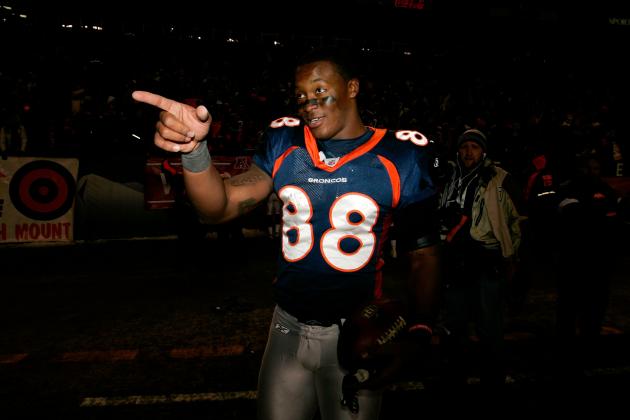 Justin Edmonds/Getty Images
Demaryius Thomas is primed to erupt this year.
In 2012, 15 NFL players are going to see their stats shoot through the roof.
Every year, there are guys who start to drop off and guys who disappear completely. However, the show must go on. Young guys naturally fill the void and burst onto the scene as older guys move on to greener, less concussion-filled pastures.
While it's worth taking a look at which guys have reason to be optimistic, keep in mind that not all of these guys will, in fact, blow up next season. Some will undoubtedly get hurt, others replaced and some will simply fail to live up to expectations.
There will be plenty of guys not on this list who come out of nowhere and help teams much more than anticipated, a la Antonio Brown with the Pittsburgh Steelers last season.
Finally, players who made the list are (in almost all cases) not coming off major injuries. It would be far too easy to write about how Jamaal Charles is going to erase the memories of his torn ACL. Those who did suffer injuries last season and still made the list did so because they have other reasons for optimism in 2012.
Begin Slideshow

»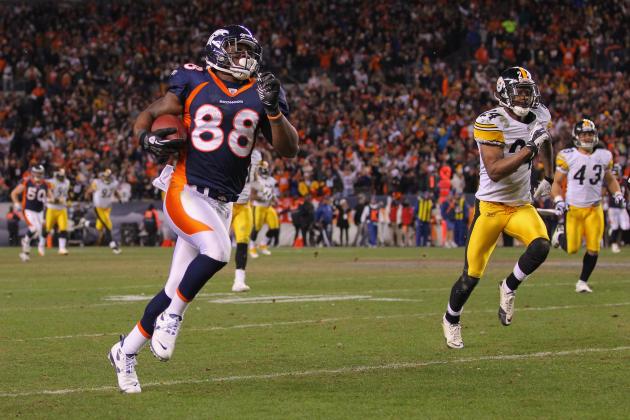 Doug Pensinger/Getty Images
Demaryius Thomas is working with a slightly better quarterback for 2012.
2011 Stats: 32 catches, 551 receiving yards, four touchdowns
Demaryius Thomas is licking his chops right now.
Last season, the Denver Broncos wideout was working with a guy more famous for his body, religion and smile than his passing abilities.
The one, the only, Tim Tebow.
Now that's he's upgraded to Peyton Manning, Broncos fans are going to see a lot more of Thomas with the ball.
Not unlike former Broncos receiver Brandon Marshall, Thomas possesses an elite frame for his position. His 6'3", 235-pound body is a nightmare for opposing defensive backs in the open field. His ability to run after the catch and win jump balls gives him versatility that few receivers in the game enjoy.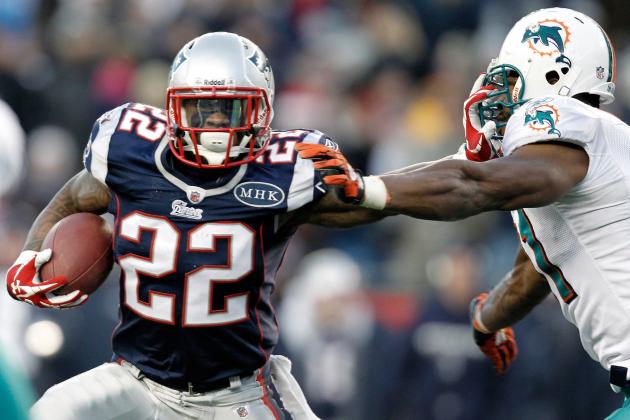 Winslow Townson/Getty Images
Stevan Ridley has every chance to feature in the Patriots backfield.
2011 Stats: 87 carries, 441 rushing yards, one touchdown
BenJarvus Green-Ellis is gone, and the New England Patriots will now turn to Stevan Ridley.
After the "Law Firm" was found guilty of being mediocre and wanting too much money, the Patriots sentenced him to free agency.
Jokes aside, Ridley is clearly primed to take over the Patriots backfield. Though the Pats also drafted Shane Vereen last season, the former California Bear had only 15 carries in 2011. They also signed former Indianapolis Colts halfback Joseph Addai, who will likely be used on third downs and in the red zone.
Ridley saw almost 100 carries last season, averaging over five yards per carry in the process. He only scored one touchdown, but BJGE had 11, along with 181 carries. If Ridley picks up the majority of the void left by Green-Ellis, he should easily land around 1,000 yards and six to eight touchdowns.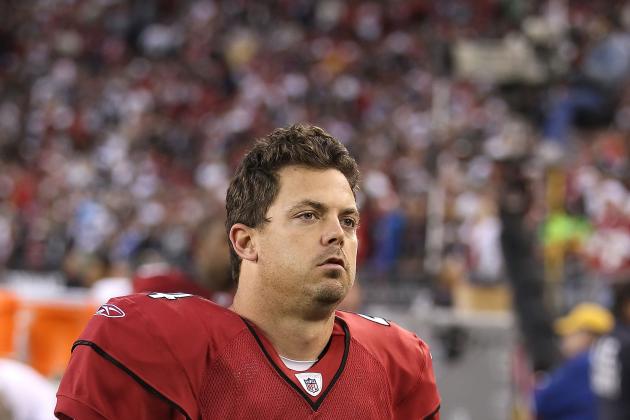 Christian Petersen/Getty Images
Kevin Kolb had a rough go of it in 2011.
2011 Stats: 57.7 completion percentage, 1,955 passing yards, nine touchdowns, eight interceptions
I said I wouldn't have injured players, but I lied. Here's one now.
Kevin Kolb had a terrible 2011 campaign. He started poorly and finished poorly. He was hurt through the middle.
But that's not why he played below expectations. His receivers were subpar (outside of Larry Fitzgerald), his running back was injured and his offensive line was porous. Not to mention, it was a lockout-shortened season that cut out his best chance to learn the offense.
He was doomed from the start.
But the additions of players like Michael Floyd and Bobby Massie, along with the assumed health of Beanie Wells, should help Kolb have a much stronger 2012 season.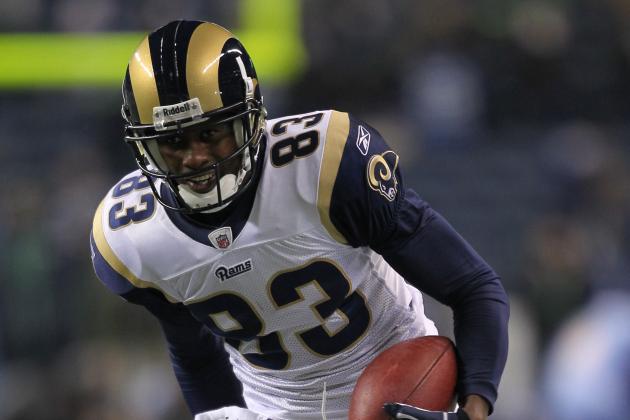 Otto Greule Jr/Getty Images
Brandon Lloyd is reuniting with his favorite offensive coordinator.
2011 Stats: 70 catches, 966 receiving yards, five touchdowns
The last time Brandon Lloyd was in Josh McDaniels' system with a competent quarterback, he threw up a league-leading 1,448 yards and 11 touchdowns.
That was with Kyle Orton.
With one Thomas Brady pulling the strings, Lloyd figures to be the guy the Pats were hoping to get in Chad Ochocinco: a true deep-threat target.
Lloyd can take the top off a defense, opening up even more space for guys like Rob Gronkowski and Aaron Hernandez.
Considering all the weapons on the Patriots, Lloyd will certainly face single coverage more often than not.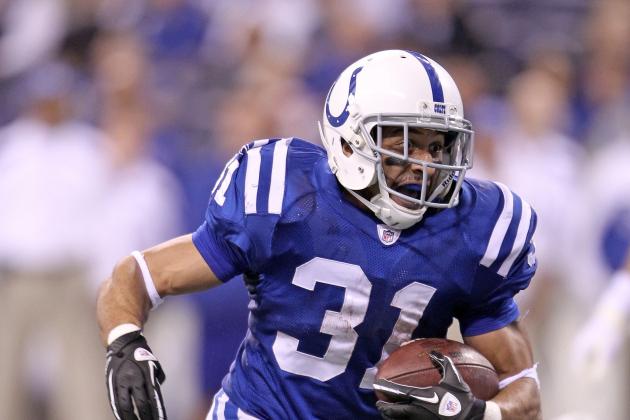 Andy Lyons/Getty Images
Donald Brown emerged as the deadliest back in the Colts backfield in 2011.
2011 Stats: 134 carries, 645 rushing yards, five touchdowns
After last season's debacle in Indianapolis, the Colts elected to release a large number of veteran players. Peyton Manning led the charge, but he was followed by a number of former Pro Bowlers, including running back Joseph Addai.
The fact that they kept Donald Brown was no surprise despite his inability to live up to the expectations of a first-round pick.
The former Connecticut back averaged 4.8 yards per carry last season while scoring five touchdowns and displaying a new-found tendency to actually appear athletic on the field.
Although he's definitely the worst starting tailback in the AFC South, that's not exactly an attack on his ability. His boosted carries, coupled with presumably better quarterback play, should result in a respectable season for Brown.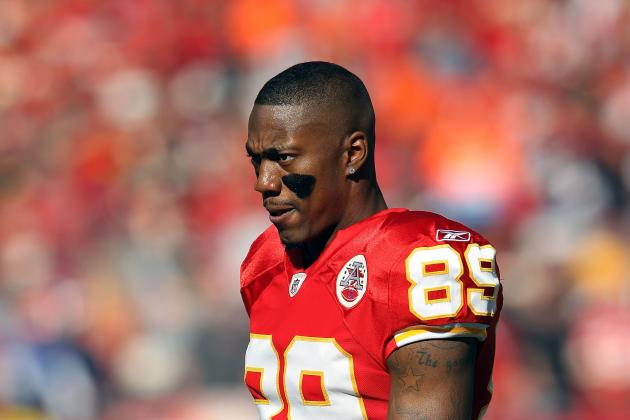 Jamie Squire/Getty Images
Jon Baldwin is a small cog in what could be a very effective machine.
2011 Stats: 21 catches, 254 receiving yards, one touchdown
Jonathan Baldwin didn't display a whole lot of enviable attitude last season, breaking his thumb in an altercation with Thomas Jones in the preseason.
However, it's hard to imagine him not taking on a bigger role this season. Outside of Matt Cassel, the Kansas City Chiefs offense is stacked. With Dwayne Bowe, Jamaal Charles and Peyton Hillis, the Chiefs have three potential candidates for All-Pros.
With Dexter McCluster and Steve Breaston in the mix, Baldwin has little to do but beat second-rate corners and catch the ball when it comes his way. With all the single coverage he'll be facing, that should be early and often.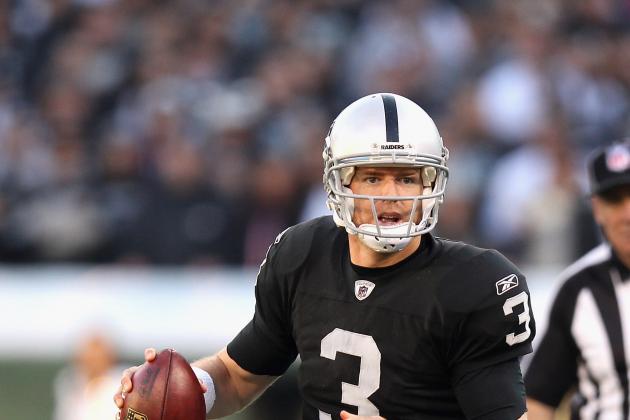 Ezra Shaw/Getty Images
Carson Palmer should benefit from a full offseason workout with the Raiders.
2011 Stats: 60.7 completion percentage, 2,753 passing yards, 13 touchdowns, 16 interceptions
Before Carson Palmer came to the Oakland Raiders, he was a sort-of-retired, sort-of-working-out quarterback who hadn't played football in months.
The Raiders clearly didn't care, throwing Palmer into live action with less than a week in Oakland under his belt.
He promptly threw three interceptions.
With all that game experience getting him back into the swing of things, along with a full offseason to really mesh with his receivers and work the offense, Palmer could easily return to his former Pro Bowl glory days.
I doubt he will ever do so, but he's certainly still better than he showed last season.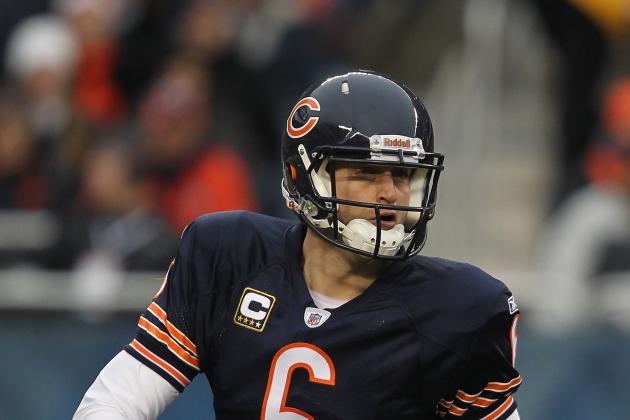 Jonathan Daniel/Getty Images
Jay Cutler is definitely looking forward to reuniting with Brandon Marshall.
2011 Stats: 58 completion percentage, 2,319 passing yards, 13 touchdowns, seven interceptions
I've struck again. Jay Cutler was also injured last season, playing in only 10 games.
However, his stats weren't exactly eye-popping before his injury, throwing only 1.3 touchdowns per game. By contrast, Aaron Rodgers threw exactly three touchdowns per game.
The addition of Brandon Marshall will change that.
The former teammates were nothing if not prolific in their shared time in Denver. Now that they've reunited on the Chicago Bears, the coaching staff believes they can rekindle their prior relationship.
I've little doubt they'll do just that.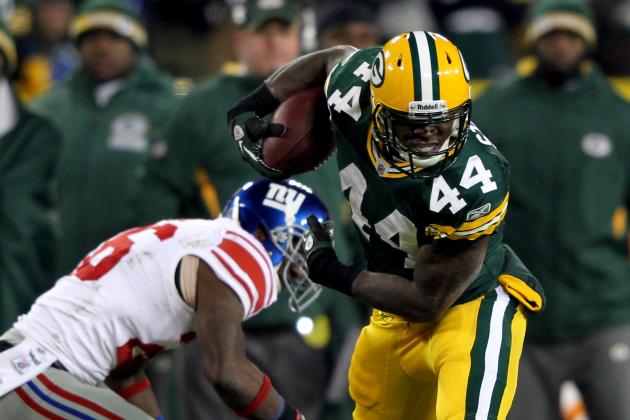 Jamie Squire/Getty Images
James Starks has completed his takeover of the Packers backfield.
2011 Stats: 133 carries, 578 rushing yards, one touchdown
Last season, the Green Bay Packers backfield was basically 50-50. James Starks had 133 carries, while starter Ryan Grant had 134. Both were equally effective, averaging 4.3 and 4.2 yards per carry, respectively.
But Grant is now a free agent and doesn't appear to be returning.
Don't be surprised when the former Buffalo Bull approaches 300 carries next season. Instead, capitalize on this forward thinking and snatch him up early in your fantasy draft. He's going to be quite the value.
Assuming Aaron Rodgers doesn't triple Starks' rushing touchdowns, again.
Kevin C. Cox/Getty Images
Julio Jones and Roddy White could be the best wide receiver tandem in the NFL.
2011 Stats: 54 catches, 959 receiving yards, eight touchdowns
Julio Jones had a fantastic rookie season with the Atlanta Falcons.
And he's going to get better.
The sixth-overall pick in the 2011 draft, Jones did not disappoint. His rapport with Falcons quarterback Matt Ryan was dynamite from day one despite the lockout-shortened offseason. His ability to get open was consistent and dominant. His aptitude for gaining yards after the catch was stunning.
In short, Jones was a beast.
Now, with a full offseason to work with and a year of experience under his belt, the man Atlanta drafted as the final piece to the puzzle is going to put his full skill set on display.
You can be sure Ryan-to-Jones is going to be an immense combo in 2012.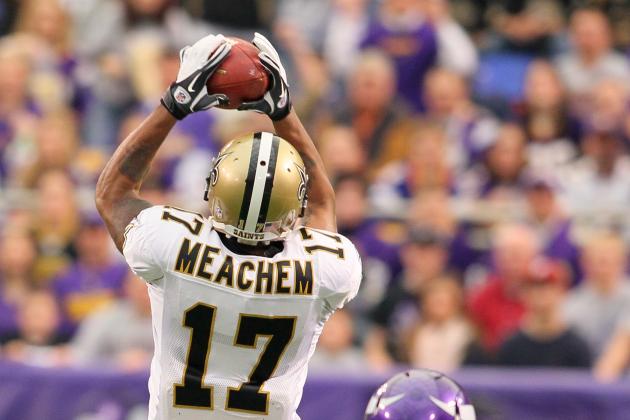 Adam Bettcher/Getty Images
Robert Meachem finally has his chance to be The Guy.
2011 Stats: 40 catches, 620 receiving yards, six touchdowns
After four seasons of being one of the guys, Robert Meachem is ready to be "The Guy."
Since entering the league, he's played second, third and sometimes fourth fiddle to the likes of Marques Colston, Jimmy Graham, Lance Moore and sometimes even Devery Henderson.
There were simply too many mouths to feed in New Orleans.
Now with the San Diego Chargers, Meachem has a chance to emerge as the top threat in their passing attack. With the departure of former No. 1 target Vincent Jackson and the increasing injury proneness of Antonio Gates, Meachem has a real shot to land the top wide receiver spot.
His main competition comes by way of Malcom Floyd, who has been in the system for a few years now. The Chargers also signed Eddie Royal this offseason, but he figures as more of a slot receiver, based on his skill set and size.
Expect to see Meachem and Floyd on the outside this fall.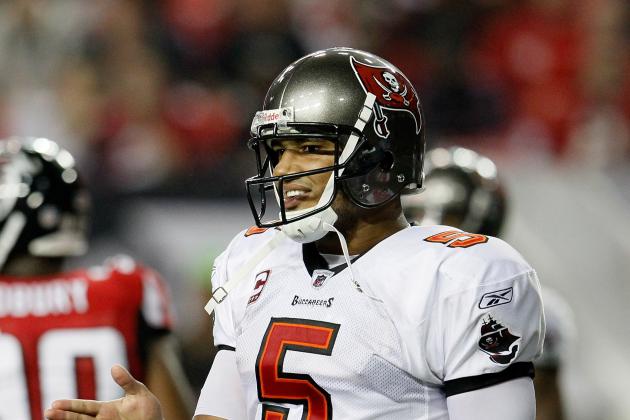 Kevin C. Cox/Getty Images
I expect Josh Freeman to rebound in a major way in 2012.
2011 Stats: 62.8 completion percentage, 3,592 passing yards, 16 touchdowns, 22 interceptions
In 2010, Josh Freeman and the Tampa Bay Buccaneers looked ready to ascend into the NFL's elite ranks. Freeman looked like a future All-Pro, and Mike Williams and LeGarrette Blount looked like stars. Their offense was stacked.
Fast-forward to 2011, and you'd think that was a joke. The entire team regressed into mediocrity and found themselves picking fifth overall in the draft.
So what did the Bucs do? Went out and signed two of the best free agents on the market: a premier pass-catcher in Vincent Jackson and the best guard in football in Carl Nicks.
With both Jackson and Williams on the outside, and the improved offensive line making life easier on Blount, I fully expect this offense to bounce back to their 2010 form.
It starts with Freeman.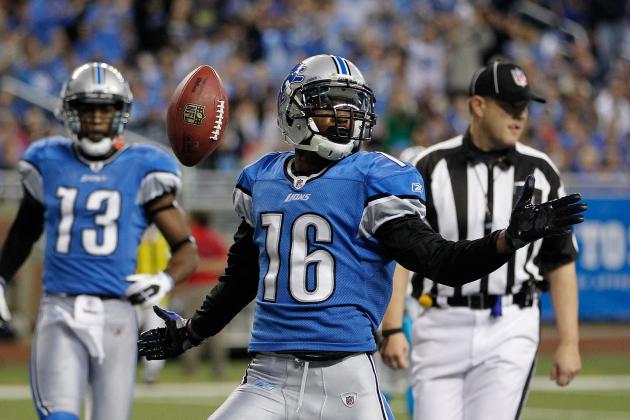 Gregory Shamus/Getty Images
Titus Young came on strong last season.
2011 Stats: 48 catches, 607 receiving yards, six touchdowns
With Calvin "Megatron" Johnson triple-teamed on every play, Nate Burleson found plenty of space to work with in single coverage last season, racking up 73 catches for 757 yards and three touchdowns.
Titus Young found even more space, generally working against the nickle corner, or even safeties, on a play-to-play basis.
As many teams found out, Young is too good for that treatment.
But what can opposing defenses do? They can't leave Megatron in single coverage, as he's proven more than capable of catching multiple touchdowns per game in such situations. They can't put more attention on Young, because Burleson is still good enough to burn them for plenty of yards.
That leaves Young to face less-than-capable competition and free to rack up stats left and right.
2011 was his rookie season. It's fair to expect to pretty decent jump in stats heading into his sophomore season, assuming Matt Stafford can once again stay on the field.
Ezra Shaw/Getty Images
Alex Smith should benefit from a variety of capable targets this season.
2011 Stats: 61.3 completion percentage, 3,144 passing yards, 17 touchdowns, five interceptions
If 2011 was his breakout year, Alex Smith should get ready to relive it.
Considering what he and the San Francisco 49ers were able to accomplish with mediocre wide receivers, they should be aiming even higher after acquiring Super Bowl hero Mario Manningham and former superhero Randy Moss.
These brand-new targets, along with returning players Michael Crabtree and Vernon Davis, should have Smith on his knees in a church somewhere, thanking whoever it is that he thanks.
His prayers have seemingly been answered.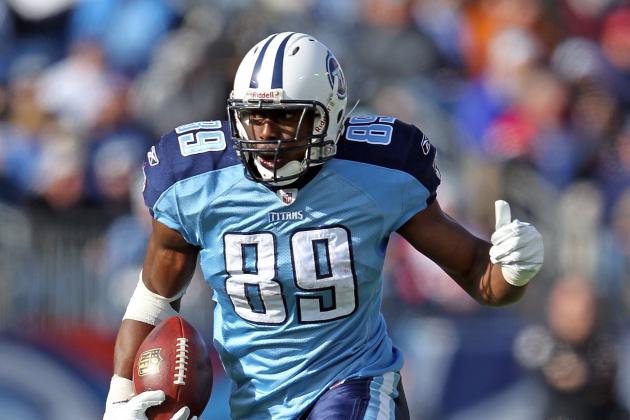 Andy Lyons/Getty Images
Jared Cook stepped way up the ladder last season.
2011 Stats: 49 catches, 759 receiving yards, three touchdowns
Many projected that Jared Cook would have his coming-out party in 2011.
Although that isn't exactly what happened, he wasn't bad, and he certainly wasn't terrible.
Especially towards the end of the season, Cook showed flashes of his massive potential, giving credence to the Jermichael Finley comparisons.
Whether Jake Locker or Matt Hasselbeck is the starter in 2012, I expect Cook to be involved early and often. He's too much of an athletic freak to be ignored for long.