Indiana Pacers vs. Miami Heat: Two Thoughts After Game 4 of Second Round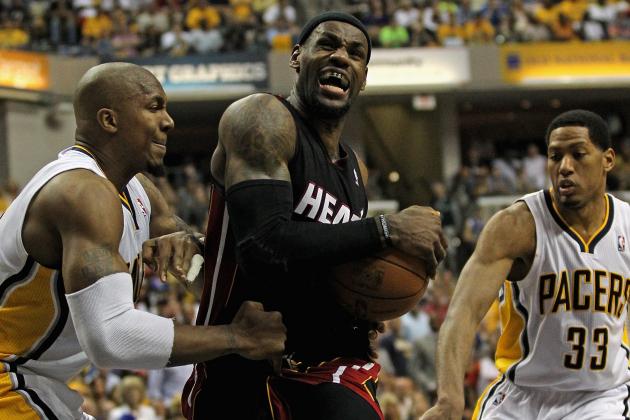 Jonathan Daniel/Getty Images
LeBron James drives past David West (left) and Danny Granger
This Eastern Conference semifinal is between more than just the Miami Heat and the Indiana Pacers. Like Rocky vs. Drago, it's a duel between two different ideologies.
There is the Heat's—sign superstars and assemble a cast of role players that let the stars shine. Then there is the Pacers'—build carefully through the draft with a very traditional Hoosier idea that the team is greater than the sum of its parts.
It is the superstar vs. the team.
The Team lead by 8 at the half, but it wouldn't last. A combined 70 points gave the Superstar(s) a Game 4 win and a tied series headed back to their home court.
As is the case when one team drops a first half lead, especially when another rips it away from them, the storylines are vast.
Being your dutiful writer, I have selected a couple of them for you to consider and dissect. If your a good reader I might just throw a bonus yhought at the end. It's the least I could do.
Begin Slideshow

»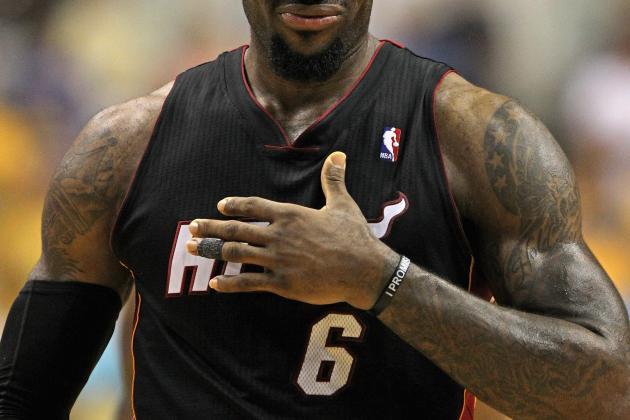 Jonathan Daniel/Getty Images
Pictured: Half of the LeBron/Wade combination.
60: that is how many points LeBron James and Dwyane Wade have to score for Miami to beat the Pacers.
In both of the Heat's wins in this series they have scored at least 60 points. They combined for 70 on Sunday and 61 in Game 1.
That's a lot.
The LeBron/Wade combination has also made 60 percent of Miami's points in the series. That's a huge load to shoulder.
But, if the Heat want to advance to the Eastern Conference Finals, LeBron and Wade will have to keep up their back-breaking scoring output since they are getting very little help elsewhere.
Yes, Udonis Haslem scored 14 on Sunday, including four huge field goals in the last five minutes. Yes, Mario Chalmers tallied 25 points in Game 3. But by and large the Not Lebron/Wade core of the Heat—Haslem, Chalmers, Joel Anthony, Mike Miller, Shane Battier and Ronny Turiaf (H.C.A.M.B.T)—has been sporadic at best.
H.C.A.M.B.T. has averaged 28.8 ppg, not bad. But the group has also scored 5 points or less, 18 times. Including six outings of zero points.
That's dreadful.
The defense and rebounding that Haslem, Anthony and Turiaf add cannot be understated. But as a whole the H.C.A.M.B.T. scoring output cannot be trusted on any given night.
While, James has been playing like the best player in the NBA—with the exception of him apparently thinking making clutch free-throws is for squares—he is facing a daunting scoring load over the next possible three games of the series.
James has scored 122 of the 346 Heat points, 35 percent, and he has to spend much of the second half trying to take David West out of the Pacers' offense.
Now that Wade has rediscovered his composure that he can possibly fulfill his role more capably. But having to score 60 points a game is a tall order, whether you have two of the three best players in the league on your team or not.
The biggest question facing them is can they keep it up. If they don't, they will have an early summer.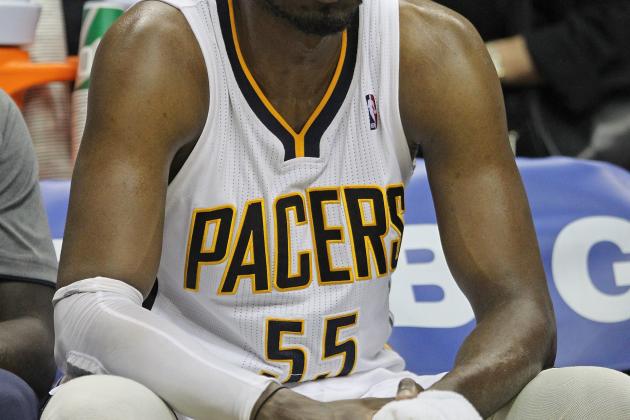 Jonathan Daniel/Getty Images
Pictured: One Sad Big Man
The Pacers have:
Roy Hibbert, currently the third best center in the NBA.
David West, one of the league's more complete Power Forwards, with a fluid elbow jumper.
Tyler Hansbrough and Lou Amundson, two high energy, and competent backups.
They have size and an offensive power game/rebounding advantage over Miami.
And all they managed to do in the second half was get six paint points, three offensive rebounds and get out-rebounded on the defensive glass 23-17. Is that the best they can do?
It was a tale of two halves for Indiana on Sunday night.
In the first half they were clicking. Their post game was fueling their outside game. They were playing solid defense on James and Wade. They led by eight at halftime.
And then, they stopped.
The Pacers came out in the second half, lethally cold.
James and Wade were able to waltz into the lane for easy high-percentage shots the entire second half. They didn't get out to help on Haslem, who's jumpers kept the Heat in the lead.
They didn't work it inside and as a result Miami was able to focus on contesting Indiana's jump shots.
Miami did a great job forcing Hibbert, who killed them in Game 3, out of the lane. He only scored on one jump shot in the second half and West, Hansbrough and Amundson combined for only eight more points.
For the Pacers to win, they need to do these two things.
Offensively: Work inside and not settle for jump shots. Jump shots early in the shot clock lead to quick possessions and fast breaks for Miami. That is how the Heat want to play. But if Indy can work the ball through West and Hibbert, they are able to exploit Miami's lack of size, James' tired legs and the talents of two of their three best players.
For Indiana to succeed they must score down-low.
Defensively: Keep Lebron and Wade out of the paint. Obviously, this will not be 100-percent successful. However, the Pacers have been successful throughout the series at making LeBron and Wade beat them from the outside and limiting their inside opportunities.
The tally is evident. When the Pacers have done these two things, they have two wins. When they haven't they have two losses.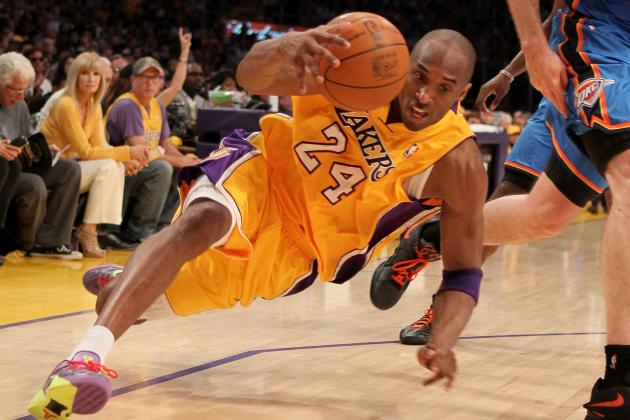 Stephen Dunn/Getty Images

He numbers would not show anything to the contrary.
But, Kobe Bryant is not playing like the vintage Kobe Bryant.
He has thrown, literally, two games away. He's shooting basketball-illiterate shots that, I'm convinced, have divine assistance to go in the quarter of the time he unfurls them.
He's taking on double and triple teams and occasionally forgets he has teammates on the floor. He is just, plain, trying too hard.
Kobe is playing a brand of basketball that will win you nothing.
The Lakers look so much more fluid when he is sitting on the bench, which is a shame, for Laker fans, because it looked like selfish Kobe had remained in 2007. But the days of Smush Parker and Vlad Radmanovic are in the past. He doesn't need to score every shot, or have the entire offense stop and wait for Kobe to do stuff.
What's up with him then?
I think it has everything to do with a certain, slim, silky-smooth shooting, small forward, named Kevin Durant.
Durant is the most clutch player the NBA has seen since the Kobe of 2010 vintage.
In 2010 LeBron had yet to take the Best-Player-In-The-World Belt from Bryant. He was on top of the world. But that bottle is long gone. Kobe is slipping. And Durant is rising.
This kills Kobe.
He knows he's not on top anymore, so he is pressing. He sees Durant sinking clutch shot after clutch shot and Kobe feels he has to one up him. But this will not help the Lakers succeed.
Kobe needs to delegate more. Trust Pau Gasol, he has a tremendous mid-range game. Trust Andrew Bynum, he has a borderline All-NBA level post game. Trust the role players to make their shots and set Bryant up for high percentage chances.
Durant has passed him up. Kobe needs to stop trying to show him up and instead focus on how to beat him.