Eden Hazard: How Lille Star Stacks Up Against Recent Top Transfers
May 21, 2012

Claudio Villa/Getty Images
As Eden Hazard teases us with anticipation over where he'll be playing next season, it seems like the perfect time to compare the Lille phenom to past big-name transfers.
The 21-year-old midfielder and winger is a menace with the ball, using his remarkable touch, creativity and quickness to dissect opposing defenses. He's also got a toughness and ferocity that defies his 5'7" frame, as well refined technical abilities that are highly advanced for his age.
He racked up 21 total goals for Lille this season, including an insane first-half hat trick in his final game with the club. Due to his ridiculous skill level and high ceiling as a player, he's expected to command a price tag in the £40 million range, with teams like Manchester United, Manchester City and Chelsea in the mix.
With all his achievements at such a young age, Hazard is one of the most hyped transfers of this century. But how does he stack up against the top players who have recently switched teams? Let's take a look.
Sergio Aguero, Manchester City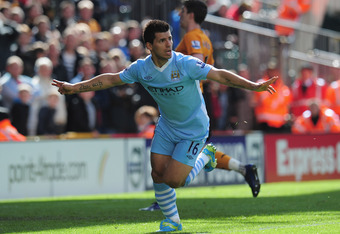 Shaun Botterill/Getty Images
Although Hazard is primarily a midfielder and Aguero is strictly a forward, the two have similar styles of play.
At 5'7", they both have a low center of gravity that allows for quick, shifty movements through traffic. They've also got incredible burst, so they can explode past defenders at will.
They share another similarity in their transfers, as Aguero left a smaller club (Atletico Madrid) to join one of football's giants. 
In his first year with Man City, Aguero lived up to his lofty expectations, netting 23 goals in 34 Premier League games. He even contributed the winning goal in Man City's unbelievable comeback against the Queens Park Rangers to claim the EPL title.
I'm not expecting Hazard to have that sort of immediate impact on his new club, regardless of who he chooses. Still, it's certainly reasonable to assume that Hazard will be at or above Aguero's current level when he gets a little older.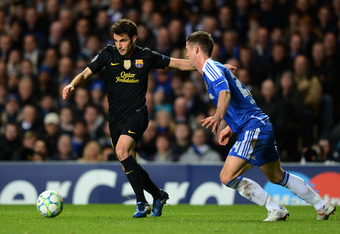 Mike Hewitt/Getty Images
Although Fabregas shares Hazard's position as a midfielder, the two have very different games.
While Hazard relentlessly attacks the goalkeeper, Fabregas sits back and performs surgery on defenses with his pinpoint passing. He's an expert with the through ball and he often orchestrates Barcelona's high-powered offense by setting up his teammates.
The nature of his transfer was also very different than Hazard's situation.
Fabregas was originally a Barca trainee, but he honed his skills as one of the top players at Arsenal. After 212 appearances with the British squad, he signed with Barca in one of the most anticipated returns in football history.
Fabregas started out on fire with Barca, as he became the first player in club history to net a goal in each of his first four La Liga games. He cooled down considerably after that, but he still played a large role within the team.
If the proper chips fall into place, Hazard can have similar early success with whatever club he chooses.
Alexis Sanchez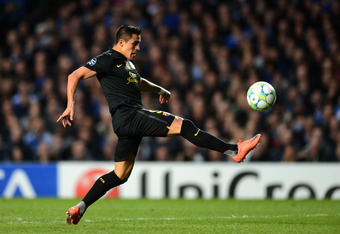 Mike Hewitt/Getty Images
Hazard's transfer situation is reminiscent of Sanchez's, as the young Chilean winger moved from the Italian club Udinese to the football powerhouse that is Barcelona.

Sanchez also has a somewhat similar style of play as Hazard, as his craftiness, speed and excellent ball control are his greatest assets.
However, they differ in their ability to find the net. Sanchez is a quality goal scorer, but his highest season total for goals (12) pales in comparison to what Hazard did this year for Lille.
Sanchez also battled numerous injuries during his first season with Barca, which certainly limited his impact.
If Hazard can stay healthy next season, he should surpass Sanchez's first-year numbers with his new club.