WWE over the Limit 2012 Results: Punk and Bryan Dazzle in Intant Classic. Punk Retains WWE Title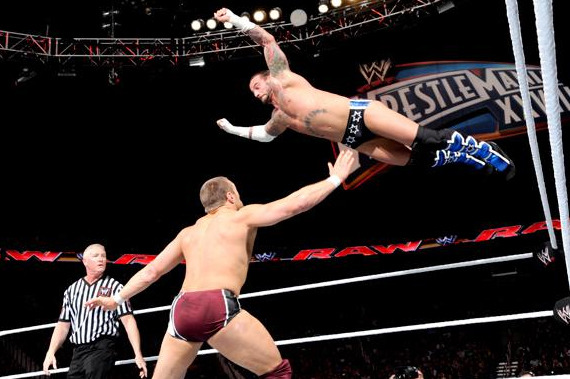 Punk cut a promo backstage before the match but was interrupted by AJ before he hastily shuffled off. This will likely lead to nothing in the match as AJ appearances tend to do.
Punk and Bryan exchanged early leg kicks and went back and forth with strikes as fans went back and forth with chants.
Bryan began to build momentum after a series of furious kicks. Bryan seemed hobbled after planting his patented backflip off the top rope and Punk took advantage with a leg lock, stretching his injured left hamstring.
Bryan resumed his striking offense but Punk was able to quickly come back with a unique submission maneuver.
The two took the action to the outside as Bryan rammed Punk into the barricade and dropkicked him into the crowd.
Bryan followed up with a missile dropkick for a nearfall as he continued to favor his left hamstring. Bryan continued to pepper Punk with stiff kicks as he dictated the pace.
Bryan locked on a surfboard maneuver while screaming "Yes!" Bryan turned it into a modified Dragon Sleeper as Punk slowly faded. Punk fought out of the hold with multiple elbows before covering Bryan for a count of one. Bryan regained control with two huge kneedrops to the back, but Punk moved out of the way on the third attempt.
Punk went back to work on Bryan's left leg as he tried to get back into the match.
Bryan connected with a flying headbutt, but Punk was able to continue to fight back into the match as he opened up with a string of forearms to the face before beginning his comeback.
A flying knee attempt was stopped as Bryan blocked a charging Punk with his feet. Bryan charged Punk but was met with a power slam for a nearfall.
Bryan came back with kicks to the chest, but one particular kick was caught by Punk and countered by a Figure Four leg lock. Punk and Bryan went back and forth with slaps to the face while the hold was locked on.
A knee drop attempt by Punk was countered by a rollup or a nearfall. Punk came back with a rollup of his own but Punk kicked out. Bryan then connected with a huge kick to the skull of Punk for another nearfall.
"This is Awesome" chants developed as Bryan kneed Punk with his exposed knee. Punk crotched Bryan on the top rope and hit a flying clothesline for a nearfall. The two exchanged headbutts and elbows while on their knees. When they returned to their feet, Punk attempted a GTS but was rolled up for a nearfall.
A rollup by Punk was countered by the Yes lock as Bryan fought out of it. Punk answered with a roundhouse kick for a nearfall.
Punk then hit a flying elbow drop, but the move affected his injured ribs. This lead to a nearfall.
Bryan charged Punk and missed on a drop kick in the corner. Punk tried to capitalize but Bryan floated over and locked in the Yes lock. Punk rolled up Daniel Bryan for the three count but Punk tapped out after the count.
Winner: CM Punk
This Match as an Avenger: Iron Man
Most recent updates:
This article is
What is the duplicate article?
Why is this article offensive?
Where is this article plagiarized from?
Why is this article poorly edited?