Bay to Breakers 2012: Crazy Costumes Make Event Worth Seeing
May 20, 2012

Let's keep it real here for a second—watching a long-distance run can be a bit boring. Anything longer than the 1,600 meters, even at the top level, can get a bit dull.
Sprinting is sexy and medium-distance events can be compelling, but simply watching people run over long distances is an acquired taste for sure.
Unless you add a bunch of zany costumes to the mix.
That's what the Zazzle Bay for Breakers does each year, a 12k race (7.46 miles) held in San Francisco that incorporates a costume contest with five different themes. They include (via the event's website):
The Be-Zazzled Costume: Most innovative use of the "Z" (the letter...the sound...the Zazzle logo)

Best Overall Individual Costume: The head-turner, insane, creative, recognizable but not copy-cat. Color outside the lines.

THE iCostume: Best play on technology, geek out, incorporate a tech theme, use of "i."

Most Creative-Individual: Never been seen or done before. May require explanation to judges and that is okay.

Most Creative-Group: Never been seen or done before. May require explanation to judges and that is okay.
Don't get it twisted—this is still a very serious race. The first-place finisher receives a $25,000 prize (the starts are staggered, and the women begin before the men). This year, Sammy Kitwara took home the top prize, and Mamitu Daska was the top male finisher.
So no, for serious racers this is not fun and games.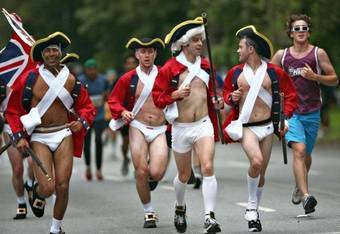 But for everyone else it most certainly is. Well, if you don't mind some nudity—some people's idea of a costume is a birthday suit, which is allowed at the race because, well, this is San Francisco we're talking about.
For those of us who find the average distance event a bit dull, this is a creative and fantastic way to spruce things up. It's one of those odd, unexpected traditions accompanying a sporting event that sets it apart from the rest.
So congratulations to all of the race and costume winners. But more so, congratulations to this event for doing something creative and fun during the race.
It's what makes it a 12k event worth seeing. Hell, even dressing up for.