Grading Each English Premier League Club's 2011-'12 Season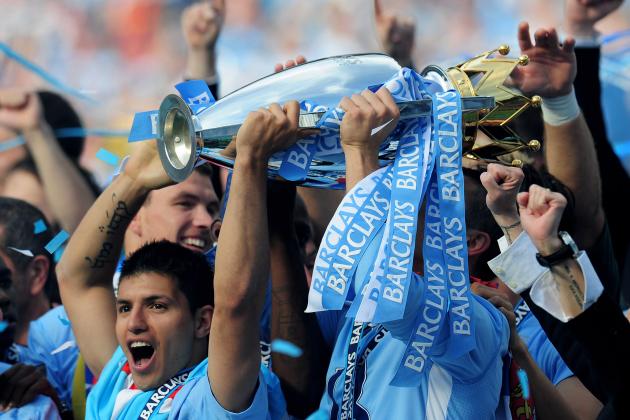 Shaun Botterill/Getty Images

It's the end of a crazy season in English football.
A new team got their hands on the Premier League trophy, but there were plenty of other triumphs and tragedies for all the teams within the league.
The following grades will be assigned not just on the basis of league performance, but on how each team performed in all of the competitions in which it took part.
Agree or disagree with the grades? Let me know in the comments.
Begin Slideshow

»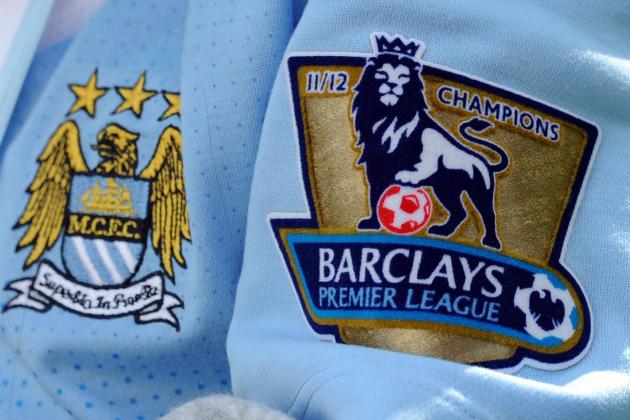 Chris Brunskill/Getty Images

They may not have performed in Europe as well as they might have hoped, and being knocked out of the FA Cup by their rivals, Manchester United, would have hurt, but this season has ultimately been a triumph for City.
Forty-four years of hurt were finally brought to an end with the most dramatic end to a season seen in English football since 1989.
After racing into an early lead, including a memorable 6-1 thrashing of United at Old Trafford, City seemed like it would stroll to the title.
But they briefly lost their nerve and allowed United to open up a eight-point lead at the top of the table by early April.
United blew their lead, and City secured the title with a dramatic last-minute winner from Sergio Aguero.
It's hardly the fairytale that some have claimed; City's billions were always going to pay off eventually.
But they have played some great football this season and look set to dominate English football for the foreseeable future.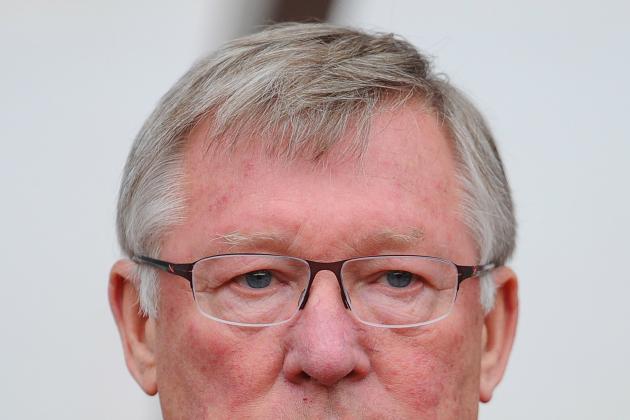 Michael Regan/Getty Images

The B-minus reflects the fact that this was, ultimately, a disappointing season for United, but one in which they still put up a very respectable title challenge.
To lose out on the title to your nearest rivals, after blowing an eight-point lead, seems very "un-United."
But a haul of 89 points—nine more than they gained last season—is no disgrace.
They pushed a team with a massive financial advantage right down to the wire and were just pipped at the post. I would give their league campaign an A-minus.
They have dropped further down the grade-scale due to their appalling (by their standards) performance in Europe.
To not progress from the group stage—when faced with a very straightforward group—was incredibly disappointing.
With the Glazers continuing to suck money out of the club, United have a slightly uncertain future ahead of them.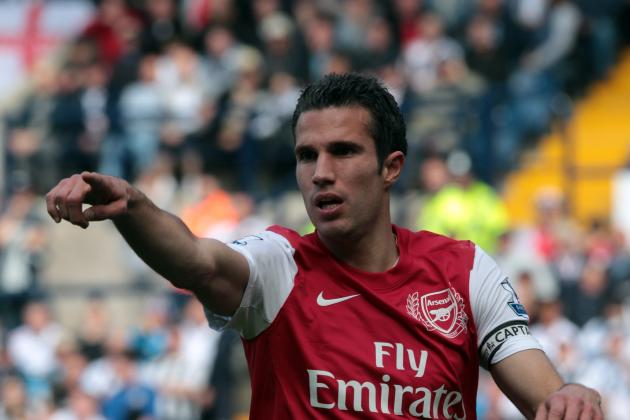 Ross Kinnaird/Getty Images

After the series of calamities that befell Arsenal last summer, culminating in the historic 8-2 defeat at Old Trafford, most Arsenal fans (including myself) would have been ecstatic about a third-place finish if we'd been offered it on September 1 last year.
But, when judged as a whole, this has been a poor season for Arsenal.
The team has had star performers, such as Mikel Arteta, Laurent Koscielny, and, of course, Robin van Persie.
But the amount of highly-paid dross within the Arsenal squad is now startling.
Arsenal's lack of squad depth meant that their fight for Champions League qualification went down to the last day of the season, where they were a handful of goalkeeping blunders away from finishing in fourth place (and missing out).
And they did not come close to trophies elsewhere. A 4-0 hammering in Milan and a disappointing 2-0 defeat to Sunderland in the FA Cup put paid to any chance of significant silverware.
In short, Arsenal have reached another decisive summer.
Can they hold onto their best players, sign top talent and actually challenge for trophies next year?
Or will they simply make up the numbers once more, trundling towards Champions League qualification without ever seriously troubling the league leaders?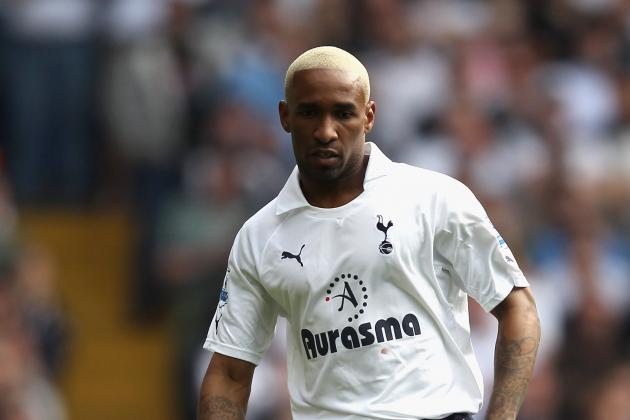 Clive Rose/Getty Images

It may not be fair, but it's happened.
Tottenham finished in fourth place but failed to qualify for the Champions League due to Chelsea's victory in Munich.
The disappointment masks the fact that Tottenham have improved in the league this season, earning seven more points and moving up one position.
Harry Redknapp may have made himself dizzy with all his claims and counter-claims about whether Spurs were ever serious contenders for the title, but from the perspective of more realistic expectations, Tottenham have performed fairly well in the league this year.
A disastrous FA Cup semifinal against Chelsea might be viewed as unjust due to Juan Mata's phantom "goal," but Chelsea still put another four goals past them in the game. It was a disappointing end to a decent cup run.
A similarly disastrous performance against Arsenal saw them surrender a two-goal lead in the game, which precipitated a collapse in the league that saw them finish behind their North London rivals.
Whatever travails Arsenal may face this summer, Spurs are surely in for just as bad a time.
With no Champions League football, hanging on to the likes of Luka Modric, Gareth Bale and Emmanuel Adebayor will be hard for Spurs.
In short, they may struggle to reach 69 points next season,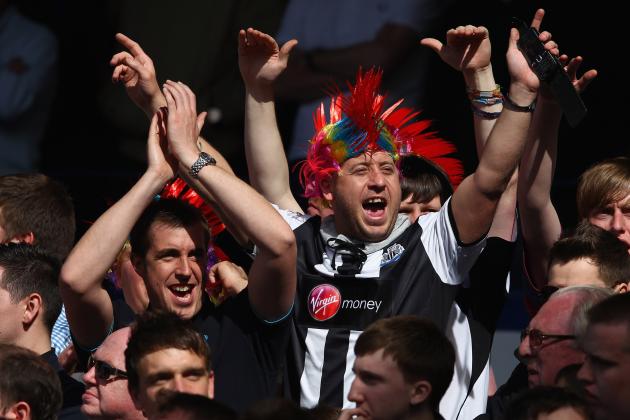 Clive Brunskill/Getty Images

It's been a pretty great season for Newcastle.
Expectations were fairly low for the club this season, but they have performed incredibly well in the league.
Great signings such as Yohan Cabaye, Demba Ba and Papiss Cisse saw Newcastle come agonizingly close to Champions League qualification.
While missing out on qualification will sting, finishing in fifth with 65 points is still a massive improvement on last year's 12th-place finish with 46 points.
Slightly disappointing runs in both cup competitions will also slightly take the sheen off their season, but there's still much to be proud about.
The challenge for the Toon Army will now be to keep this collection of players together and build still further upon it.
If they can do that, they will be in with a real shout of a top-four finish next year.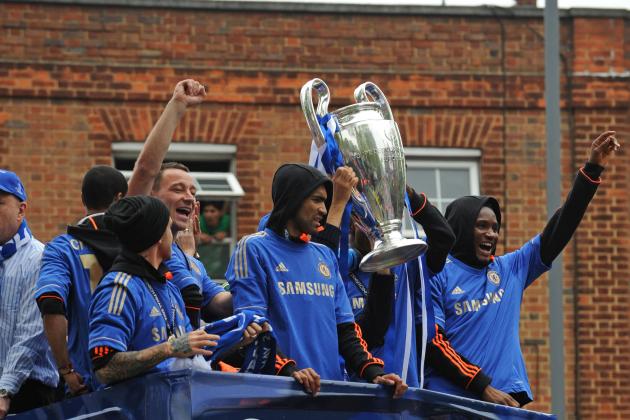 Steve Bardens/Getty Images

What a season it's been for Chelsea.
It seems that pouring billions of pounds into a club can, ultimately, win you the highest prize in club football after Chelsea's incredible Champions League final victory over Bayern Munich.
A season which seemed to be heading towards (relative) disaster was turned around with the firing of Andre Villas-Boas in early March.
While Roberto di Matteo did little to turn around Chelsea's appalling league form, he somehow managed to snatch historic wins against Barcelona, Bayern and Liverpool to take two trophies back to West London.
Whether this is the last hurrah for an aging squad, or the start of a new beginning, remains to be seen.
But, today, Chelsea have a very happy owner.
And we can expect even more spending this summer.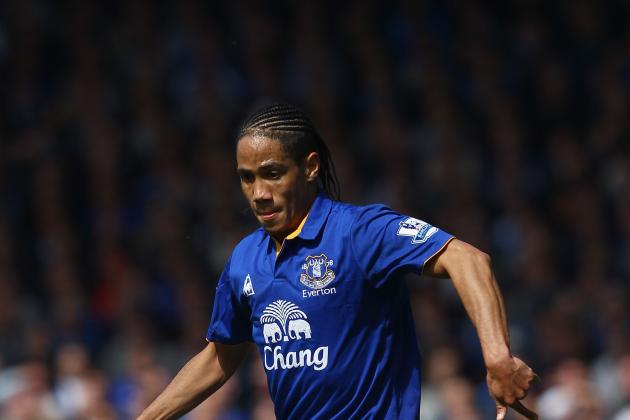 Clive Brunskill/Getty Images

It's hard to assess quite how well Everton have done this season.
It's obviously always nice to finish above Liverpool, but Everton did not improve on their league position from last year and only gained two more points in the league.
The defeat in the FA Cup semifinal against Liverpool was also incredibly disappointing.
There is now an underlying sense that David Moyes has done all he can do at the club.
Losing in the cup semifinal denied Everton their best chance of silverware since 2009, and the club appear to be standing still in the league.
With meagre resources at their disposal, this might be as good as it gets for Everton.
It might be time to try a new approach.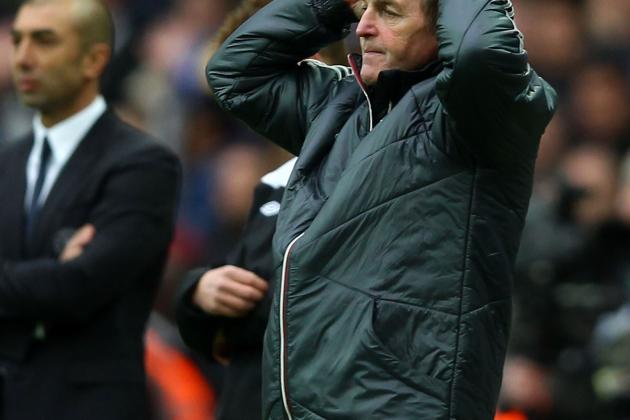 Clive Brunskill/Getty Images

Only the most blinkered of fans could deny that this season has been anything other than an utter shambles for Liverpool.
After spending millions of pounds in the summer, the result has been a league campaign that has seen Liverpool finish behind their Merseyside rivals, Everton, gaining six fewer points in the process.
This was meant to be the season that "King Kenny" put together a side that got Liverpool back into the Champions League and maybe even challenged for the title.
Instead, Liverpool have finished eighth and needed a penalty shoot-out to beat Championship-side Cardiff in the Carling Cup final.
Luis Suarez showed flashes of brilliance, but the performances of Andy Carroll, Stuart Downing, Jordan Henderson and Charlie Adam make it look like Liverpool have wasted the best part of £100 million.
And whatever your opinion of it, the Suarez affair was poorly handled by the club, typified by the ludicrous t-shirts that Kenny Dalglish and his players wore in support of the Uruguayan player in December.
Whoever inherits Dalglish's position has a massive job on his hands.
Liverpool can and must improve on a season that most fans will want to forget.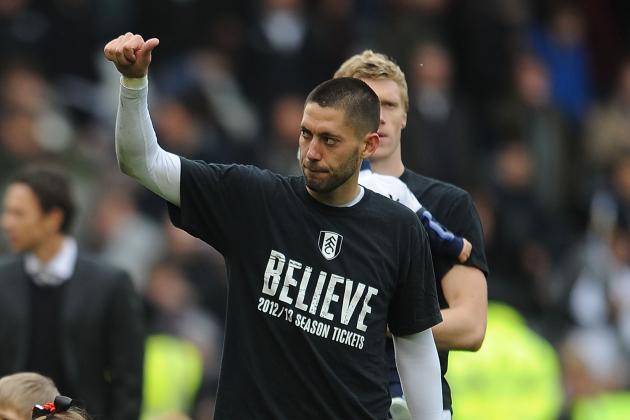 Christopher Lee/Getty Images

Ultimately, Fulham can be proud of their team and its performances this season.
Mid-table might signal mediocrity for most clubs, but this year has been a much needed period of stability for the Cottagers.
Fulham may have finished a place lower in the league, but they earned three more points in the process, and Martin Jol can justifiably claim that progress has been made.
The challenge now will be to keep the side together. Clint Dempsey has attracted interest from all over Europe, as has Moussa Dembele, who had a phenomenal season.
The challenge for Fulham has always been whether they can build on mid-table security or not.
This season, they inched forward.
Maybe, next year, if Jol can keep his squad together and supplement it with a few more quality signings, they can move a few places up the table.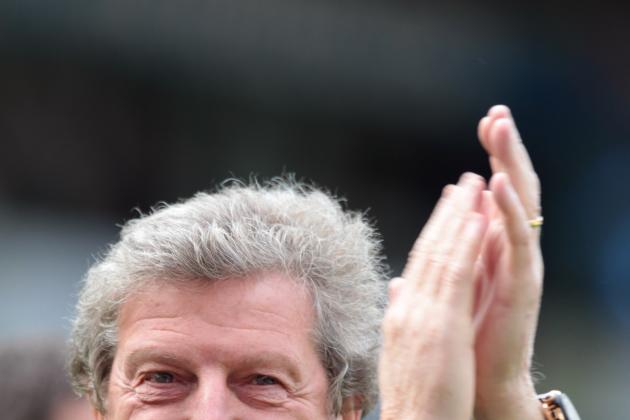 Ross Kinnaird/Getty Images

Perhaps the greatest compliment you can pay West Brom this year is that they've stood still.
This is a club that has yo-yo'd between the Premier League and the Championship for years, but, this season, they've managed to solidify their place in mid-table.
A few adroit signings by Roy Hodgson ensured that West Brom were never really pulled into the relegation dogfight at any stage.
Shane Long got eight goals in his first full Premier League season and might have got more had it not been for injury.
James Morrison may well have been the Baggies' best player, with five goals and five assists in the league.
Indeed, the team's performances this season were enough to help land Roy Hodgson the England job.
Whoever replaces him will have a tough job on their hands, if West Brom are to keep moving upwards in the league.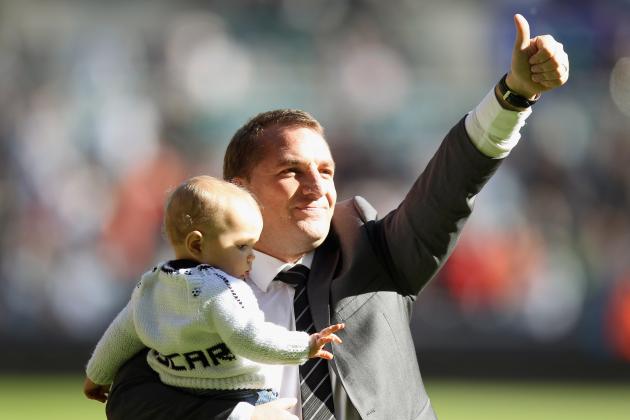 Bryn Lennon/Getty Images

This season went as well for the Swans as they possibly could have hoped.
Not only did they comfortably avoid relegation, they also achieved victories over a string of high-profile clubs, including Arsenal, Liverpool, and Manchester City.
In doing so, they showed that newly promoted teams can achieve security in style, playing a brand of football that Barcelona would have been proud of.
Gylfi Sigurdsson, Joe Allen and Michel Vorm all shined during the season, and Swansea will do well to hang on to all three next year.
Not only will they possibly struggle to hold onto their players, manager Brendan Rodgers is also hot property, with Liverpool asking him to interview for their vacant managerial position.
That Rodgers turned down this interview showed his commitment to the job in south Wales.
Here's hoping that the Swans continue to play their wonderful brand of football next year.
Jamie McDonald/Getty Images

Norwich enjoyed a fine return to the Premier League this season, ensuring their survival with relative ease.
There were a few low points, such as a 6-1 mauling at Carrow Road at the hands of eventual champions, Manchester City.
But this was generally a relatively low-stress campaign for the Canaries.
Grant Holt bagged an impressive 15 league goals and already seems as if he wants to earn one last big contract elsewhere.
He'll probably end up staying, and it's just as well, because Norwich need his goals.
Boss Paul Lambert was one of the most cultured British players of the last few decades, and he will think hard about how Norwich can improve still further next season.
Until then, Norwich fans can celebrate a job well done.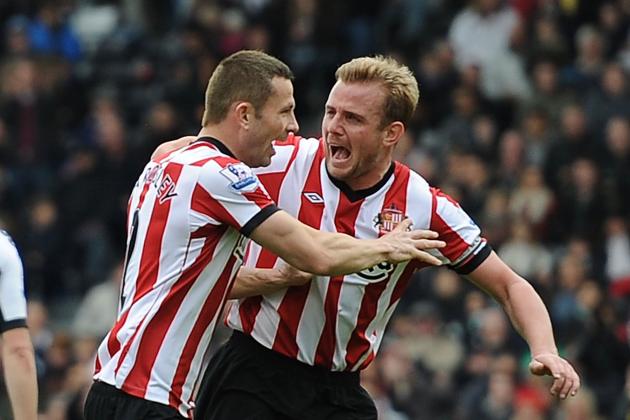 Christopher Lee/Getty Images

It's been a funny year for Sunderland.
A poor start to the season saw Steve Bruce sacked and Martin O'Neill brought in as a replacement.
O'Neill briefly had one of the best records in the Premier League after his appointment in December, but from February onwards the Black Cats slowly began to drop points with alarming regularity.
Their last win in the league came on 24 March, and they failed to pick up a win in their last nine games.
With O'Neill already saying that he's on the lookout for free-transfer bargains, it's questionable how much there is to look forward to next year for Sunderland fans.
This season showed that there is not a huge deal of quality in the squad, and they don't seem to have the cash to do much about it.
If they're not careful, they could well become next season's Bolton.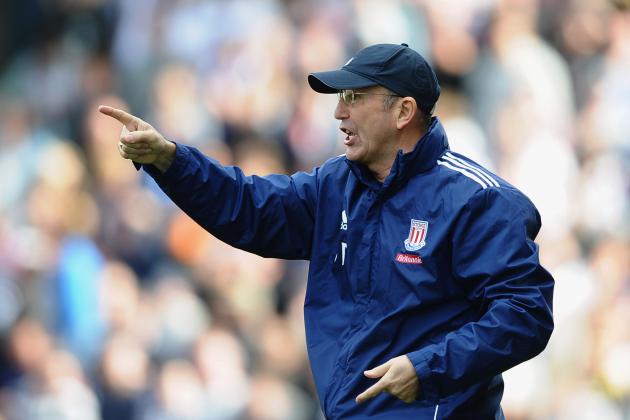 Laurence Griffiths/Getty Images

Another season survived, and survived with relative comfort, means than Stoke fans can take a lot of comfort from their performances this year.
Peter Crouch proved to be an astute signing and well suited to a team that prefers the ball in the air rather than on the floor.
His incredible strike against Manchester City might just be the goal of the season.
But is this the season that has finally, conclusively proved that Stoke's tactics are not just ugly but unnecessary?
They averaged 40 percent of possession in their games this season and still score a majority of their goals from set-pieces.
Both Swansea, and Norwich to an extent, have shown that teams can survive in the Premier League by playing expansive, attractive football.
Stoke still don't and dropped a place and a point in the league this season from last year.
Maybe a decisive moment in the team's history is coming up.
Do they stick with Tony Pulis and scrape to Premier League survival each season with very little aplomb?
Or do they try and move forward, both stylistically and in terms of league position?
We'll have to wait and see.
Chris Brunskill/Getty Images

It's been an oddly memorable season for Wigan.
After struggling to pull themselves out of the relegation battle all year, they suddenly managed to beat Manchester United and Arsenal and then thrashed Newcastle, in three memorable performances that saw them to safety.
Their performances towards the end of the season were so good that they earned Roberto Martinez an interview for the vacant Liverpool job.
It's a sign of how quickly people's opinions change in football that Martinez was heading towards the sack until March, and now he's being offered one of the biggest positions in English football.
Because, really, this hasn't been that great a season for Wigan.
One more point and one place higher up the table doesn't really suggest that much progress has been made.
A strong finish does not necessarily equate to a great season.
Jamie McDonald/Getty Images

It's been a very poor season for Aston Villa, but not quite a disaster.
At one stage in April, Villa were in complete free fall, and looked like outside candidates for relegation.
They avoided that ignominy, but a club like Villa shouldn't be pulled into relegation battles.
It was hardly a surprise that they were, though, given the ludicrous appointment of Alex McCleish last summer.
As predicted by practically everyone, McCleish seemed completely out of his depth on the other side of Birmingham, losing the dressing room and playing turgid football to boot.
He was rightly sacked at the end of the season, and Villa have a huge rebuilding process in front of them before next season begins.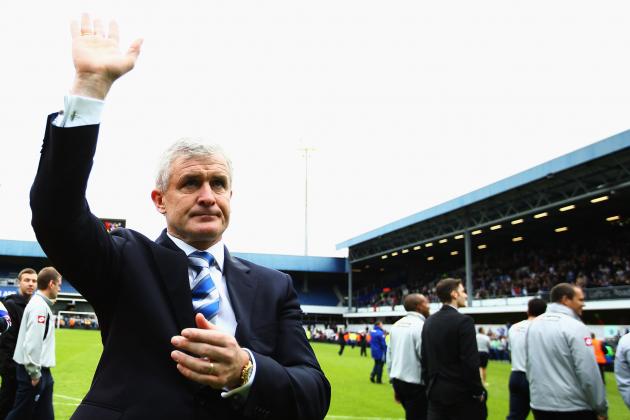 Julian Finney/Getty Images

A harsh grade? Maybe.
But QPR have had a lot more money to spend than a lot of other teams in the Premier League this season, and they ultimately only just scraped to safety.
They could afford to go out and buy two new strikers in January—Bobby Zamora and Djibril Cisse—where others could not.
They also had the likes of Alejandro Faurlin, who was probably their standout performer.
The key to their survival was their home form, which included big wins over Arsenal, Liverpool, Tottenham and Chelsea.
Away from Loftus Road, they lost 14 out of their 19 fixtures.
With (probably) even more money to spend this summer, they will surely look to have a more impressive campaign next year.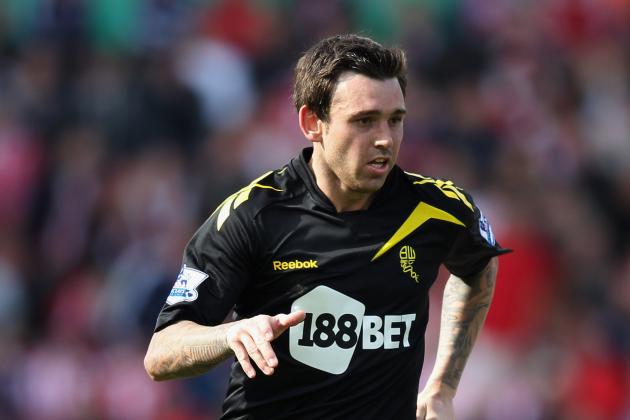 Michael Steele/Getty Images

It doesn't seem that long ago that Owen Coyle was being linked with a top managerial post.
Now he'll do well to hold on to his job at relegated Bolton.
Big injuries to Stuart Holden and Lee Chung-Yong didn't help, nor did losing Gary Cahill to Chelsea in January.
Bolton simply couldn't win enough games.
While they won quite a few games against teams below 15th place, they only won two matches against teams above that place in the league.
It would seem that this Bolton team just isn't cut out to play and beat the top teams in England.
Maybe a year in the Championship will give them time to regroup.
Still, while they were relegated, at least they slipped down a division while maintaining a degree of self-respect, which is more than can be said for the next two sides...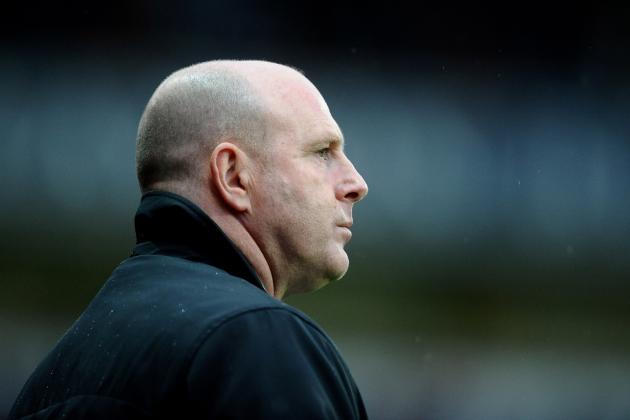 Laurence Griffiths/Getty Images

What a disaster this season has been for Blackburn.
Who knows what has gone on behind the scenes at the club, but the chaos appears to have extended from the boardroom to the pitch to the stands.
Steve Kean has been out of his depth from the moment he took over at the club, and the stubborn refusal of the Blackburn leadership to remove him has proved disastrous.
Months of angry protests by Blackburn fans haven't dislodged him, and Kean has refused to do the honourable thing and resign his post.
Amazing wins over both Arsenal and Manchester United have overshadowed a season of disappointing results and a well-merited relegation.
Who knows where Blackburn go from here, but they don't appear to be anywhere near rock bottom yet.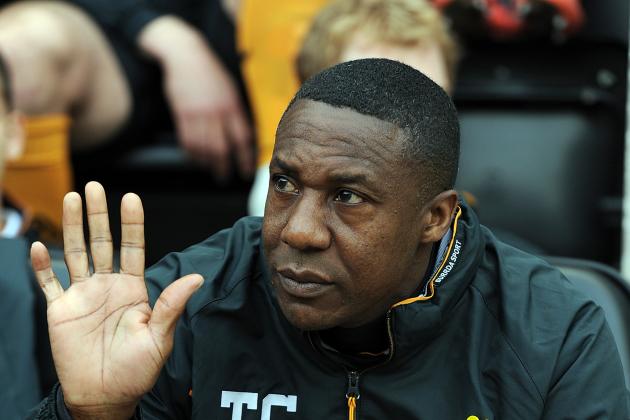 Chris Brunskill/Getty Images

Even the most hardened of football fans must have had a lump in their throat at the sight of poor Terry Connor practically being reduced to tears on camera.
It was the nadir of a terrible season for Wolves.
After hounding Mick McCarthy out of the club, Wolves' fortunes didn't improve, and the club were rooted to the foot of the table for a good deal of the season.
With only five league wins all season, there was practically nothing to cheer about all season.
A deserved relegation, and Wolves now face a struggle to keep the likes of Matt Jarvis, Steven Fletcher and Wayne Hennessey from jumping ship.