2012 NFL Season: Baltimore Ravens and Teams That Will Take a Step Back in 2012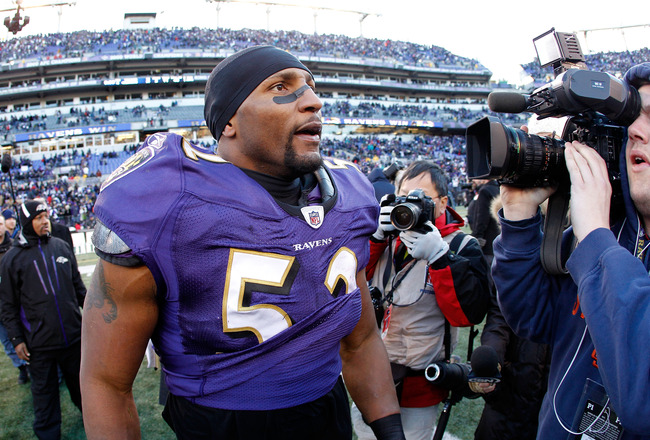 Rob Carr/Getty Images
Every year, some NFL teams see a steep drop in their performance.
In 2011, the Indianapolis Colts lost star quarterback Peyton Manning for the year, and they went from 10-6 in 2010 to 2-14 the next year. The New York Jets went to the AFC Championship in 2010, and last year they missed the playoffs entirely.
A step back can be attributed to injuries, underwhelming play or locker-room drama.
This year is no different. There will be teams that will perform significantly worse than last year. But three teams will see themselves take a huge step back in the 2012 NFL season.
Oakland Raiders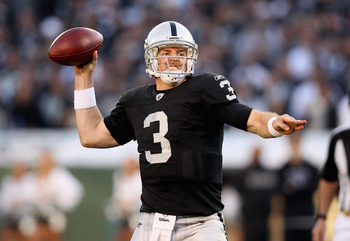 Ezra Shaw/Getty Images
The favorite for landing the No. 1 pick in the 2013 NFL draft is the Oakland Raiders.
Last year, the Raiders quietly went 8-8 and remained in playoff contention until the very end of the year.
After last year, however, Oakland has done nothing correctly. LB Rolando McClain has been sentenced to six months in jail for third-degree assault, reckless endangerment, menacing and unlawful discharge of a firearm. The Raiders let RB Michael Bush leave in free agency for a spot on the Chicago Bears.
The Raiders also botched their draft. They had already lost the No. 17 pick in a trade for QB Carson Palmer, and they didn't do much to make up for that loss. Oakland drafted no impact players and did nothing to improve its porous defense.
The Raiders don't have an elite offense, and with a defense that won't be able to stop anyone in 2012, Oakland will struggle tremendously. Oakland will also be playing six games against the much-improved Denver Broncos, Kansas City Chiefs and San Diego Chargers. The Broncos signed Peyton Manning to complement their elite defense, the Chiefs are recovering from several critical injuries and the Chargers always have a strong offense.
The Raiders will struggle to win games in 2012. Look for a maximum of three or four wins from Oakland.
New Orleans Saints
Ezra Shaw/Getty Images
This one is a no-brainer.
With all of the drama going on with the New Orleans Saints during the offseason, it's hard to believe that they will be able to focus on football this coming fall.
First, the Saints made some of the biggest sports news this year, when it was revealed that former defensive coordinator Gregg Williams and Saints players were part of a bounty program. Williams and other members of the team offered money for injuring other players and taking them out of the game.
The NFL dealt harsh punishments to New Orleans, suspending Williams indefinitely, head coach Sean Payton for one year, GM Mickey Loomis for eight games and assistant head coach Joe Vitt for six games. Four players were also suspended: Jonathan Vilma for one year, Anthony Hargrove for eight games, Will Smith for four games and Scott Fujita for three. In addition, the Saints were fined $500,000 and were stripped of their second-round selections in the 2012 and 2013 NFL drafts.
The Saints didn't have a first-round pick this year, as they traded it to New England Patriots last year in order to select RB Mark Ingram.
To top it off, New Orleans and star QB Drew Brees are at an impasse regarding Brees' contract status. Brees was franchised this year, but no progress has been made on a long-term contract.
Brees led the league in passing last year.
The Saints will have way too much going on to focus on winning the ultra-competitive NFC South. The Atlanta Falcons will look to have another good year, and the Tampa Bay Buccaneers pulled some great offseason moves to launch themselves into playoff contention.
The Saints will struggle to win games this year. Expect nine-10 wins in a season that is sure to disappoint.
Baltimore Ravens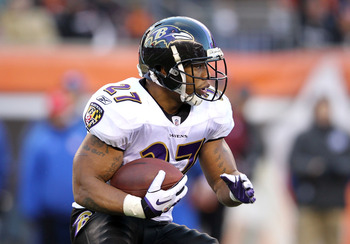 Andy Lyons/Getty Images
This is a bit of a surprise.
At first sight, the Ravens look like a team that could return to the AFC Championship, like last year.
But when one digs deeper, it's evident that the Ravens are a team on the downfall.
For the past few years, Baltimore has been a team that has relied on a dominant defense and a middle-of-the-pack offense.
The Ravens defense looks to be in good shape entering 2012; Ray Lewis, Ed Reed, Terrell Suggs and Haloti Ngata are some of the elite players on that unit. However, Lewis is getting old, and he missed four games last year while only recording 95 tackles.
Reed has flirted with retirement talks. It might just be a ruse to get a new contract extension, but it could also be something that he is seriously thinking about doing. Retiring would leave a huge void at safety, and the loss would be worse considering that fact that the Ravens don't have a good safety waiting in the wings.
Ed Reed isn't the only one with contract problems. Star RB Ray Rice seems to be unhappy with being franchised. He, like every other player in the league, wants long-term security for his job. Rice led the league in yards from scrimmage and is by far the Ravens' best offensive player.
Suggs suffered an injury during offseason workouts and is expected to be out for the year. The star LB led the team in sacks with 14. He also recorded 70 tackles this past season.
Baltimore has some problems to work out before the start of the season. Otherwise, the Ravens could be in for a tough season.
If the Ravens can get contract issues worked out, they might manage 11 wins. If not, look for nine to 10 wins from the Ravens.
Keep Reading