Who Should Daniel Cormier Meet in Strikeforce's Final Heavyweight Fight?
May 20, 2012

A win over Josh Barnett in the final fight of the Strikeforce Heavyweight Grand Prix should have set Daniel Cormier up for a shot at the UFC heavyweight title, especially with champion Junior dos Santos and Frank Mir set to square off only one week after Cormier's dominant decision win.
However, despite Strikeforce's entire heavyweight roster being sent to the UFC, Showtime has been promised one last heavyweight bout, which will feature Cormier and a fighter to be named. While most MMA fans would probably prefer to see Cormier compete against the world's best inside the Octagon, there are two fights that could make some sense under the Strikeforce banner.
Daniel Cormier vs. Shane Carwin
After winning his first 10 professional fights, including a win over a former UFC champion in Barnett and an impressive knockout of an elite heavyweight in Antonio Silva, Cormier deserves to compete against one of the sport's best heavyweights despite having to stick with Strikeforce for one more fight.
That being said, Cormier could probably use one more fight before he's ready for the likes of a Junior dos Santos, Frank Mir or Cain Velasquez. So, the UFC should make the most of Cormier's final Strikeforce fight by giving him a significant test without sending the still relatively inexperienced fighter to slaughter.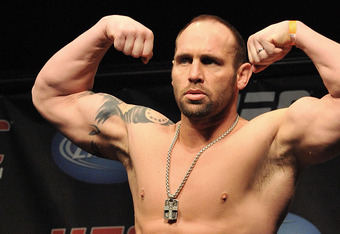 Jon Kopaloff/Getty Images
There are few heavyweights under UFC contract who would be willing to take a fight under the Strikeforce banner, but there is one top heavyweight without much bargaining power right now. 
Due to back surgery, Shane Carwin has been out of action for nearly one year, having last appeared against dos Santos in a lopsided decision loss. Once Carwin returns, presumably in the coming months, he won't be deserving of a fight with a top heavyweight inside the Octagon.
Instead, Carwin could be given the choice of a one-fight move to Strikeforce, where he would meet Cormier in what would almost certainly be a main event or a bout with a low-tier UFC heavyweight. While competing outside of the UFC won't be an easy choice to make, a potential bout with Cormier would give Carwin the chance to jump right back into title contention.
Meanwhile, a bout with Carwin would give Cormier a chance to take advantage of an opponent who has been inactive for quite a while. At the same time, Carwin's power and decent wrestling background would provide a good test to determine whether or not Cormier is ready for a UFC title fight.
As much sense as a bout with Carwin would make, there is one other potential opponent for Cormier who would draw much more attention.
Daniel Cormier vs. Fedor Emelianenko
In November 2009, former Pride champion and MMA legend Fedor Emelianenko joined Strikeforce and immediately made the promotion comparable with the UFC in terms of the heavyweight divisions of both organizations. While he proceeded to lose three of his four Strikeforce fights, Emelianenko helped build the organization and should be considered partly responsible for the Strikeforce Heavyweight Grand Prix ever happening.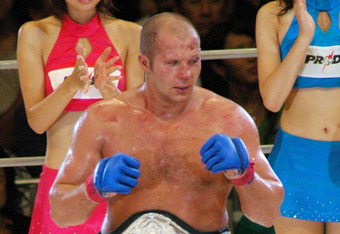 Tomokazu Tazawa/Getty Images
Recently, the 35-year-old Russian announced that he would be retiring following a bout against Pedro Rizzo in June. Competing against a beatable opponent in his home country, the bout against Rizzo should be a respectable way for Emelianenko to leave the sport. However, arguably the best heavyweight in MMA history, "The Last Emperor" deserves a more significant fight for his farewell.
The door to the UFC closed a long time ago for Emelianenko, but a return to Strikeforce is not out of the question. Emelianenko helped Strikeforce reach another level, where it competed with the UFC, so including the Russian in the promotion's final heavyweight fight would be a nice nod to the past.
This potential matchup isn't all about appeasing Emelianenko, though. While Emelianenko is approaching the end of his career, he remains one of the heavyweight division's biggest stars and would draw plenty of eyes to Cormier's final fight before transitioning to the Octagon.
Therefore, a win over Emelianenko would help skyrocket Cormier's popularity and give the UFC the option to hand the former Olympic wrestler an immediate title shot upon his entry to the organization.