Max Scherzer Makes History for Detroit Tigers in Gem Versus Pittsburgh Pirates
May 20, 2012

Leon Halip/Getty Images
Max Scherzer locked Mr. Hyde in the Tigers equipment closet at Comerica Park on Sunday afternoon. The unpredictable hurler with pupils of clashing colors was dialed in against the Pittsburgh Pirates, striking out a career-high 15 batters in the Tigers' 4-3 victory at home.
When Scherzer was not laying fire on Pirates hitters with tantrum-spawning fastballs, he was painting the black with knee-buckling breaking balls.
Scherzer's prior career high for strikeouts was 14, which he set at Comerica Park on May 30, 2010 versus the Oakland Athletics.
Sherzer's 15 punchouts fell one shy of Mickey Lolich for the most in a single game for the Tigers. Lolich dispatched 16 California Angels batters on May 23, 1969. Lolich struck again three years later when he struck out 15 hitters against the Boston Red Sox at Tiger Stadium.
Sherzer's 15 strikeouts were also the second highest in interleague history. Phillies ace Curt Schilling and Red Sox flamethrower Pedro Martinez both achieved 16. Schilling did it against the New York Yankees in 1997. Martinez did it for the Red Sox versus the Atlanta Braves in 1999.
On the day, Scherzer pitched seven strong innings, giving up two earned runs on four hits and one walk.
While dominant, two hits surrendered by Scherzer left the building. Rod Barajas hit a solo shot in the top of the fifth. Neil Walker followed in the top of the sixth with the deposit of a 407-foot moon shot into the right-field seats. But Walker's second homer of the year was all Pittsburgh could muster.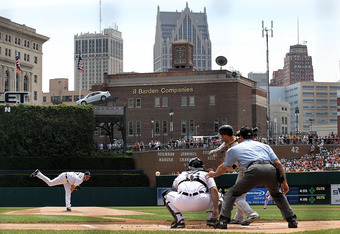 Leon Halip/Getty Images
The Tigers scored their first run in the bottom of the fifth inning, when Jhonny Peralta hit a solo shot.
Delmon Young knotted the game at two when he delivered an RBI single through the box and into center field. Three batters later, Alex Avila drove in two runs with a seeing-eye single past a drawn-in middle infield.
With the victory, the Tigers (20-21) took two of three games from the Pirates. The team begins a three-game set in Cleveland starting on Tuesday.
Pittsburgh (19-22) comes home to play the New York Mets in a three-game series starting Monday.
Related Articles:
Tigers Fan Reminisces About Kerry Wood's Debut at Tiger Stadium
Is Avisail Garcia the Second Coming of Miguel Cabrera?
Will Nick Castellanos be Better than Bryce Harper and Mike Trout?