LA Dodgers: 1st-Quarter Grades for Every Player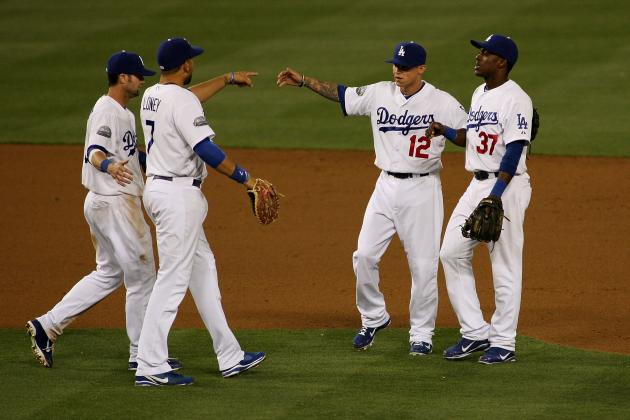 Jeff Golden/Getty Images

It is a beautiful time to be a Dodger fan.
The team is 27-13 to close out their first 40 games of the season and have won eight of their last 10 games, only dropping two against the San Diego Padres.
While the obvious superstar of the team is Matt Kemp, across the board, every player has done their fair share to keep up the momentum.
Here's a look at how they panned out.
Begin Slideshow

»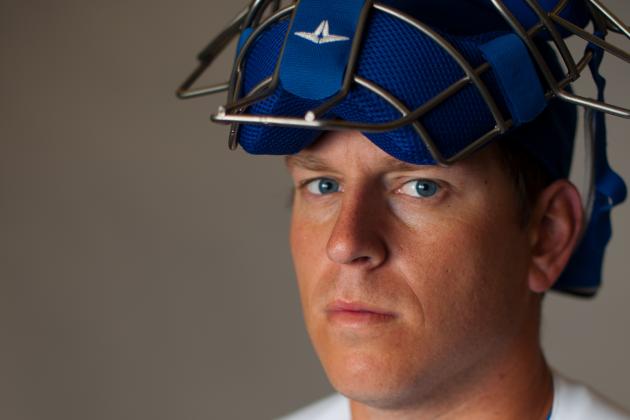 Rob Tringali/Getty Images

GRADE: A
In his 32 games this season, AJ Ellis has been a pleasant surprise for the Dodgers.
His .333/.460/.510/.970 batting line is the second-best in the National League and all of Major League Baseball behind only the Philadelphia Phillies' Carlos Ruiz.
He's getting it done.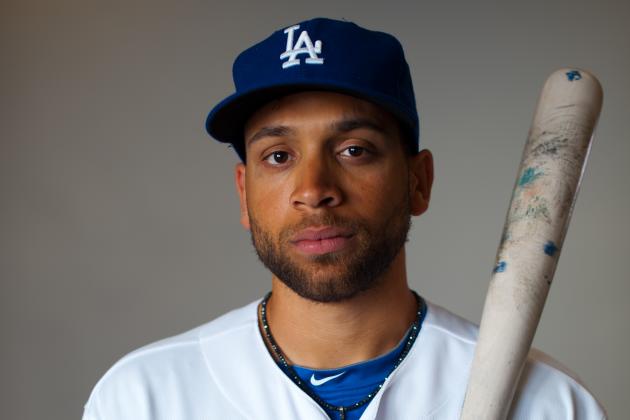 Rob Tringali/Getty Images

GRADE: C
Having played 39 games for the Dodgers so far this season, Loney has been the mainstay at first base once again. He has put up a .250 batting average and a somewhat low .326 OBP.
It's no secret that I am not a big fan of Loney's.
I find him to be serviceable at best, and perhaps the C grade is even somewhat generous.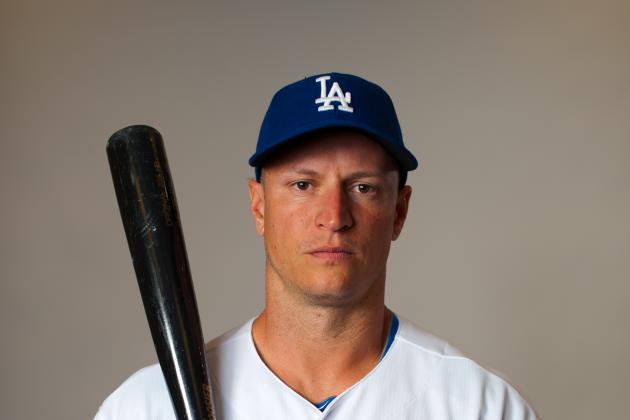 Rob Tringali/Getty Images

GRADE: B-
Mark Ellis started off the season in fine form for the blue.
He owns a .373 OBP, which leads all National League second basemen. That directly correlates to his 27 runs scored, second only to Atlanta's Dan Uggla's 29 in that category.
The fact that Ellis will be out for the next six weeks or so is going to be a significant hit to the Dodgers lineup.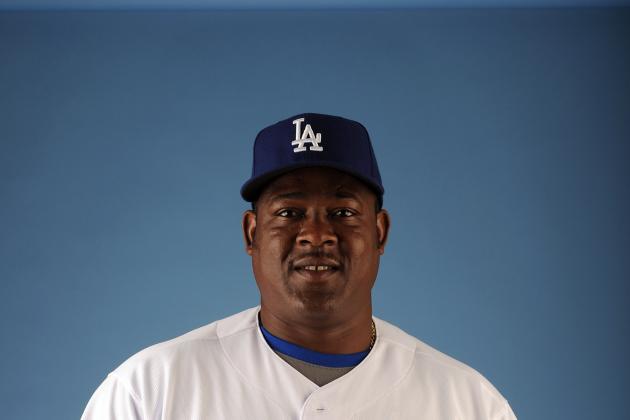 Harry How/Getty Images

GRADE: C-
Juan Uribe has only played in 25 games for the Dodgers this season, so it is hard to give a fair grade, but from what we've seen, he's been just OK.
His .250 batting average and 10 RBI aren't exactly going to win any awards, but upon a healthy return to form, he would be warmly welcomed by the Dodgers.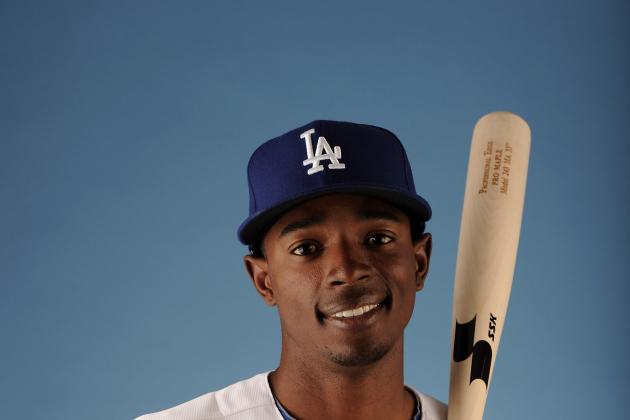 Harry How/Getty Images

GRADE: D
Dodger fans have a love/hate relationship with Dee Gordon.
He can't hit, but man, the kid's got jets. His 12 stolen bases are tied for the most among National League shortstops.
Overall, he's tied for fourth in the NL in stolen bases.
So, the question is, do you like the speed at the sake of his inability to hit? I figure as long as he can take advantage of what little time he gets on base, the Dodgers can persevere.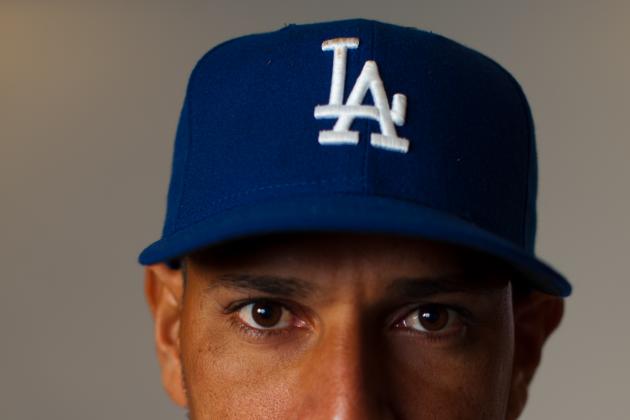 Rob Tringali/Getty Images

GRADE: C-
I'm hard-pressed to give anyone a grade higher than C if they can't hit over .250. Rivera sits at .247.
He is not in double-digits in runs, home runs or walks and has just 20 hits and 13 RBI. If Rivera can step up his game moving forward, the team will have no need to look elsewhere to sure up the outfield.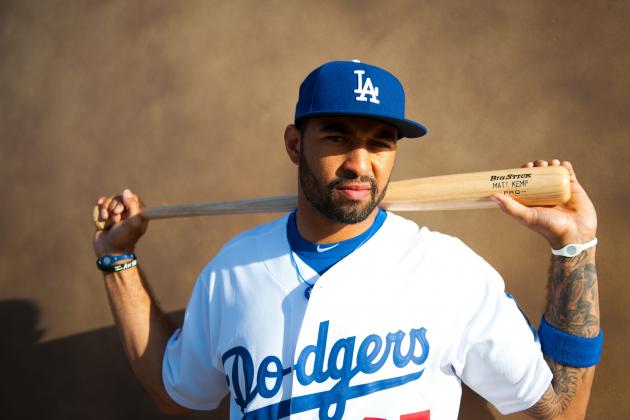 Rob Tringali/Getty Images

GRADE: A+
Do I really need to explain this one?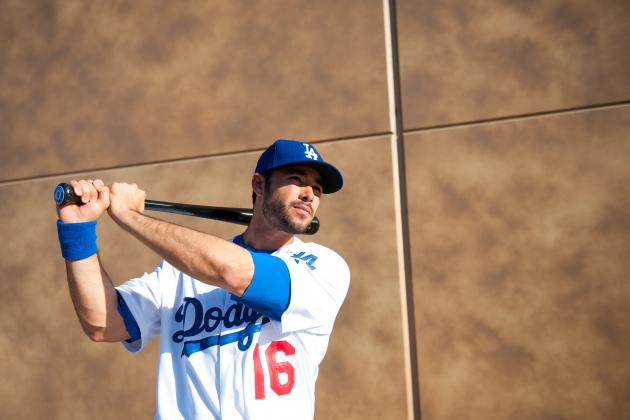 Rob Tringali/Getty Images

GRADE: A
Andre Ethier leads all players in the National League in RBI, with 36. He is second only to Josh Hamilton in all of baseball.
The fact that he is batting over .300 and pulling his weight on this Dodger team is a great thing.
He leads the team in doubles and hits while landing second in home runs.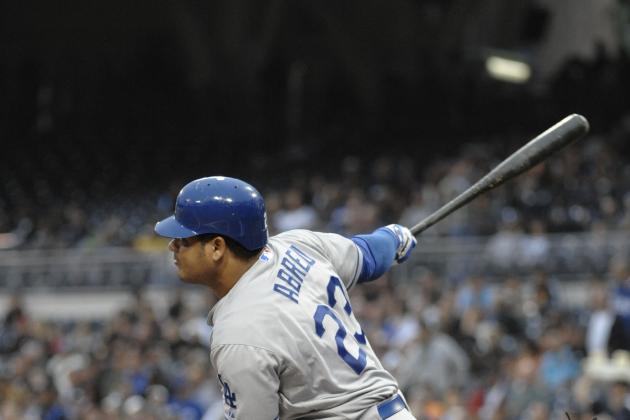 Denis Poroy/Getty Images

GRADE: A
Bobby Abreu has been a nice addition to the Dodgers lineup since joining the team about 14 games ago.
He has returned to form, adding five RBI and batting .300 in his short stint with the Dodgers, and presents a nice bat off the bench (or in place of a struggling player).
Rob Tringali/Getty Images

GRADE: A
Kershaw started off a little slow this season, but has rebounded nicely, currently owning a 4-1 record with a 1.90 ERA and a 0.876 WHIP.
His ERA lands him fourth overall in the National League, while his WHIP places him third among qualifying starting pitchers.
In short, he's been lights out.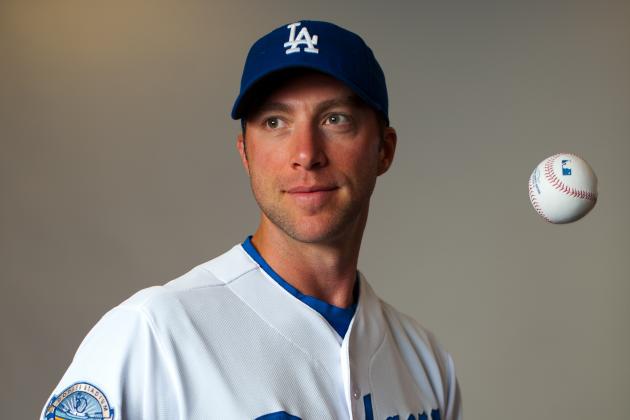 Rob Tringali/Getty Images

GRADE: A
Who would have thought that Capuano would have been this good for the Dodgers? He currently leads the pitching staff in wins with a 5-1 record.
His 2.34 ERA is enviable to many other pitching staffs and places him 15th overall in the National League.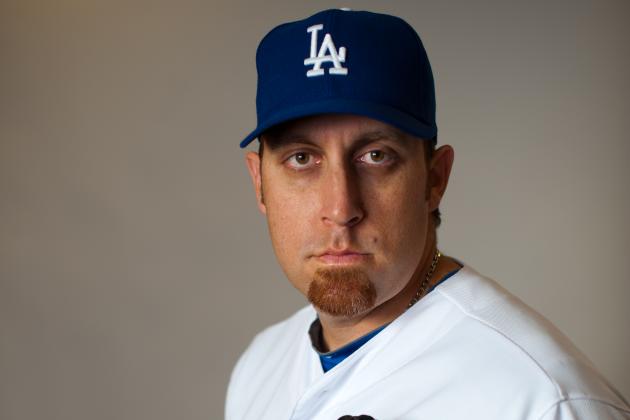 Rob Tringali/Getty Images

GRADE: B-
The Dodgers made out pretty well, signing Harang this offseason as well.
Currently, he and Chad Billingsley share the highest ERA on the pitching staff, and even that is only a 3.83. Harang also owns a 1.297 WHIP.
Even though he has the least amount of wins on the club, his 3-2 record still has him on the right side of .500.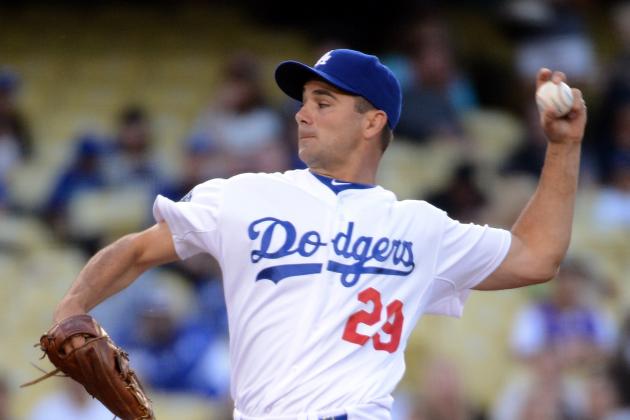 Harry How/Getty Images

GRADE: A+
Ted Lilly has been in beast mode. He is currently 5-0 with a team-best 1.79 ERA and a miniscule 0.904 WHIP.
His ERA places him second in all of Major League Baseball, behind only Brandon Beachy of the Atlanta Braves.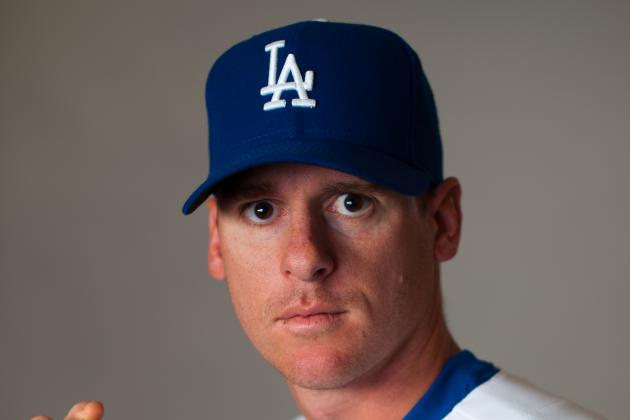 Rob Tringali/Getty Images

GRADE: C+
Chad Billingsley is the only pitcher on the Dodgers starting staff with a losing record: 2-3. He shares an identical ERA with Aaron Harang, but he just has not been as fortunate in the win column.
His 1.366 is of some slight concern, but nothing major.
Stephen Dunn/Getty Images

FINAL GRADE: A
There are very few things wrong with this Los Angeles Dodgers team. I would be nitpicking if I said there were.
The pitching staff is an enviable one for many other teams in baseball.
The lineup is fairly stacked.
If the team can maintain at the pace they've been on, or even 80 percent thereof, they should finish the season very strongly.