New York Jets: 5 Offensive Players Who Need to Step Up in 2012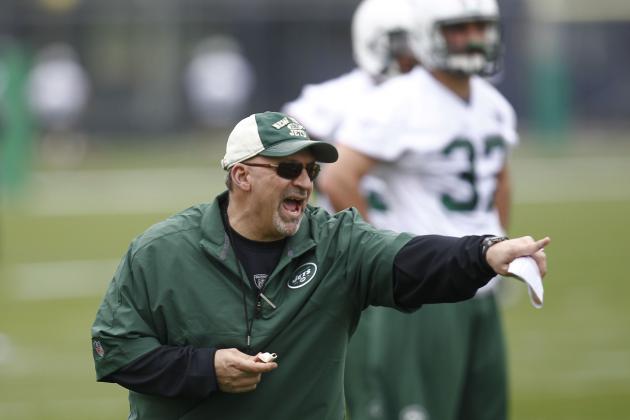 Jeff Zelevansky/Getty Images

Turnovers and an overall offensive deficiency marred the New York Jets season throughout 2011.
With recent reports suggesting that perhaps the terminology of previous offensive coordinator Brian Schottenheimer's system was too complex for the players to master, there is hope for change this season under Tony Sparano, who took the role of offensive coordinator for the Jets in January.
Though Sparano brings a stern, disciplinarian type figure to help bring Gang Green back to their ground-and-pound roots, execution on behalf of the players will be paramount in order for the new offensive system to flourish.
It is essential for the following players to take the next step in their individual developments in order to help revive a stagnant New York Jets offense.
Begin Slideshow

»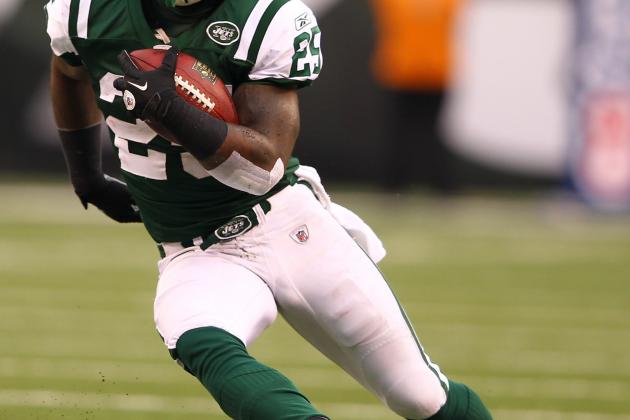 Al Bello/Getty Images

Shonn Greene managed to rack up just over 1,000 yards rushing last season even with lackluster offensive line play, but he's always been a back better suited as part of a tandem of runners.
Since the departure of LaDainian Tomlinson, the Jets need one of their young running backs to make a push to secure the role of a change-of-pace type back. Joe McKnight should be provided with every opportunity to win that job.
Greene proves to be most valuable when wearing defenses out in between the tackles, but his pass protection still needs improvement, and his pass catching out of the backfield leaves something to be desired.
McKnight's athletic ability is ideal for off-tackle run plays and tosses to the outside, screen plays out of the backfield, as well as providing the option of lining him up as a slot receiver.
He has put on additional weight this offseason in order to handle a larger workload. However lingering issues with ball security still need to improve to secure the role of third-down running back.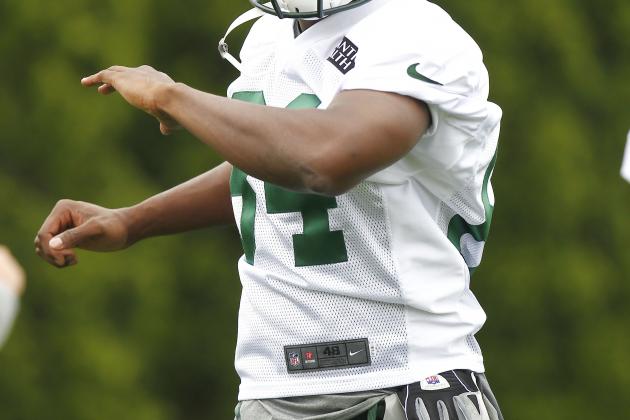 Jeff Zelevansky/Getty Images

Yes, Hill is only a rookie coming from the triple-option, run-heavy offense they use at Georgia Tech, but his raw upside should immediately impact the Jets offensive strategy.
His combination of size and speed (6'4", 215 pounds and a 4.36 40-yard dash time) is exactly what the Jets were lacking on the outside last season. Plaxico Burress was nearly invisible outside of the red zone, thus opposing defenses were able to stack the box against the run and roll double coverage to Santonio Holmes.
After the departure of Braylon Edwards in free agency, the Jets were never quite able to fill the void he left. Hill will need to contribute as a rookie, but he won't need to put up 1,000 yards receiving for his debut season to be considered a success. His sound run-blocking and blazing speed will help both the run game, as well as the other receivers around him.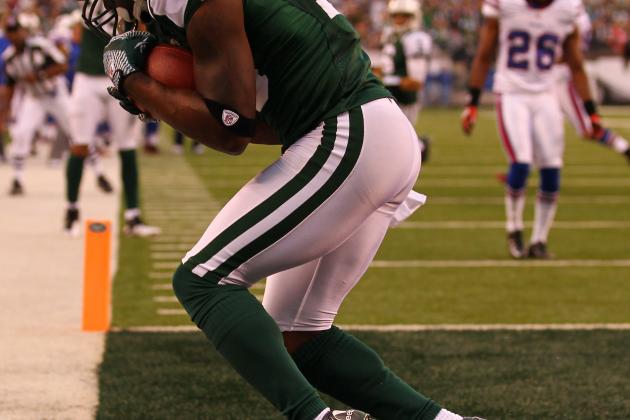 Al Bello/Getty Images

If Santonio Holmes wasn't jumping for joy when former offensive coordinator Brian Schottenheimer left town, he sure was after the Jets selected Stephen Hill in the second round of the NFL Draft.
Last season has largely been viewed as a disaster for Holmes. His production wasn't what anyone hoped it would be after signing a long-term contract extension, and there were reports of Holmes being the centerpiece of the discord that ran rampant throughout the Jets locker room.
Despite all of that, Holmes is a winner. His clutch play in 2010 is what rewarded him with that handsome contract extension.
However, he has always been, and will always be, at his best with another wide receiver on the opposite side who is capable of drawing double-coverage away from him.
Holmes excels at working the middle of the field and making defenders miss after the catch. With Hill's outstanding speed on the other side, defenses will not be able to bracket Holmes the way they did last season.
He will need to see an increase in statistics and a change in attitude alike in order to win over some of the Jets faithful after last season.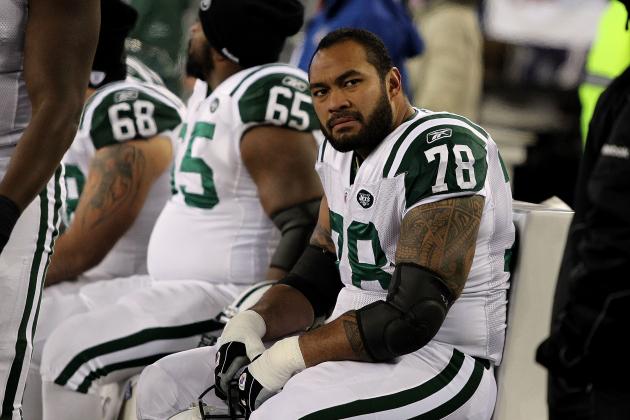 Chris Chambers/Getty Images

After aptly filling in for an injured Damien Woody in the 2010 playoffs, many analysts and fans expected more of the same for Wayne Hunter in the 2011 season. Much to everyone's surprise, that was not what happened in the least.
Hunter recently admitted that he was the weak link on the Jets offensive line last season, and he knows he will be expected to play much better this season. The offensive line not playing up to its full potential was one of the key problems for the 2011 Jets.
New offensive line coach Dave DeGuglielmo, however, is standing behind the Jets starting right tackle.
Improved play from the offensive line, and most importantly from Hunter, will help turn around every facet of the Jets offense. Mark Sanchez will have more time to go through his progressions, the wide receivers will have more time to get open on longer developing routes, and the running backs will go back to seeing the holes which they were accustomed to in 2009 and 2010.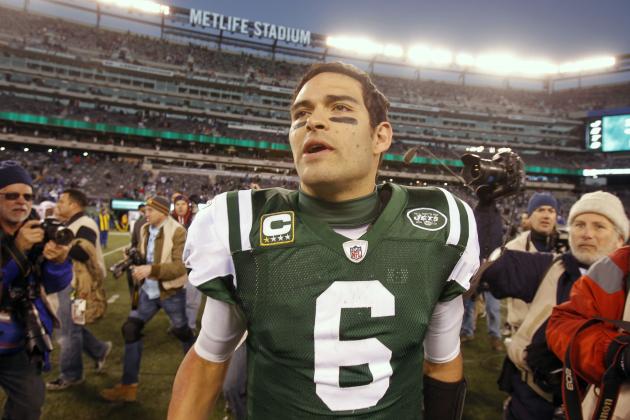 Rich Schultz/Getty Images

It's no secret that Mark Sanchez needs to improve the most, and the fastest, out of any member of the offense. There were expectations of much more growth from Sanchez in 2011 than what was delivered. He threw for a career-high 26 touchdown passes, but also turned the ball over an unacceptable 22 times (18 interceptions, four fumbles).
No matter how cliché it may sound, this is a make or break year for Sanchez.
With Tim Tebow in the fold, Sanchez will need to make drastic improvements throughout his game early and consistently to solidify his job as starting quarterback for the duration of the 2012 season.
Sanchez showed flashes of greatness in the 2009 and 2010 seasons, particularly in the playoffs, but some sensed he was beginning to regress last year. With improved play from his offensive line and wide receivers, theoretically things should get easier for Sanchez this year. Improvements in the running game will lead to productivity from play-action passing, which is one of Sanchez's strengths.
If everyone plays up to the level which they are capable of, we may very well see a vastly improved Mark Sanchez.
If they don't play up to that level, or if Sanchez alone fails to, the whispers for Tebow just might start earlier than expected.