2013 NFL Draft: Which Teams Are Best for USC Quarterback Matt Barkley?
May 20, 2012

Ezra Shaw/Getty Images
USC quarterback Matt Barkley is going to be a high selection in the 2013 NFL draft, but there are only a handful of NFL teams that would be best for him.
Barkley is arguably the best quarterback to enter the draft next year after he elected to not enter the 2012 NFL draft. The decision was perplexing because Barkley was coming off an impressive year at USC that saw him throw for 3,528 yards, 39 touchdowns and only seven interceptions.
Now Barkley is entering his final year at USC and, barring an unfortunate injury, he'll be one of the highest prospects taken in the draft. This is for a variety of reasons, but most importantly he's a prototypical NFL quarterback that can make any thrown on the field.
A rookie quarterback entering the NFL always has issues adapting to the league because the players are significantly bigger and stronger. NFL playbooks are also more complex. The blow of attempting to adapt to the league can be softened by the team a prospect like Barkley ends up with.
There are five teams that have the potential to hold a selection with Barkley on the board next year, and they also happen to be good landing spots. Each team either has elite players for Barkley to work with or solid overall rosters that were simply missing a quarterback like Barkley.
Here are the best possible teams Barkley could land with next year. 
5. Minnesota Vikings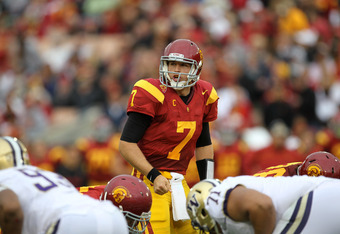 Stephen Dunn/Getty Images
The Vikings are the worst team in the NFL by a mile. They could be even worse than last year if running back Adrian Peterson misses significant time. They'll be in a prime position next year to land Barkley.
The Vikings are a decent landing spot for Barkley. By the time he suits up for the Vikings he'll have a healthy Peterson back and the defense should have improved thanks to the additions of Harrison Smith and Josh Robinson.
Minnesota is a franchise that finds itself rebuilding slowly, and Barkley would have a franchise to call his own with the Vikings.
4. Jacksonville Jaguars
Should Blaine Gabbert continue to struggle with the Jaguars, the organization could find itself in a position to land Barkley. It would be stupid to pass on him.
Jacksonville is a great scenario for Barkley with a solid defense backing him and one of the best running backs in the league taking pressure off him. Not only will Maurice Jones-Drew allow Barkley to see soft coverages, he'll catch passes effectively as well.
Barkley would join an on-the-rise team in Jacksonville with a potential elite receiver in Justin Blackmon. It doesn't get much better for a rookie quarterback.
3. Arizona Cardinals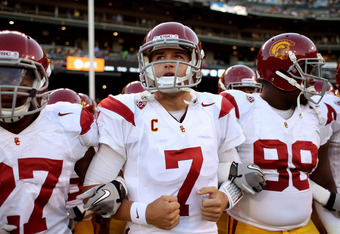 Ezra Shaw/Getty Images
The Cardinals are in a tough division, which could see them struggle all year. Quarterback Kevin Kolb hasn't shown anything of note, so Barkley has to be the pick if Arizona has a high selection.
Barkley would find himself in one explosive offense with receivers like Larry Fitzgerald and Michael Floyd. The defense is one of the quickly maturing units in the league as well.
Arizona is a great destination for a rookie quarterback thanks to the offensive weapons on the roster. 
2. Oakland Raiders
The Raiders could be in some trouble if quarterback Carson Palmer can't shake off the rust. Having hardly any picks in the previous draft didn't help anything. Barkley would be a perfect fit.
With Darren McFadden in the backfield, Barkley would simply have to be a game manager for Oakland. He would have a vastly underrated group of receivers to support him as well as a solid defense.
Oakland is the perfect scenario for Barkley. He'd be close to home with his family and be a part of a franchise that could be in contention for the playoffs with him at the helm.
1. Kansas City Chiefs
The Chiefs could be in some trouble if they can't shake the injury bug that plagued the team last year. Quarterback Matt Cassel has been average when healthy, so the team is due for an upgrade.
Barkley would join a team that is ridiculously talented with his position being the only real question mark on the team. He'd have the luxury of handing the ball off to Jamaal Charles and throwing to Dwayne Bowe.
There isn't a more talented team on this list. Landing in Kansas City would allow Barkley to have a smooth transition into the NFL.