UFC 146: Diego Brandao vs. Darren Elkins Head-to-Toe Breakdown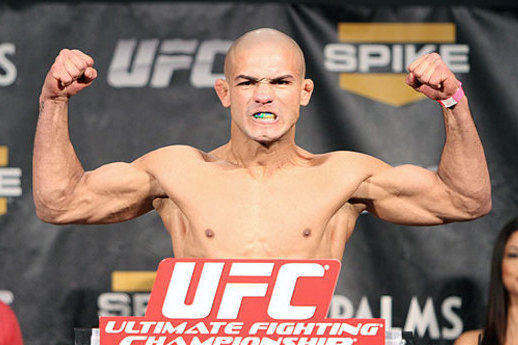 Scott Peterson/MMAWeekly.com
After winning The Ultimate Fighter in December, Diego Brandao is ready to return to the Octagon for a bout against Darren Elkins at Saturday's UFC 146. Undefeated in his past four official fights, the 24-year-old Brandao is beginning to hit his stride and could be a future force in the featherweight division.
Meanwhile after dropping down to the 145-pound division Elkins has defeated Michihiro Omigawa and Tiequan Zhang. Though not considered a title threat, Elkins has a way of dragging opponents into his type of fight and will look to use his experience against the young and emotional Brandao.
As of late, The Ultimate Fighter has produced few winners capable of making an immediate run at the top of their respective divisions. With his first step toward becoming a featherweight contender less than one week away, let's take a look at Brandao's chances of earning a fifth straight win.
Begin Slideshow

»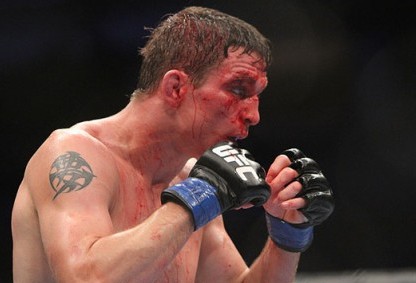 Ken Pishna/MMAWeekly.com
Striking/Striking Defense
In his run to the finals of The Ultimate Fighter, Diego Brandao knocked out all three of his opponents in impressive fashion. While his striking game is a bit untamed, Brandao is as dangerous as they come in the featherweight division.
Darren Elkins may be a more technical striker, but he has half as many knockouts as Brandao and isn't nearly as dynamic a striker as his Brazilian opponent. If this bout stays standing, Brandao will eventually land a knockout blow.
Edge: Brandao
Takedowns/Takedown Defense
Against solid competition in each of his first four UFC bouts, Elkins has been able to record a takedown. While it might not be a good idea for Elkins to extend that streak against a jiu-jitsu black belt in Brandao, he will likely be able to take this fight to the ground if he so chooses.
In his most recent fight against Dennis Bermudez, Brandao was taken to the ground early before locking up a submission in the closing moments of the opening round.
Edge: Elkins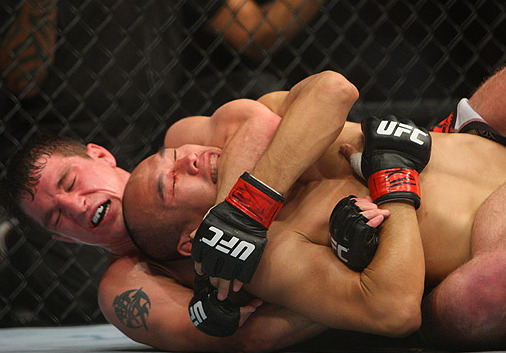 Ken Pishna/MMAWeekly.com
Grappling/Ground Striking
Being a fighter who looks for submissions before trying to land punches on the ground, Darren Elkins will be at a insignificant disadvantage if he decides to take a skilled black belt like Brandao to the canvas. Without the ground-and-pound to take Brandao's mind off of grappling, Elkins could find himself getting reversed or worse very quickly.
Edge: Brandao
Submissions/Submission Defense
Brandao's jiu-jitsu may or may not be on the same level as that of Charles Oliveira, who submitted Elkins in August 2010, but it is certainly comparable and dangerous enough to force a tap in this matchup. While Elkins has a chance of out-landing Brandao on his feet with a more technical style, his odds of surviving with the Brazilian on the ground are not good.
Edge: Brandao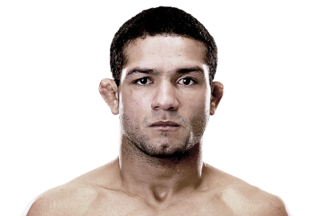 UFC.com
Experience/Game Plan
Though Diego Brandao has more total fights under his belt, Darren Elkins has competed inside the Octagon on more occasions. With those UFC appearances Elkins has gained much more experience against high-level fighters than Brandao did while competing on the regional circuit.
In addition to his UFC experience, Elkins is much more patient inside the cage, whereas Brandao looks for the finish as soon as the fight starts. At some point, Brandao will need to harness that aggression if he wants to become a 145-pound contender.
Edge: Elkins
Athleticism/Conditioning
When it comes to speed and explosiveness, Brandao is on another level than Elkins. It is Brandao's athleticism that has some considering him a future title contender, while few believe Elkins has the physical tools to reach the top of the featherweight division.
Since both fighters most often have their fights wrapped up before the third round, it's difficult to judge the conditioning of either competitor. One might think, though, that Brandao's untamed aggression would lead to an adrenaline dump if Elkins can take this fight into the later rounds.
Edge: Brandao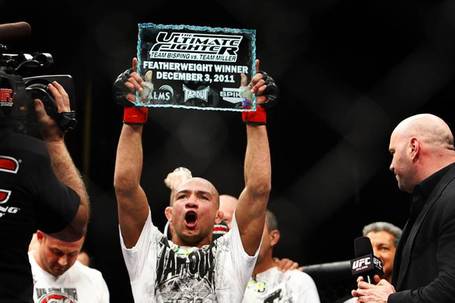 Steve Marcus/LasVegasSun.com
For Diego Brandao, a bout with Darren Elkins is a great way to begin his ascent in the featherweight division. Though Elkins is riding a winning streak he isn't one of the more talented mid-tier 145-pound fighters on the UFC roster.
It will be Elkins' choice whether this fight takes place standing or on the ground. Either way Brandao is going to walk away with the victory.
An early rush from Brandao will force Elkins to panic and shoot in for a takedown. Soon after the fight hits the canvas, much like he was forced to do against Charles Oliveira, Elkins will tap due to submission. Despite an up-and-down career prior to joining the UFC, Brandao is ready to make waves in the world's premier MMA organization.
Prediction
Brandao defeats Elkins by submission (armbar) in the first round.