Miami Heat vs. Indiana Pacers Game 4: Live Score, Analysis and Reaction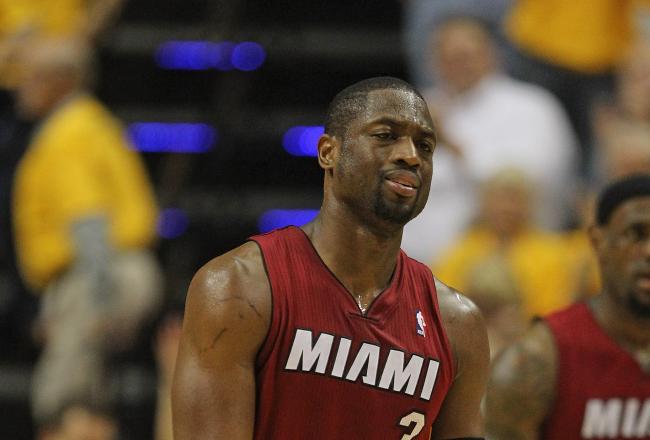 Dwyane Wade and the Heat are in a tough spot against an upstart Pacers team.
Jonathan Daniel/Getty Images
The Miami Heat need a win in a bad way. A pair of disappointing losses to the Indiana Pacers has put them in a 2-1 hole in this best-of-seven series.
The Pacers can take a commanding 3-1 lead by beating the Heat this afternoon at Bankers Life Fieldhouse in Indianapolis.
It's Game 4 of the Eastern Conference semifinals, and it all starts at 3:30 p.m. ET.
Keep it here for starting lineups and live up-to-the-minute scoring updates, analysis and reaction.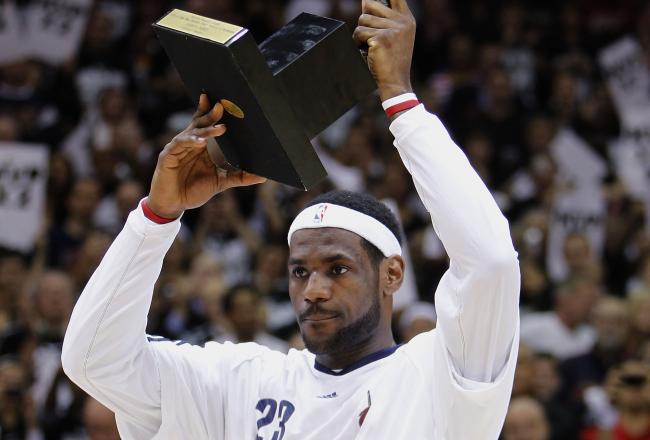 Final Score Heat 101 Pacers 93
Missed opportunity? For the Pacers it sure was. This game was in their hands for the better part of the first half. The Pacers never found a rhythm on offense and that prevented them from being able to take advantage of a slew of Miami turnovers in the first half.
For the Heat it was a game which marked the return of Dwyane Wade. Following a pair of disappointing games Wade started slow but exploded in the second half. He connected on 11 consecutive field goals at one point.
The Heat were paced by LeBron James. The three time MVP certainly lived up to the hype today. He was scorching from the get-go. James finished with game highs in points ( 40 ), rebounds ( 18 ) , and assists ( 9 ).
Dwyane Wade started slowly but got red hot. He shot 13/23 from the floor. He also grabbed nine rebounds and had six assists.
The Heat shot 47.5 percent from the floor and outrebounded Indiana by a 47=38 margin.
Indiana was led by Danny Granger's 20 points. Granger was only 8/18 from the floor.
Roy Hibbert was solid in the middle with ten points, nine rebounds and three blocks. He was hampered by some foul trouble though.
Darren Collison was the spark off the bench for Indiana. The lightning quick point guard was 6/7 from the floor. Collison scored 16 points.
Indiana shot 41.8 percent from the floor.
Game 5 is Tuesday Night in Miami.
Heat 101 Pacers 93: 11 seconds left
Granger misses a corner three point attempt and James grabs the rebound. He goes back to the line with a chance to extend the lead beyond two possessions. James hits both and has 40 points on the day.
Heat 99 Pacers 93: 16.2 seconds
LeBron James who missed two huge free throws down the stretch in game two goes to the line with a chance to ice the game with 16.2 seconds left and hits one of two.
Heat 98 Pacers 93: 17.2 seconds
Danny Granger steps up and rattles down a three pointer and who on Miami answers? Udonis Haslem, that's who.
Haslem now has eight points down the stretch in the fourth quarter.
Heat 94 Pacers 85: 2:45 4th Quarter
He's only hit three field goals in the game but they've all been in the fourth quarter and they've all been huge for Miami. After an exceptional pair of performances by Dwyane Wade and LeBron James this afternoon the player who might end up providing the final nail in the Pacers' coffin could be Udonis Haslem
He's scored six of Miami's last eight points and those baskets have kept the Pacers from being able to cut into Miami's lead.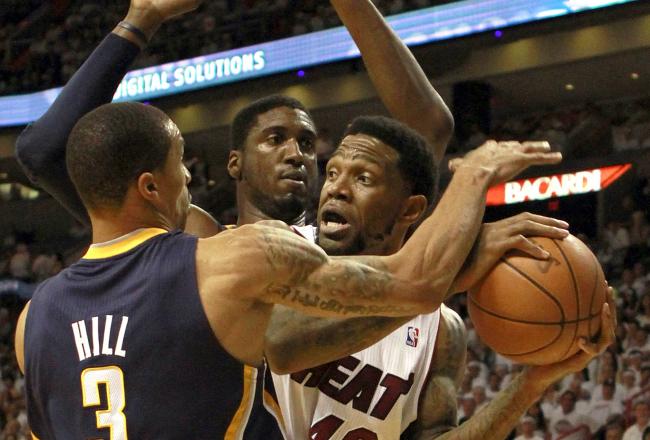 Heat 92 Pacers 83: 4:39 4th Quarter
Udonis Haslem has become the third offensive option for the Miami Heat.
Haslem has scored four of Miami's last six points and the Heat have pushed their lead to nine points.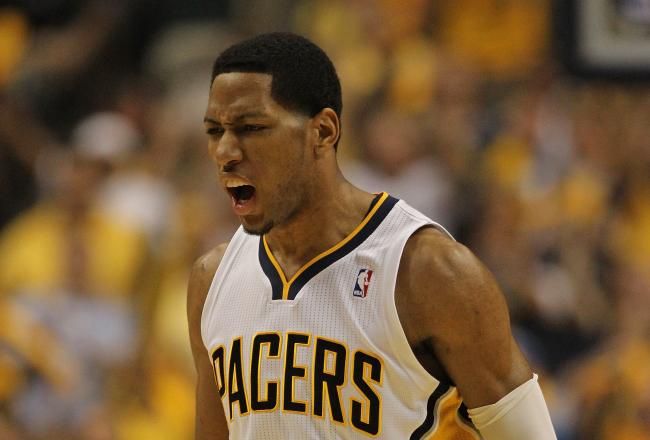 The Pacers are going to need to either find a way to stop one of Miami's dominating duo or someone on the Pacers is going to need to step up and hit a series of shots. Danny Granger has 13 points but he's just 5/13 from the field.
The most amazing thing about this game is Dwyane Wade.
He's now hit 11 of his last 12 shot attempts and a player who had a terrible game three and also appeared completely out-of-sync for most of the first half looks unstoppable. Wade has 28 points.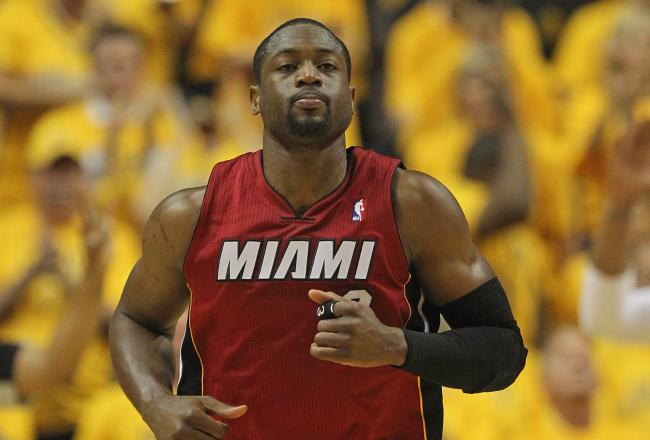 Heat 82 Pacers 79: 9:37 4th Quarter
A game that was expected to be close, physical and played with a great deal of intensity is living up to the billing.
The Pacers got a great spark from Darren Collison in the first half. He's giving it to them again in the fourth quarter.
The Heat continue to feed the duo of James and Wade and Indiana does not have an answer. Wade has hit ten shots in a row.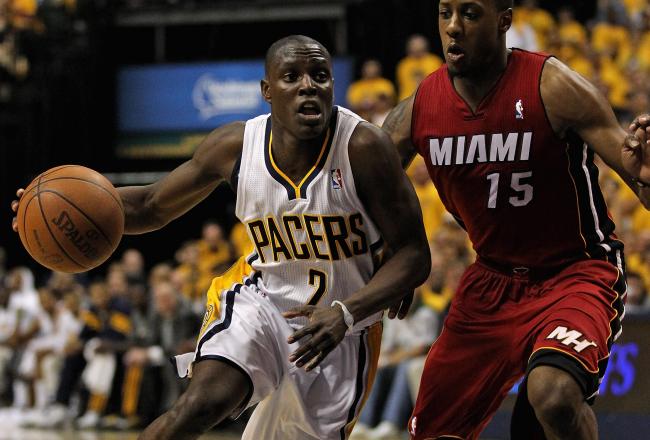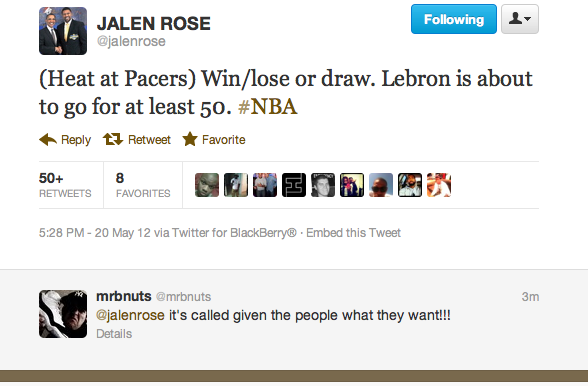 Jalen Rose is predicting a big fourth quarter for LeBron to cap his fantastic day.
Heat 76 Pacers 70: End of 3rd Quarter
With 1:30 left in the third quarter Udonis Haslem dropped in some free throws for Miami. They were the first points scored by a player other than James or Wade for the Heat since there was 2:30 left in the first half.
It may have actually flipped a switch for the Pacers who got a huge steal from Darren Collison which he converted from layup on the other end.
The third quarter wasn't just all Miami. It was all Wade and James who combined to score 28 of Miami's 30 points.
Heat 71 Pacers 66: 2:10 3rd Quarter
Will anyone else besides LeBron James and Dwyane Wade score for the Heat today? More importantly do they need anyone else to?
We might find out. The duo have scored Miami's last 34 points.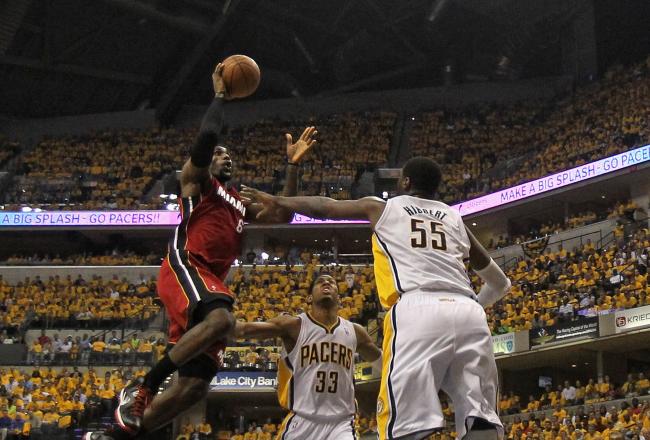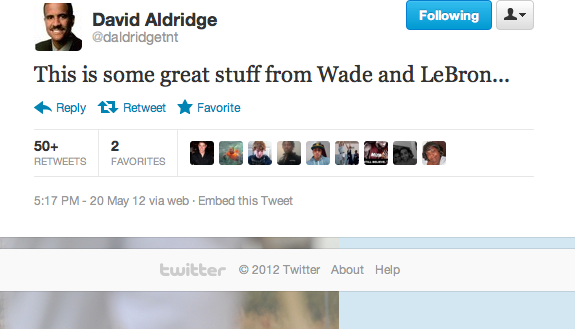 People that have watched a lot of basketball like David Aldridge know they're seeing greatness
Heat 69 Pacers 65: 3:29 3rd Quarter
"Showtime" has come to Indianapolis but Larry Bird probably didn't want to see the show rerun from the 1980's.
Dwyane Wade and LeBron James have been everything one could expect, and then some in the third quarter.
Three-pointers, jaw-dropping passes, dunks and aggressive high energy basketball.
The Pacers have been outscored 23-11 in the third quarter. They need someone to step up and make some shots.
Heat 66 Pacers 63: 4:31 3rd Quarter
No "Big Three" for Miami but they appear to have a Big Two. It might not be enough but it's making this game very competitive.
Dwyane Wade? Consider him officially back. Six consecutive made field goals and all of a sudden the feel of this game has transformed.
Roy Hibbert just picked up his fourth foul.
The momentum has shifted. Can Indiana reclaim it.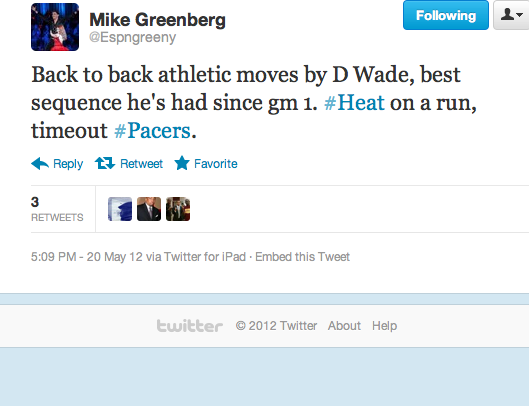 Mike Greenberg has noticed Wade's return.
Pacers 61 Heat 57: 6:54 3rd Quarter
Here comes Dwyane Wade. He's got 14 points and six in the second half. The Pacers are on a 6-0 run and the lead is down to four.
Pacers 61 Heat 53: 7:49 3rd Quarter
When the first half ended Roy Hibbert revealed in an interview that the Pacers were okay with James having a big day. He's going to have a big day. James already has 24 points.
Indiana has come out with solid play and their trademark defense but Danny Granger is the only reliable producer of points for Indiana today from their starters.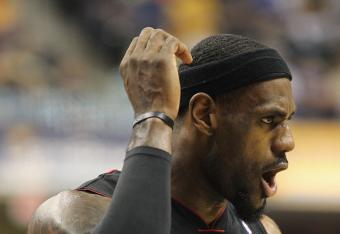 At The Half: Pacers 54 Heat 46
The Heat are probably feeling a sense of optimism with the second half coming up. The Pacers came out playing with a high level of intensity and forced numerous Miami turnovers.
Wade was terrible until very late in the first half. Ronny Turiaf was abused defensively. In spite of all that LeBron kept Miami in it, and if James can keep his torrid pace up and Wade can play the second half in the same manner that he finished the first one. Miami will be in this game until the final buzzer.
Indiana shot 43.9 percent from the floor and had 20 rebounds, eight assists and five turnovers.
Danny Grager and Darren Collison led the team with ten points each. Roy Hibbert had eight points, five rebounds and three blocks.
Miami shot 47.4 percent from the floor and had 18 rebounds, nine assists and nine turnovers.
LeBron led the Heat in nearly every statistical category. He has 19 points, five rebounds and five assists.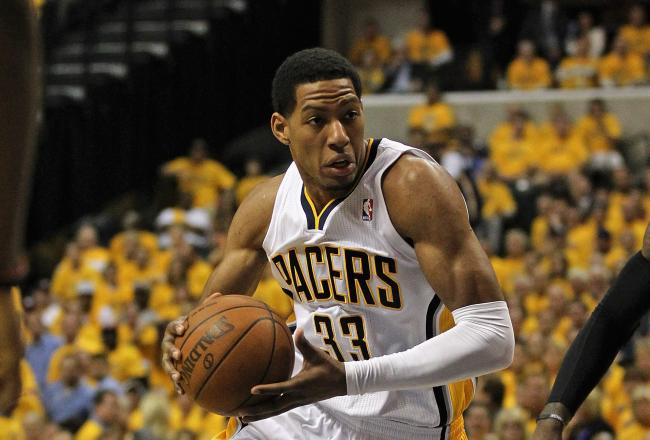 Pacers 54 Heat 46: Halftime
Dwyane Wade looked plenty explosive on a nice baseline dunk. He also dropped in a three point shot.
On a drive late in the second half Hibbert committed a silly foul and there was some jawing between Wade and Granger. Granger ended up getting a technical for mouthing off. Wade only made one of three free throws and Indiana takes an eight point lead into the locker room.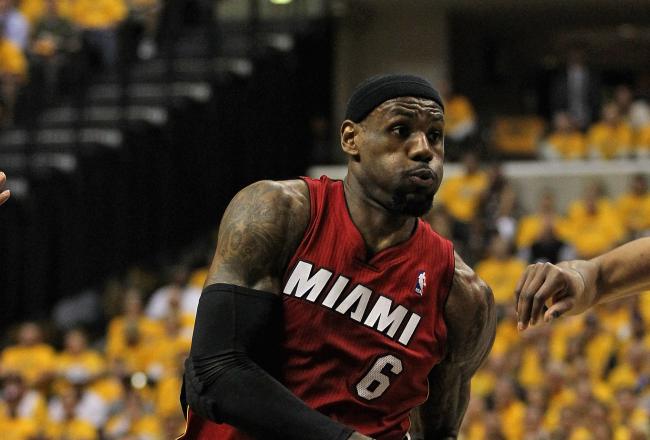 Pacers 49 Heat 43: 49 sec 2nd Quarter
It's hard to tell who's suffering more on the court. Dwyane Wade or Mike Miller?
Both men are injured and both have been rendered very ineffective on the court.
The Heat are the LeBron show today. He's done everything. He's scored or assisted on 12 of the Heat's 17 made field goals today.
Pacers 42 Heat 34: 3:34 2nd Quarter
The worst news for the Heat is not Dwyane Wade's 1/8 day from the field. It's that Joel Anthony, the only real low-post defensive presence that the Heat have, just picked up his third personal foul with 3:38 left in the first half.
Pacers 37 Heat 34: 5:21 2nd Quarter
The Pacers have 12 points in the second quarter. Darren Collison has eight of them. The former UCLA point guard has been the quickest guy on the court. Miami has a hard time finding anyone to guard him.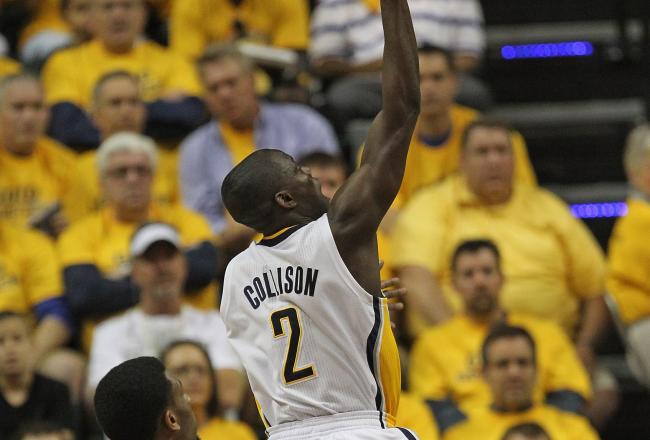 Pacers 33 Heat 30: 6:53 2nd Quarter
Indiana had a chance to jump out to a big lead. They didn't take advantage of it. Now it looks like this game will develop into the hard fought war that many predicted it would be.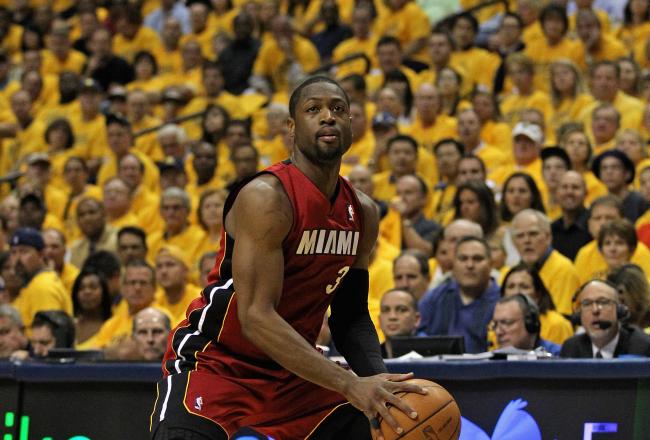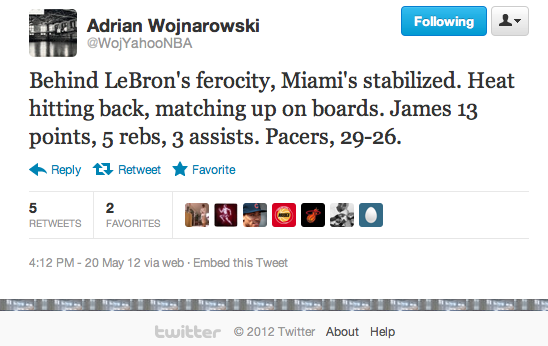 LeBron's contributions have not escaped notice today.
Pacers 29 Heat 26: 8:53 2nd Quarter
Wade reentered the game to start the second quarter and within two minutes he scored on a nifty drive to the hoop. That's got to be encouraging for the Heat.
Indiana does a great job of getting out on the break and creating mismatches.
Here comes Miami. A Wade steal and a James hoop followed by a turnover and it's a three point game.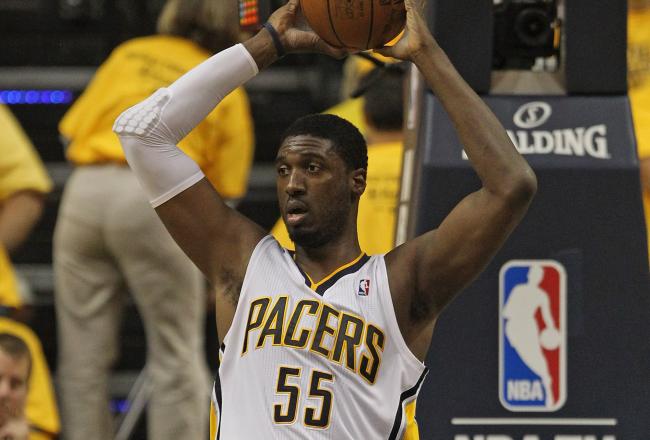 Pacers 25 Heat 18: Start of 2nd Quarter
When one considers that Miami got nothing from Dwyane Wade, shot 38.9 percent from the floor and had six turnovers the first quarter could have been far worse for the Heat.
Indiana played great defense but struggled to hit shots at times and also committed six personal fouls.
Turiaf started but Joel Anthony entered the game midway though the first quarter and has had a definite defensive impact with two blocked shots.
Pacers 25 Heat 18 : 22.2 seconds 1st Quarter
This is beginning to look like a game where Miami may need well over 30 points out of LeBron James. Dwyane Wade has struggled from and Bosh is out. Miami's team is not assembled to flourish with a balanced scoring attack.
It's a star laden roster surrounded by some decent other parts.
No Bosh and Wade playing like he's suddenly aged 10 years means Miami needs it's MVP today as much as they ever have.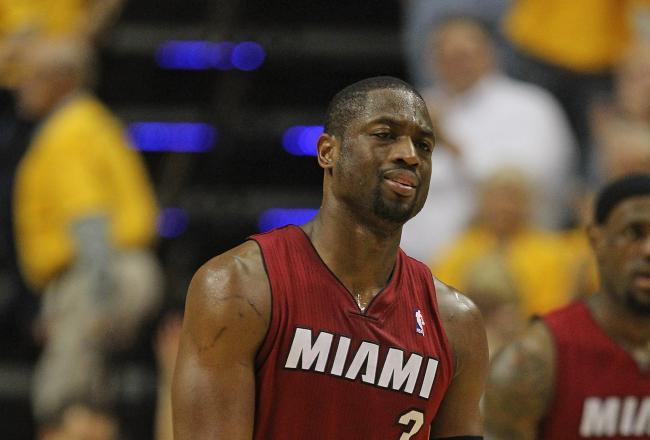 Pacers 21 Heat 13: 3:00 1st Quarter
As awful as Miami has played in the early going; six turnovers and 5/14 from the field. Indiana has missed some golden opportunities to jump out to a real big early lead.
Miami still looks disorganized but Indiana is committing fouls and more importantly missing a ton of shots. The Pacers are just 7/16 from the floor in spite of some open looks. Indiana is playing with noticeable intensity and the home crowd is among the league's loudest.
This article is
What is the duplicate article?
Why is this article offensive?
Where is this article plagiarized from?
Why is this article poorly edited?