Chelsea Transfer News: Players the Blues Should Avoid This Summer
May 20, 2012

Michael Regan/Getty Images
Football powerhouse Chelsea moved a strong step in the right direction with a Champions League title. They now must search for the right talent to improve their team heading into next season and know which players to avoid.
In spite of taking the UEFA Champions League by storm with a 2012 championship over Bayern Munich, the Blues are a team that need to improve after struggling to compete for an English Premier League title.
Time and time again, Chelsea came up short this season in EPL play, and will need to make some significant transfers and acquisitions this offseason.
These are the three players Chelsea should not pursue this offseason despite the talent they boast.
Eden Hazard, Lille
Hazard is hands down one of the more talented up and coming players in the World, yet he would be much too costly and troublesome an option to bring to the club.
Last season, the 21-year old phenom posted 17 goals and 16 assists and this came after not starting until November of last season.
Yet as he is such a young, raw talent, that makes him all the more costly an option. Not to mention, as he has been known to slack off, it makes the acquisition of Hazard all the more difficult to fathom.
In the attack, Chelsea know that they can re-sign Drogba if need be, as he would undoubtedly be a more cost-effective option. After the type of performance Drogba had in the UEFA Champions League Final, don't be surprised if Chelsea keeps Mr. Clutch on board.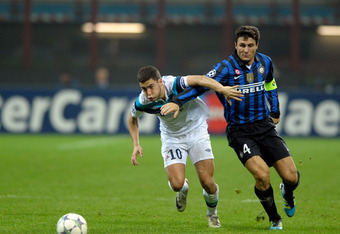 Claudio Villa/Getty Images
Mario Balotelli, Manchester City
Upon benching Balotelli, Manchester City got it together and would end up as Premier League champions when it was all said and done, in spite of trailing Manchester United by a significant margin at the time.
It is clear that Balotelli is talented and expected to soon be one of the game's best, yet bringing a hot-head like Balotelli to Chelsea is not the answer.
After coming out on top in the UEFA Champions League, the last thing they need is a headache on the pitch.
He would also, like Hazard, be an especially costly acquisition as well. As much as the team needs a bit more firepower in the attack, a player like Balotelli is not the answer. On a team that is as unselfish with the ball as any, a selfish player won't help this team's cause.
Didier Drogba, Chelsea
As mentioned prior, Didier Drogba will certainly be a priority for Chelsea this offseason after his clutch performance in the UEFA Champions League final.
Yet that will be the move that Chelsea would want to avoid going forward.
As great and fantastic a player as Drogba is, he also failed to produce for the better part of the season. His 12 goals were a career-low with the Blues and it certainly seemed that he was feeling "the blues" this past year.
If Drogba is one of the team's only options this summer, there is no doubt they must sign this clutch performer to a contract. Yet it cannot be the reason they don't go out and get a premier talent in the attack to help them win the Premier League title.