Drew Brees and Saints Still Can't Agree: Is Someone Wrong? Someone Right?
May 20, 2012

Thearon W. Henderson/Getty Images
The 2011 season was a record breaking year for the New Orleans Saints' quarterback Drew Brees. 2012 sees him without a contract. It doesn't seem like those two should go together, does it?
On his way to winning the 2011 Offensive Player of the Year award, Brees threw for 5476 passing yards, breaking a 27-year-old record. He then broke three other records that he had previously held. His 71.6% completion percentage broke the previous best of 70.6% and he set new records by passing for at least 300 yards in seven straight games and 13 games total during the season.
What follows is in the category of not wanting to see how the sausage is made. We enjoy the end product, we just don't want to see how it's put together.
This is reality fans. The NFL players are members of a union. That means they have a CBA (collective bargaining agreement) that has rules about things like contract negotiations. The CBA (agreed on by BOTH the players union and ownership) says that once a player's contract expires, the team has the right to place one of two kinds of  "franchise" tags on that player which is a contract for the next season.
The tag is used when the two sides can't agree on a longer term contract. The tag can be replaced by a long-term deal, so it can be used as an extension sometimes.
The Saints have placed the exclusive rights tag on Brees and have until July 16 to replace it with a long-term contract. That means they have to pay him either 120% of his previous year's salary or the average of the top five players at his position. Whichever is greater.
The two sides are negotiating around the clock to sign the player considered as valuable to his team as any in the league to a long term deal, right?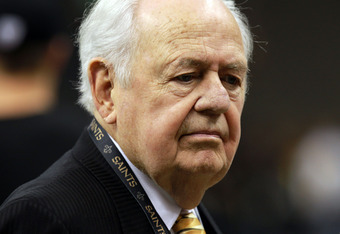 Ronald Martinez/Getty Images
"What's been a little frustrating on my end, or disappointing, is the lack of communication," Brees said. "We've reached out on quite a few occasions and at times I know I've been frustrated with the lack of response."
Saints' owner Tom Benson says the two sides are close but sources have told ESPN's Adam Schefter that's not so.
Perhaps the reason the Saints have been slow to respond to Brees is because there's no one left in the front office but Gladys who answers the phones. I'm sure Gladys does a great job but with everyone else suspended or otherwise tied up, it's a bit much to expect of her.
My reaction is that players need to stop whining about the franchise tag system. I know they want the security of a long-term contract but their union agreed to this system and the teams are simply taking advantage of a leverage they have. That's negotiating.
Brees has no plans on participating in team activities without a long-term deal. His view is a bit different than mine:
"I feel like our position is very reasonable and certainly appropriate for the situation that I'm in. Which is having played the full extent of my (previous) six-year contract," Brees said. "I knew exactly what I signed up for and over the last few years I have not said a peep about wanting a new contract or not being happy with my current contract… Certainly, I took on a lot of risk last year by playing the last year of my contract without anything guaranteed for the future."
Sounds reasonable doesn't it?
The problem is that this is a collectively bargained issue. One that Brees' union has agreed to. While I certainly agree that the Saints should do whatever is needed to sign Brees long term, they don't have to. We all have things in our control at work and things out of our control.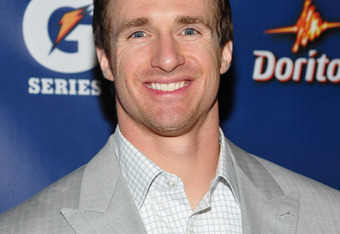 Mike Coppola/Getty Images
The tag can only be used two years in a row, so the worst case scenario would allow Brees to be an unrestricted free agent after the 2013 season. While that's not what Brees wants, it's within the teams' rights to do so.
It's part of working in the NFL, just like non-compete contracts are part of many peoples' employment. Just like being on call for days at a time are part of being a doctor. You know these things going in and they should be part of your decision to pursue that career.
Please don't misunderstand me. I'm confused by the Saints not signing Brees also. There's no player more valuable to his team than Drew Brees. On and off the field. But it is what it is and the only leverage Brees has is to retire or play under the franchise tag until it's gone and he can go wherever he likes.
Follow me on Twitter@sprtsramblngman