Preakness 2012 Results: Where I'll Have Another Ranks Among Recent 2-Leg Winners
May 20, 2012

Rob Carr/Getty Images
I'll Have Another's incredible closing speed helped him to claim the second leg of horse racing's Triple Crown at the Preakness Stakes in Baltimore on Saturday, keeping alive his bid to become the first Triple Crown winner since Affirmed in 1978.
I'll Have Another is just the fourth horse in the past decade to take the first two legs of the Triple Crown, so we decided to rank him among the best two-leg winners in recent memory. 
5. Charismatic (1999)
Charismatic rounded out the second millennium by taking the first two legs of the 1999 Triple Crown and ultimately falling short, placing third at the Belmont Stakes. Like I'll Have Another, Charismatic went off as a relative long shot at the Kentucky Derby and then won a tight Preakness Stakes over the horse he had beaten just two weeks earlier, Menifee.
4. I'll Have Another (2012)
I'll Have Another's unique closing speed and sense of the moment ranks him ahead of Charismatic, but not above the two-leg winners of the 2000s. I'll Have Another has yet to dominate a Triple Crown race start to finish and has yet to win by a convincing margin. 
Sure, the colt's ability to erase space on the final stretch warrants plenty of respect, but let's see if he can do it one more time at the longest race of the Triple Crown: the Belmont Stakes. 
3. Big Brown (2008)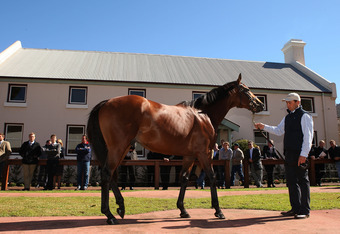 Mark Metcalfe/Getty Images
Big Brown was a dominant thoroughbred before suffering a cracked hoof leading up to the Belmont Stakes in 2008, where he would finish last. Big Brown took the Derby by four-and-three-quarters lengths and then won the Preakness by more than five lengths.
Had he not suffered such a devastating injury before the final leg and had a horseshoe not come loose during the race, he may have challenged for the Triple Crown.
2. Funny Cide (2003)
Funny Cide took the Kentucky Derby and Preakness Stakes in 2003, winning at Pimlico by an impressive nine-and-three-quarters lengths. Funny Cide's time at Churchill Downs still ranks among the top 10 ever recorded. 
Funny Cide got stuck in the mud at the Triple Crown's third leg, however, and finished third, coming just shy of winning the Triple Crown. 
1. Smarty Jones (2004)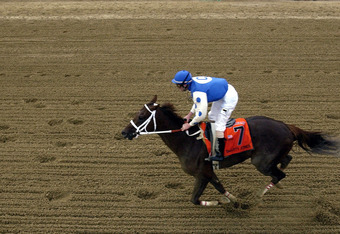 Doug Pensinger/Getty Images
Smarty Jones came up short only one time in nine total races. Unfortunately, his lone slip-up came at the 2004 Belmont Stakes, just three weeks after he had won by a record 11-and-a-half lengths at the Preakness Stakes at Pimlico Race Course. 
The colt won the Kentucky Derby that year by nearly three lengths and was leading at Belmont before long shot Birdstone made a late charge to pass him and end his hopes of becoming the first Triple Crown winner in 26 years. Smarty Jones finished second.
Here are Saturday's 2012 Preakness Stakes results and payouts (courtesy of Pregame.com):
| | | | |
| --- | --- | --- | --- |
| Horse | Win | Place | Show |
| 1. I'll Have Another | 8.40 | 3.80 | 2.80 |
| 2. Bodemeister |   | 3.20 | 2.80 |
| 3. Creative Cause |   |   | 3.60 |
Follow Patrick Clarke on Twitter for more on horse racing.