NHL Playoffs 2012: Kings vs. Coyotes Game 4 Live Score, Analysis and Reaction
Drew Doughty and the L.A. Kings look to deliver the final knockout blow on Shane Doan and the Phoenix Coyotes in Game 4 of the Western Conference Finals.
Harry How/Getty Images
The puck has dropped and the Kings look to complete the sweep of the Coyotes at the Staples Center in Los Angeles.
Want to have your say during the game? Follow this live blog all day to discuss this game, the NHL playoffs or anything in the hockey realm.
Comment below or send a question or comment to @BR0Leary and I'll respond during the live blog session. Best tweets and questions will be featured!
Check back soon for more updates, lineups, last-second scratches, starters and interesting tidbits surrounding Game 4 of the Western Conference finals.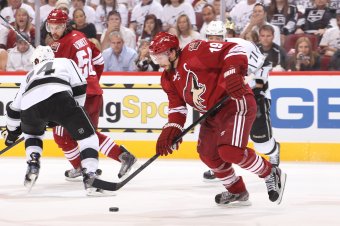 Christian Petersen/Getty Images
That'll do it in Hollywood.
Your final score, 2-0 Coyotes over the Kings.
Phoenix was aggressive all day, used the forecheck to their advantage and killed a lot of penalties.
Most importantly, they got stellar performances from their captain Shane Doan and Mike Smith continued his stalwart play with his third shutout of the postseason - all on the road.
Game 5 will be played in Phoenix on Tuesday night at 9 p.m. EST. The Coyotes are still alive and have confidence, but still down 3-1 in the series, must play their best hockey moving forward.
Three stars of the game:
1. Shane Doan (PHX): 2 goals, 3 Shots, 22:35 on ice
2. Mike Smith (PHX): 36 shots, 36 saves, SO
3. Oliver Ekman-Larsson (PHX): 24:52 on ice, +1 rating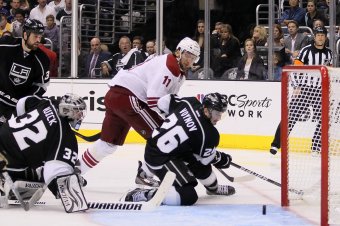 Jeff Gross/Getty Images
Time waning for the Kings, not able to muster much of an attack. Still 2-0 PHX.
The Coyotes have done a great job of frustrating the Kings, making them disjointed on offense and quieting the crowd - and that is probably the most important thing they've done.
Currently 1:30 left, look for Quick to be pulled soon.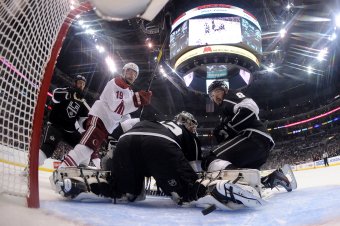 Jeff Gross/Getty Images
Phoenix working extra hard to clog the neutral zone and get the puck deep in the Kings end when they have the puck. Would love to kill the remaining six minutes and get out of town still alive.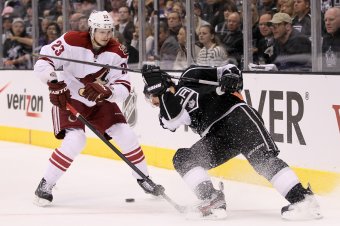 Jeff Gross/Getty Images
Kings right now have twice as many shots as the Coyotes but many of them have been straight on making them easy saves for Smith.
He's been great. Phoenix appears to be a different team today. Building good momentum for a potential Game 5 on Tuesday night.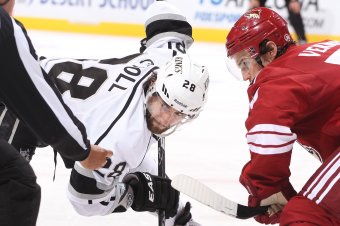 Christian Petersen/Getty Images
Antoine Vermette with an incredible chance to make it 3-0. Blasts it past quick, but hits the cross bar. You could hear that throughout the arena. Still 2-0 PHX.
Coyotes playing a lot faster, creating opportunities with their forecheck and their skill players showed up today.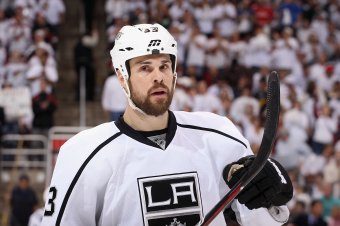 Christian Petersen/Getty Images
Another post for the Kings, this time Willie Mitchell from the point. Still 2-0 PHX, just under 13 minutes left to skate.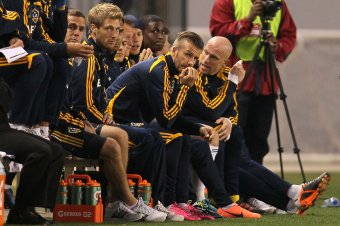 Victor Decolongon/Getty Images
David Beckham, James Gandolfini and Matthew Perry shown on the big screen. Three stars in their own-right, too bad they can't skate, the Kings could use them for a spark today.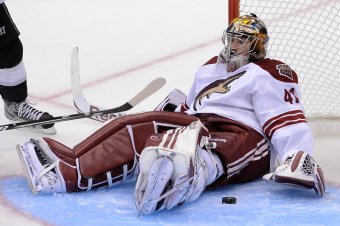 Harry How/Getty Images
Power play is over and Smith was good again. Not a ton of great chances with some good zone time. Kings now an abysmal 1-for-31 on the PP in this series, despite leading three game to none.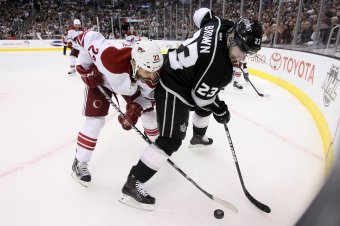 Jeff Gross/Getty Images
Smith has been really good early in this third period. No question in my mind, he's the principle reason they've gotten so far this season and he's proving it in this game.
A scrum after a Smith save and the Kings will go on their fifth power play after the refs send off an extra Coyotes player.
Kings 0/4 on the PP today.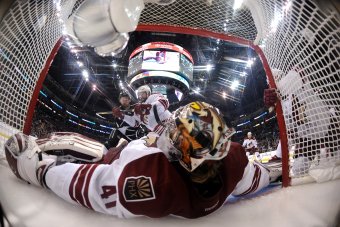 Jeff Gross/Getty Images
Two chances early for the Coyotes to make it 3-0, but can't convert. This period starting just like the second was played, a lot of end-to-end hockey, but both offenses are unable to bury anything. Still a two goal lead for PHX.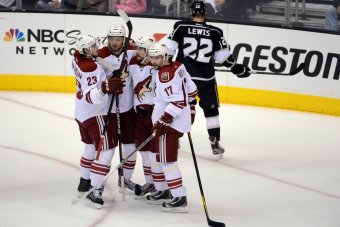 Harry How/Getty Images
Twenty minutes left. Kings have to get it in gear if they wish to complete this sweep in front of the home crowd. If not, they go back to Phoenix for a 9:00 appointment on Tuesday night.
Phoenix 2 Los Angeles 0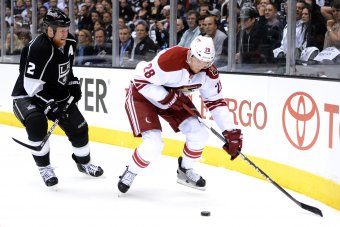 Harry How/Getty Images
The second period horn sounds and Phoenix holds its 2-0 lead. A pretty action-packed period for both sides, but the difference is that Mike Smith is seeing shots and making easy saves, even though LA has the advantage in shots.
Shane Doan is doing what a captain should - he's scored both goals in a game where his team is facing elimination.
This game is not over by a long shot, but it's wild to think that this would be just the second loss all postseason for the Kings. Both of which, would be at home. But, as I said, a lot of hockey to play and the Kings have certainly had their chances. Unfortunately, it's been bad penalties, posts and errant shots that have doomed the Kings.
I'll be interested to see if the Kings can get this dormant crowd back on their side.
Shots: LAK 23 PHX 14
Hits: LAK 25 PHX 22
PP: LAK 0/4 PHX 1/3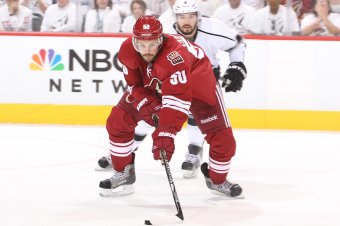 Christian Petersen/Getty Images
Mike Smith with an incredulous turnover and somehow the Kings miss an open net. On the other end, Coyotes with a few incredible scoring opportunities, but the incomparable Quick is up to the task.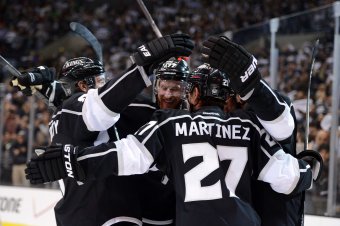 Harry How/Getty Images
On the PP, Martinez matches Yandle's bonehead move and take a holding penalty, negating the Kings PP. Not the way to get back into this game. Crowd is definitely out of it now and the Coyotes have a chance to take a real strong lead. We're 4-on-4 for a bit then PHX on the PP.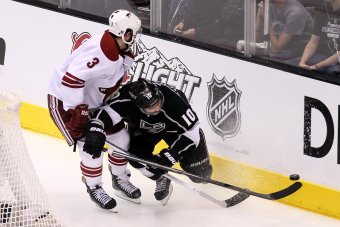 Jeff Gross/Getty Images
Yandle takes another penalty, this time going Floyd Mayweather on Colin Fraser. Stupid penalty puts the Kings on their fourth PP of the day. Haven't taken advantage yet.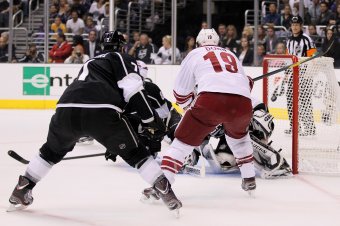 Jeff Gross/Getty Images
A little controversy here. The zebras are going over to review this potential goal.
Phoenix scores, Doan's shot hits the camera mounted in the net. It's clearly a goal.
Phoenix goes up 2-0 and Doan has his second of the game.
First time LA has given up consecutive goals in a game since Game 4 against Vancouver.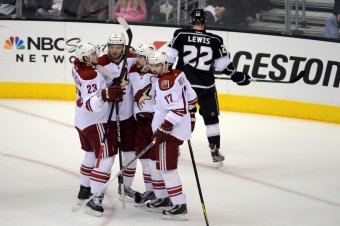 Harry How/Getty Images
At the under-ten media break. Game is opening up, more odd man rushes and offensive opportunities. I like Phoenix's jump in this period, look to have some swagger back.
Kings still lead in shots, 16-9.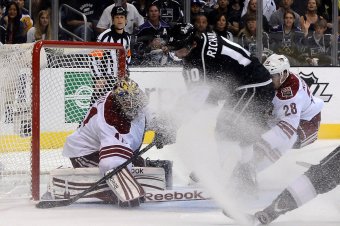 Harry How/Getty Images
Huge blocker save from Quick, keeps it a one goal game. On the counter, Smith equals Quick. Both guys are showing why they are playing some of the best goal in these playoffs.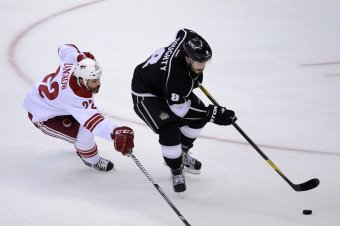 Harry How/Getty Images
Some good zone time for the Kings on the PP, but to no avail, now 0/3 on the PP.
Drew Doughty, Mike Richards and Jeff Carter have been quiet in this game, being cancelled out by some disciplined defense by the Coyotes.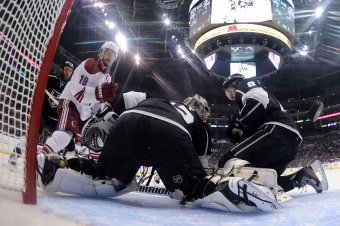 Jeff Gross/Getty Images
Quick and Smith exchange big time saves, including the PHX goalie somehow keeping the puck from going over the goal line without knowing where it was.
Score remains 1-0 PHX with the Kings jumping on the PP.
Christian Petersen/Getty Images
Excuse me while I rant for a second, but please indulge me for one brief moment.
On the telecast they are discussing how "hard" a noon start is for these guys who are used to playing at night.
I don't get it. They are playing hockey, for a living. There are no excuses with this thing. A completely ridiculous discussion regarding the wakefulness of well-paid pro athletes.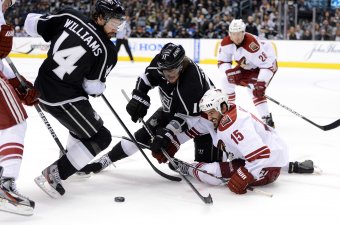 Harry How/Getty Images
Anze Kopitar negates an icing, sets up Lewis who draws iron, completing surprising Mike Smith.
Game stays 1-0 for PHX.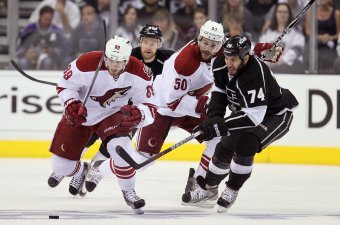 Jeff Gross/Getty Images
We're back under way in the second period.
Phoenix leads 1-0 still.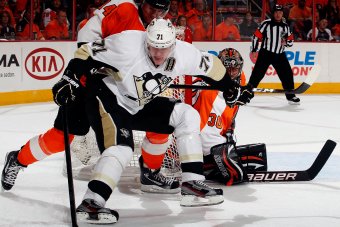 Paul Bereswill/Getty Images
Congrats to Russia for winning the 2012 World Championships. Now a combined 23 gold medals for USSR/Russia at this tournament. Final score: Russia 6 - Slovakia 2.
A valiant performance from the Slovaks, not expected to earn a silver medal.
Evgeni Malkin named tournament mvp after an absolutely dominant performance that proved he truly is the best player in the world right now.
Alexander Semin, Alexander Ovechkin, Pavel Datsyuk and Semyon Varlamov amongst other Russians winning gold today.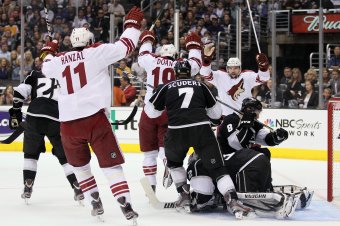 Jeff Gross/Getty Images
Heading into the second period, a couple tidbits.
Los Angeles had killed 30 straight penalties before allowing that Doan PP goal.
Also, the Kings have allowed two or fewer goals in 11 of 12 postseason games. Can they keep it that way in Game 4? Phoenix already has one.
It should be interesting to see how the Coyotes play with a lead after not having one this series and how the Kings respond actually being behind in a game.
This article is
What is the duplicate article?
Why is this article offensive?
Where is this article plagiarized from?
Why is this article poorly edited?