NBA Playoffs 2012: Los Angeles Lakers No Longer Elite After Latest Collapse
May 20, 2012

Stephen Dunn/Getty Images
The end of Game 4 might as well have symbolized the beginning of a new era and the official end of another. It showed why the Oklahoma City Thunder are the future of the Western Conference and the Los Angeles Lakers run as a contender is arguably over.
If Game 2 was a sign, Game 4 was undeniable proof. Another well-played game for the Lakers. Another big lead collapsed. Another big moment they couldn't finish.
Kobe Bryant only hit one shot in the fourth quarter—a difficult fadeaway similar to others he took in those final 12 minutes. He rushed shots and kept trying to will his game into hero mode instead of remain within himself.
His fourth-quarter struggles this series have humanized him from the automatic clutch figure Laker fans have come to expect. It doesn't change his legacy, but it means he may not be as clutch now as he once was.
On the other hand, Kevin Durant calmly hit the go-ahead three-pointer, his second clutch shot of the series and third of the postseason. Prior to that, he stole Pau Gasol's pass, his second big defensive play of the series.
Not only did Durant edge Bryant for the scoring title this year, but he's usurped his throne as the most clutch player in the Western Conference.
Call it a passing—or a taking—of the torch. As great as Bryant has been this season and was for the three quarters of Game 4, he's become a volume shooter in the clutch now. He'll still find ways to amaze us but the sad truth from this series is those moments are slowly happening with less efficiency.
The Pau Gasol era might also be ending. The player who instantly made the Lakers title contenders four years ago may have thrown their last chance away with his costly turnover in the final minute.
His unwillingness to take the open shot after Bryant passed to him out of a double-team highlights the inconsistency fans have seen. The same Gasol who was brilliant in Game 7 versus Denver is also prone to invisible moments and brain lapses.
Perhaps it's an indictment of Bryant holding the ball so much but Gasol has to be aggressive in calling for it and taking shots. Folks have waited for him to show intensity on every play in every game and yet he hasn't.
As great an All-Star as he is, it's time to reconsider Gasol's future. The last two postseasons have seen him make critical mistakes and management has a decision to make. Accept Gasol's brilliance along with his inconsistency or attempt to trade him again.
Finally, the Lakers are no longer a contender in the West in this form. In the last 30 years, every great NBA team has perhaps a three-to-five-year window where they dominate. The Sixers, Celtics and Lakers in the 1980s faced a harsh end. The Pistons saw it in 1991 versus the Bulls and the Rockets saw their dream of a three-peat end in a sweep in 1996. The Shaq-Kobe dynasty met the same fate in 2004 and the 2000's Pistons saw their elite run snuffed out by LeBron James and the 2007 Cleveland Cavaliers.
The biggest sign of trouble is mental mistakes. Great teams are usually focused and avoid panicking when tested. Go back to Game 2 when the Lakers blew that seven-point lead. When's the last time you saw a Lakers team fold like that?
It's true the Lakers have played great defense since Game 1. Games 2 and 4 went as well as they could've possibly gone yet it still wasn't enough. It's a reminder that the Lakers are no longer a team that has the collective talent or mental fortitude to beat other elite squads.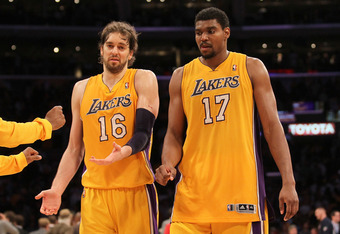 Stephen Dunn/Getty Images
The Lakers should be up 3-1 in the series right now. They're not due to self-inflicted wounds and Oklahoma City taking advantage of them. It's the difference between great and good teams.
No matter what anyone says, it's not all Mike Brown's fault. Brown has done the best job he can with the personnel he has given the limited time to practice and come together. He deserves a full season to implement his system.
Yet he also has to find ways to work with what he has. Ramon Sessions has had a terrible series but he provides valuable speed and energy that can be utilized better as he grows more confident in his role.
But it's up to general manager Mitch Kupchak and owner Jim Buss to decide what to do. They need to shake things up because in this current form, the Lakers won't get any better as the Thunder and Spurs are poised to maintain their drive.
This series has been a literal changing of the guard before our eyes. The Thunder are hitting shots, playing smart and showing hunger—all things the Lakers used to do. Durant is now as clutch as Bryant used to be and Russell Westbrook is ripping apart the Lakers obvious weakness at defending the point.
In other words, the end is near and barring a miracle, it's going to happen in the coming days. And soon the Lakers and their fans will have to accept where they are in the current NBA landscape.