Philadelphia 76ers: 10 Reasons This Team Can Get to the Finals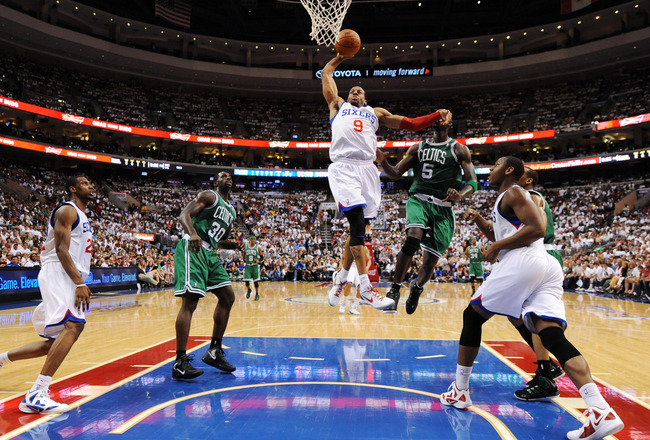 Drew Hallowell/Getty Images
A month ago, the prevailing wisdom was that the Philadelphia 76ers' stay in the postseason would be a relatively short one.
A few days later, fate intervened.
When Chicago Bulls point guard Derrick Rose tore his ACL in Game 1 of his team's first-round series against the Sixers, it caused a paradigm shift in the entire Eastern Conference playoff bracket.
The ultimate beneficiary of said shift appears to be the team from the City of Brotherly Love. Not only did they wind up winning their series against Chicago, but now they're 48 minutes away from facing the Miami Heat in the Eastern Conference finals.
To call their run "unlikely" would be somewhat of an understatement. And given the fact that they haven't really looked all that good in the playoffs, who's to say that they can't catch lightning in a bottle and put it all together for one more series?
So, with that in mind, here are 10 reasons the Philadelphia 76ers can get to the NBA Finals.
1. Emerging Young Stars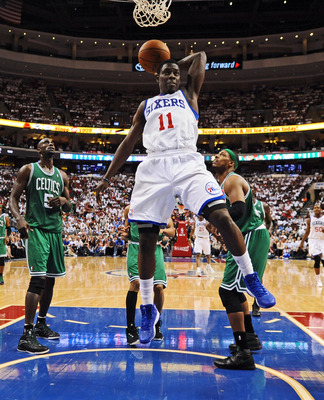 Drew Hallowell/Getty Images
Not only did Evan Turner and Jrue Holiday take the Bulls by the horns, but they've unofficially put their personal stamp on the 76ers this postseason.
Make no mistake about it: Going forward, Turner and Holiday are the next generation of Sixers leaders. With the confidence that they've gained during this playoff run, there's no telling how much of a boost it will be for them and the team going forward. Their play still needs to be a bit more consistent, but when it does, the rest of the league will be put on notice.
2. Stifling Defense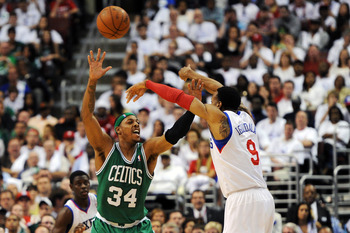 Drew Hallowell/Getty Images
Even if one were to disregard the first-round series against the Chicago Bulls, it's clear to see that when the 76ers defense is on a roll, it's extremely hard for most teams to score against them.
Early in the Boston series, Philadelphia was content on giving up that mid-range jump shot to Kevin Garnett. Once they adjusted and started to double-team the Celtics center in Game 4, Doc Rivers was forced to re-work his offensive game plan.
The Sixers don't do anything special on defense, but the key is that all five players maintain their responsibilities for all 24 seconds of the shot clock. With everyone on the court working in unison, opposing teams often resort to ill-advised shots, which ultimately result in run-outs and fast-break points for Philadelphia.
3. Ability to Adjust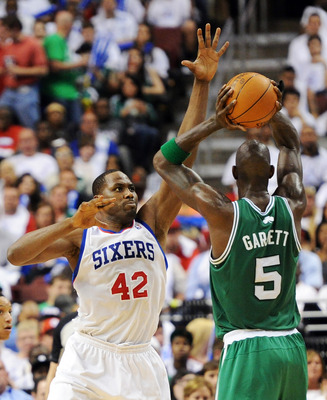 Drew Hallowell/Getty Images
After getting beat by long-range shooters more than a few times during the regular season, 76ers head coach Doug Collins decided to focus his defensive attention to the three-point arc at the start of the Boston series.
Celtics head coach Doc Rivers responded by running pick-and-pop sets to give Kevin Garnett a plethora of 18-to-20 foot jumpers—shots that he proceeded to knock down. So with the Sixers facing a two-games-to-one deficit, Collins adjusted again, taking away that mid-range shot and forcing Boston to beat his team by other measures.
Philadelphia's ability to make in-game and in-series adjustments shouldn't be taken for granted. Many teams are content to execute their game plans for the duration of a seven-game set without compensating for their opponents' strengths and or weaknesses. The Sixers are not one of those teams, and their flexibility in their strategies as well as their lineups will allow them to hang with just about any team they'll face this postseason.
4. Nothing to Lose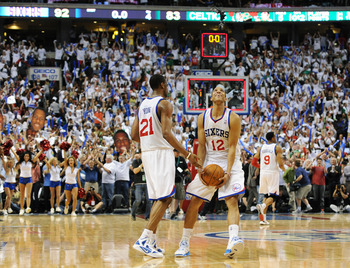 Drew Hallowell/Getty Images
Let's be honest: The 76ers have no business being where they're at right now. If Derrick Rose hadn't suffered a horrific knee injury (and if Joakim Noah hadn't rolled his ankle), there's a very good chance that Doug Collins and his charges would be sitting at home right now.
Philadelphia is playing with house money and are currently in an enviable position: No one expects them to do anything of consequence, and as a result, they have nothing to lose.
Very few things are more dangerous than facing a group of men in such a situation, so you can be sure that Philadelphia will be pulling out all of the stops in order to keep its playoff run alive.
5. Doug Collins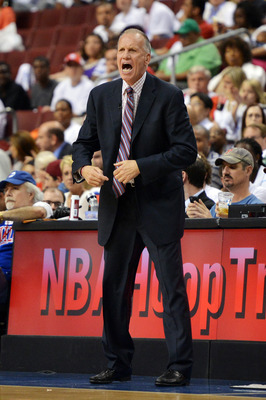 Drew Hallowell/Getty Images
It's fair to question Doug Collins for some of his lineups and his stubbornness to make adjustments at times. However, by the same token, you also have to praise him for the job that he's done with the (mostly) young team at his disposal.
Maybe no coach in the NBA has gotten more out of the talent on his roster than Collins has this season. It's not that his team isn't skilled, it's quite the contrary—not only has Collins been fortunate to lead a fine array of emerging talent, but he's ensured that each of them have given him 100 percent effort every night.
Not many bench bosses can say that, and it gives Collins an edge over many of his contemporaries.
6. The Versatility of Andre Iguodala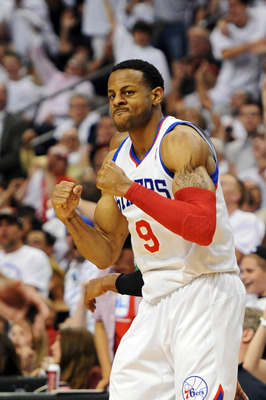 Drew Hallowell/Getty Images
Philadelphia fans have given Andre Iguodala his fair share of grief, but the team is rather fortunate to have both a constant triple-double threat as well as one of the best wing defenders in the NBA.
Iguodala has effectively stifled both Chicago's Luol Deng and Boston's Paul Pierce during the 76ers playoff run. With the intensity (and caliber of opponents) set to ratchet up a few notches, the versatile Iguodala will be asked to do more for his young, upstart team. And if past performance is any indication, he'll be more than ready for the challenge.
7. Lavoy Allen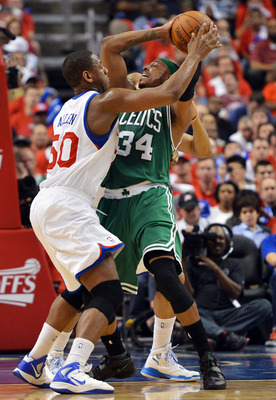 Drew Hallowell/Getty Images
Before the season started, ESPN ranked the top 500 players in the NBA. Lavoy Allen was listed dead last.
The pride of Pennsbury High and Temple University is far from being the worst player in the NBA. In fact, he's been one of the more pleasant surprises this postseason, as he's held his own versus both Kevin Garnett and Carlos Boozer.
Allen isn't a player who will get you 20 and 10 on any given night, but he's a hard-working, willing defender who isn't afraid to use his body (and all six fouls) against any opponent. Every successful team needs someone to do the dirty work (rebound, block shots, take charges), and Philadelphia has that player in Allen.
8. Multiple Ball-Handlers
Drew Hallowell/Getty Images
Most teams have one designated ball-handler among the five players who are on the court at any given time. The fact that three-fifths of the 76ers starting lineup—Andre Iguodala, Evan Turner and Jrue Holiday—is capable of initiating the team's offense, is something that is very difficult to game plan against.
For example, if a team is determined to stop Holiday's dives to the basket from the top of the key, Doug Collins can merely make Turner the primary playmaker and have Holiday come off of screens for catch-and-shoot opportunities. The possibilities are nearly endless, and with them, Philadelphia can often create a fair amount of misdirection and sleight-of-hand when in the frontcourt.
9. Lack of Mistakes
Elsa/Getty Images
Winning games in the NBA is a lot easier when teams don't do the things that typically lead to losses.
Case in point: The 76ers are not an offensive juggernaut by any means. However, the fact that they turned the ball over fewer times per game this season than any team in league history means that they usually have far more scoring opportunities than most.
Those opportunities have yet to consistently manifest themselves into points this postseason but, at the very least, they aren't giving games away with careless turnovers.
10. Miami's Defense Is Somewhat Forgiving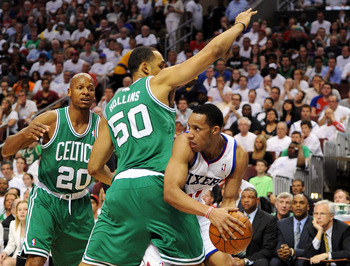 Drew Hallowell/Getty Images
For what it's worth, in the first two rounds of the playoffs, the 76ers have faced the No. 1 (Chicago Bulls) and No. 2 (Boston Celtics) defenses in the NBA this season. And even though LeBron James and Dwyane Wade can be relentless defenders, Philadelphia should have a simpler time getting into its half-court sets and running its normal offense.
It's amazing that head coach Doug Collins has been able to take this team this far with such mediocre shooting performances. Things should get a little less hectic going forward, and Philadelphia should be able to embrace those transition principles that allow them to get easy baskets.
Keep Reading

Philadelphia 76ers: Like this team?