Doug O'Neill: Why I'll Have Another and His Trainer Have Similar Stories
May 19, 2012

Rob Carr/Getty Images
I'll Have Another's incredible story will continue as he looks to capture the Triple Crown at the Belmont Stakes. The horse and his trainer, Doug O'Neill, both have something to prove after their Preakness Stakes victory.
O'Neill has been accused of breaking rules in the past, according to The Washington Post.
O'Neill has professed his innocence and filed suit over the most recent failed test, which suggests the banned practice known as "milkshaking," in which a mixture of bicarbonate of soda, sugar and electrolytes are pumped into a horse's nostrils to delay the sensation of fatigue and, in turn, boost performance down the stretch.
Here is a scathing statement that was released by the Humane Society about O'Neill's possible violations, according to the Baltimore Sun.
Doug O'Neill's history of drugging horses is disturbing. According to published reports, over the past 14 years and in four different states, O'Neill has received in excess of a dozen violations issued by state racing commissions for using performance-enhancing drugs. Not surprisingly, horses he has trained have been too often subject to breakdowns that have endangered both the horses and jockeys. Despite this history, O'Neill continues to train at tracks around the country, and this weekend Americans will watch as he attempts to win the Preakness Stakes with I'll Have Another. The drugging of horses in this sport demands immediate reform.
Clearly, there is a great deal of skepticism about I'll Have Another's trainer. O'Neill is doubted by many and in turn, his ability to train a Triple Crown-winner was also in doubt.
It's funny how his story somewhat mirrors that of his horse.
I'll Have Another was not a favorite prior to his Kentucky Derby victory. It was thought that both Union Rags and Bodemeister were sure to finish ahead of I'll Have Another. In fact, I'll Have Another was hardly on the radar, especially thanks to a bad post position.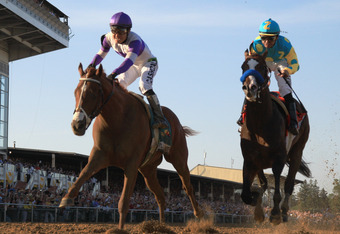 Rob Carr/Getty Images
But even after his victory at Churchill Downs, I'll Have Another wasn't even the favorite in the Preakness Stakes. It was thought Bodemeister would have too much speed to overcome on the shorter track, thus leaving I'll Have Another in the dust.
Now after two races and two instances of proving people wrong, both I'll Have Another and Doug O'Neill have done all they can to show they truly belong.
Both have shown they have a special kind of charm that makes it easy to cheer for them.
All that's left is the last leg of the Triple Crown in the Belmont Stakes. It will be a chance for I'll Have Another to finally prove he is a legendary horse, while O'Neill will no doubt show he doesn't need an artificial advantage to have a top-notch horse.
Such a victory would ensure that O'Neill and I'll Have Another both engrave their names into the record books as one of the most successful trainer-horse combinations in the sport's history.