Fantasy Baseball 2012: 5 Start-or-Sit Scenarios for Week 8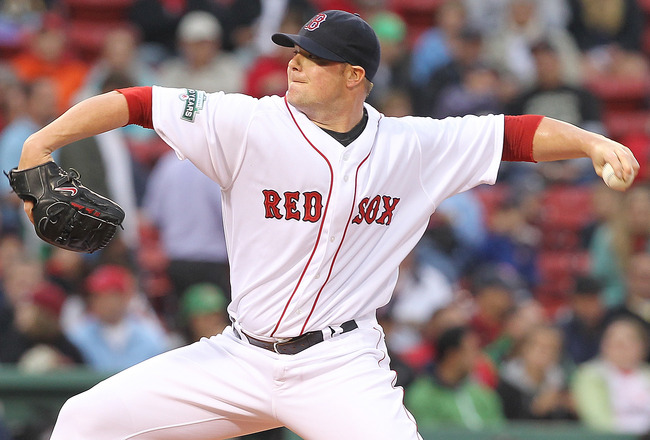 Boston's Jon Lester (3-3, 3.95 ERA, 1.30 WHIP, 37 strikeouts) has surrendered only nine runs in his last five starts.
Jim Rogash/Getty Images
The following slideshow touts five start-or-sit matchups to consider for fantasy Week 8 (May 21-27), featuring six overall hitters and four starting pitchers.

All five battles involve players at the same position, with similar circumstances heading into this week's action.

For example, the three hitting comparisons feature batters with only six games for the week, and both pitching matchups include one-start assets during the current seven-day window.

Enjoy the show!
Outfield: Josh Reddick vs. Nelson Cruz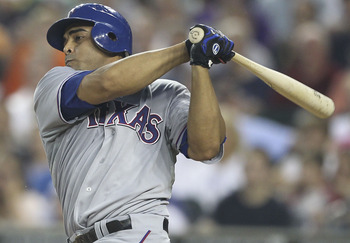 Leon Halip/Getty Images
Josh Reddick (11 HR, 24 RBI, 28 runs, four steals, .270 batting) has been one of the season's biggest hitting surprises, but does that warrant a full-week play over Nelson Cruz?

With six home games against the Angels and Yankees, it wouldn't be a bad move.

But given Cruz's hitting tear since May 6 (two HR, 11 RBI, 12 runs, .368 batting) and plum spot in the Rangers lineup, he gets the nod for the next seven days (six games against the Mariners and Blue Jays).
Second Base: Kelly Johnson vs. Ben Zobrist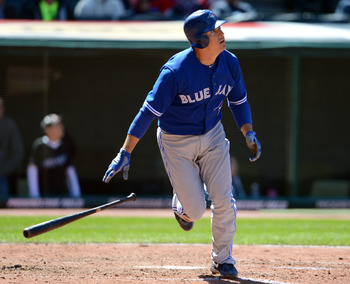 Jason Miller/Getty Images
Ben Zobrist (six homers, .265 batting) was a legitimate candidate for 20 homers, 20 steals and 90 RBI in the preseason but will likely fall short of the lofty goals come Sept. 30.

With the Blue Jays, Kelly Johnson (eight HR, 22 RBI, 27 runs, five steals, .261 batting) has better short-term and seasonal numbers than Zobrist. But will it be enough to warrant a starting slot for Week 8?

Johnson (left) has six road games with the Rays and Rangers. Zobrist, in turn, has three home games against Tampa Bay and three roadies with Boston.

Verdict: I may favor Zobrist's season-long outlook, but I'll ride Johnson for the week—even with planned encounters against Jeremy Hellickson and Yu Darvish.
Starting Pitcher: Josh Johnson vs. Wandy Rodriguez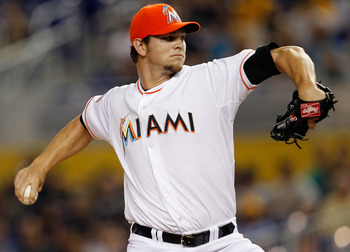 Sarah Glenn/Getty Images
Fantasy owners might have waited too long to pursue the Marlins' Josh Johnson as a buy-low option in trades.

In his last three starts, Johnson has a 2-0 mark, 2.14 ERA, 0.95 WHIP and 16/5 K/BB ratio—an indicator his sluggish start was nothing more than an early-season stumble.

As for Wandy Rodriguez, he's posted good numbers throughout the season (2.24 ERA, 1.09 WHIP, 40 strikeouts) without peaking too early. In other words, he might also be on the verge of a hot streak.

But with Rodriguez and Johnson logging just one start each, I'll take Johnson against the Giants (home) on Friday. He's a good bet for two or less runs allowed and seven or eight strikeouts.
Utility Spot: Chris Young vs. Edwin Encarnacion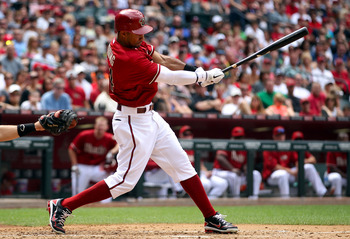 Christian Petersen/Getty Images
OK, so Chris Young has struggled mightily in his three-game re-start to the season. There's no way around that.

But before he hit the disabled list in April, Young had five homers and a 1.397 OPS, lending credibility to his latest run at 25 homers and 20 steals.

As an extension of that, I'll ride Young (six home games against the Dodgers and Brewers) over Edwin Encarnacion for the week.

Citing a gut feeling here, I'm siding with the Arizona star over the Toronto basher who belted back-to-back homers on May 15 and 16.
Starting Pitcher: Dan Haren vs. Jon Lester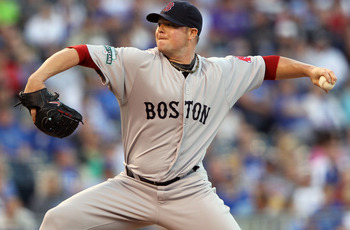 Jamie Squire/Getty Images
The Red Sox pitchers have taken their lumps this season, but Jon Lester has been able to separate from the pack of middling Boston arms.
In his last five starts (spanning 32 innings), Lester has surrendered only nine runs (sub-3.00).

On the flip side, Dan Haren (four straight losses) has been touched for 15 runs in four May starts. He even went one outing without recording a strikeout.

Is Lester (vs. Tampa Bay) a no-brainer pick over Haren (@ Seattle) for Week 8?
Right now, all signs point to yes.
Keep Reading