Preakness 2012 Replay: Video, Highlights and Recap
May 19, 2012

Matthew Stockman/Getty Images
I'll Have Another is officially your 2012 Preakness Stakes winner, and the elusive Triple Crown is now firmly in sight.
In the beginning, 11 horses lined up to take their shot at the win and a place in the history books, but in the end it was I'll Have Another who prevailed to come away as the champion in the 137th running of the Preakness.
Recap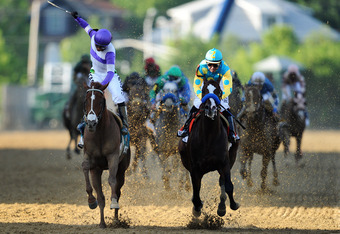 Patrick Smith/Getty Images
This race was similar to the 2012 Derby, with Bodemeister getting a good start and jumping into the lead right off the gate.
Once again it looked as if Bodemeister was going to try to cruise all the way to the finish line, but that final turn proved to be his downfall for the second straight race.
More accurately, the final turn proved to be I'll Have Another's time to shine, as jockey Mario Gutierrez pushed his horse perfectly around the turn and got him to hit his stride on the home stretch.
Just as Bodemeister was fading, I'll Have Another got his final burst forward, overtook the favorite and won the 2012 Preakness
It was a stellar race all around and it will be worth another watch or two over the course of the next few days as we dissect it and look forward to the Belmont Stakes.
Payouts
| | | | |
| --- | --- | --- | --- |
| Horse | Win | Place | Show |
| 1. I'll Have Another | 8.40 | 3.80 | 2.80 |
| 2. Bodemeister |   | 3.20 | 2.80 |
| 3. Creative Cause |   |   | 3.60 |
Payout info via Pregame.com.
Replay
The Winners Circle: I'll Have Another
Jockey: Mario Gutierrez
Owner: J. Paul Reddam
Trainer: Doug F. O'Neill
Many didn't think that I'll Have Another would be able to run another race like he did at the 2012 Kentucky Derby, but he stayed true to his name and ran a beautiful race to put himself in the winner's circle yet again.
Looking Ahead
There is only one thing that matters for I'll Have Another and fans of horse racing all around the world:
The Triple Crown.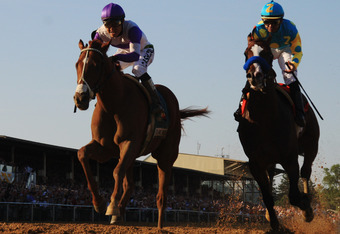 Rob Carr/Getty Images
It's one of the rarest accomplishments in sports and it will automatically make I'll Have Another a legend. I can't believe I'm writing this, but he's got a very realistic shot at making it happen.
Gutierrez seems to have a perfect handle of his horse and he knows exactly what to to do to get the best out of him. He's now shown us twice that he has that extra gear that will allow him to dominate the home stretch.
The only race that matters now is the 2012 Belmont Stakes, where I'll Have Another has a chance to win the elusive Triple Crown.