Why Germany Will Dominate the Future of Football: Top 13 German Players Under 24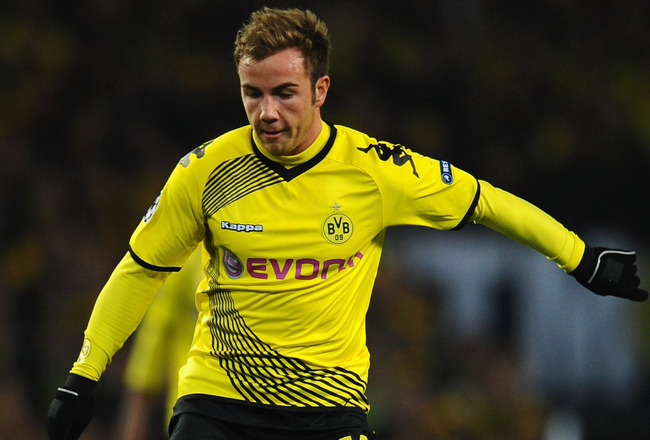 Mike Hewitt/Getty Images
Any soccer fan with a decent grip on scouting and spotting young football prospects will know that Germany has a bright future ahead. And indeed they do, but just how bright?
My prediction is that the German national team will come to dominate world football in the years to come. With an unbelievable amount of world-class youngsters coming on through on the conveyor belt of talent, combined with a group of experienced veterans to mentor them, Germany will become unstoppable.
Here is my list of the best German youngsters at the moment. Also, keep an eye on the players on this list, as some of them will most likely be involved in transfers for astronomical fees this summer.
Mario Gotze
If you've been following the sagas of emerging young players in the world of football, then you'll most likely already know of Mario Gotze. This lad is an integral part of a Borussia team that has just won their second in a row Bundesliga title. They also just won the German cup, walloping Bayern Munich 5-2. Yes, THAT Bayern. The same Bayern playing in the UCL final recently.
Mario is blessed with dazzling dribbling skills, excellent vision and Messi-like agility. He weaves in and out, running rings around defenders and setting up (and often scoring) goals for Borussia.
Borussia treasure him, Arsenal and United covet him and the world is at his feet. Oh, and did I mention, he's 19 years old!
Watch the video above in its entirety; it's one of my favorites and you won't be disappointed.
Mesut Ozil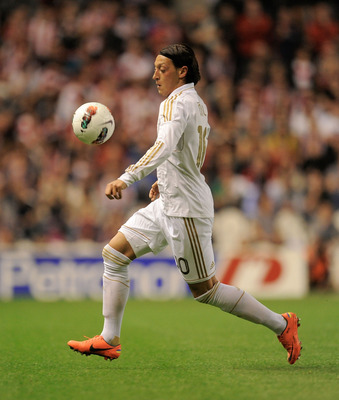 Denis Doyle/Getty Images
Most, if not all, of you should already know of Mesut Ozil, so I'll be brief.
Mesut is an excellent playmaker, dribbler and crosser. Here is a quote from Ozil himself that sums it all up: "My technique and feeling for the ball is the Turkish side to my game. The discipline, attitude and always-give-your-all is the German part."
Ozil is only 23 years old, although you'd never know it from the maturity and discipline he brings to the pitch day in, day out.
Marc-André ter Stegen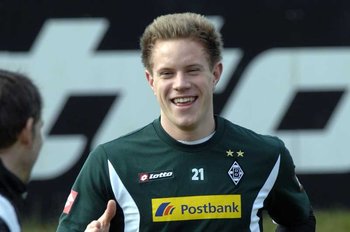 While Manuel Neuer is the current Germany No. 1, and also relatively young at 26 years of age, I believe Marc-Andre will become one of the greatest German goalkeepers of all time. It is a well recognized fact that goalkeepers take longer to mature, but ter Stegen dosen't seem to care. At 20 years of age, he is already emerging as one of the premier goalkeepers in the world.
He will definitely be giving Neuer a run for his money as the German starting keeper.
Mats Hummels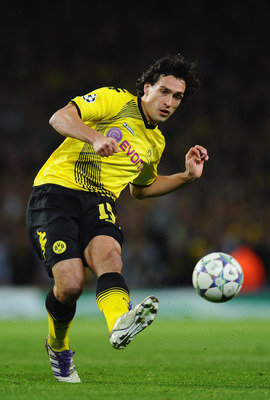 Mike Hewitt/Getty Images
What can I say about Mats Hummels? He just turned 23, and he's already in the list of the top 15 defenders in the world. Solid, consistent and a natural born leader, Borussia owes him just as much as Gotze, if not more, for their recent success.
Assuming he has the normal lifespan of a centre-back (playing until 33 years of age), this guy is going to be frustrating for years to come.
Thomas Müller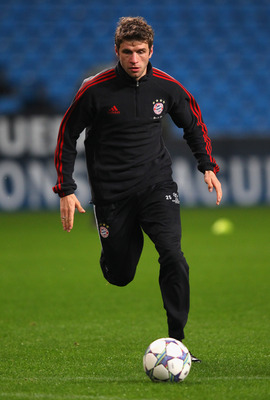 Alex Livesey/Getty Images
With the ease with which Muller has slipped himself into the German and Bayern starting lineups, it's easy to forget that he's only 22 years old.
Winner of the Golden Boot in the 2010 World Cup, Muller brings versatility, as he can play both forward and midfield excellently.
André Schürrle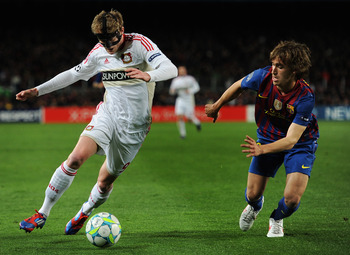 Jasper Juinen/Getty Images
Schurrle is one of the most promising wingers in world football. Not only is he fast, but he possesses superb ball control and crossing ability. I would love to see him called up for the Euro 2012 so he can show the world what he is truly capable of.
Toni Kroos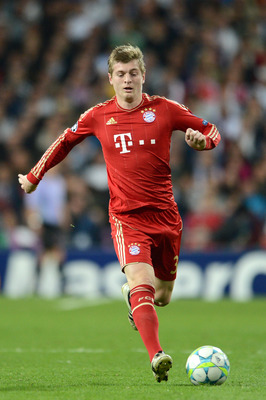 Jasper Juinen/Getty Images
As I am writing this, I am watching Toni Kroos orchestrate the Bayern midfield and consistently provide excellent passes to Robben, Ribery and Gomez. Kroos is a starter over at Bayern, and he's only 22 years old. The prospect of a Kroos-Ozil-Gotze midfield ought to set German fans salivating.
Benedikt Höwedes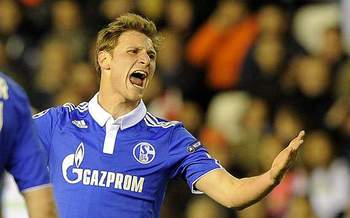 Benedikt Howedes, who is 24 years old, is one of my favorite defenders. He is the rock at the back that Schalke depend on. He is the stalwart who marshals the defense, and isn't scared to get down and dirty. Although he's a fiery and passionate player, he never loses his head (we're looking at you Badstuber). I believe he is the second best German defender and should start alongside Hummels. C'mon Joachim, make it happen!
Lars & Sven Bender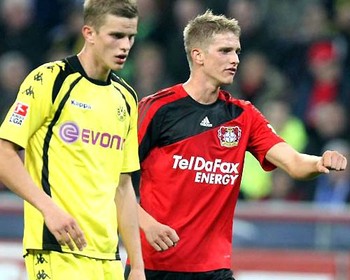 The Bender twins, aside from looking alike, also play alike. Both are excellent defensive midfielders with lungs of steel and hearts of plutonium. How else would you explain their ability to tirelessly cover every blade of grass on the pitch?
Besides that, the Benders are excellent tacklers and great long passers. Personally, I favor Sven, and would like to see him start alongside Schweinsteiger in the Euro. Also, once Schweiny gets a little old and stale, it'll be interesting to see Germany start both Benders; their chemistry would be a thing to marvel. Imagine them communicating telepathically to mark forwards and set up plays!
Lars and Sven are only 23 years of age.
Marco Reus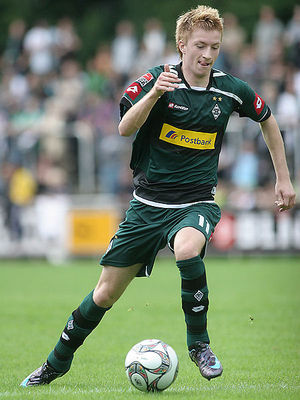 Marco Reus is a speedy 22-year-old midfielder playing for Monchengladbach. He confounds defenders with his dribbling skills, although I'd like to see him bulk up a bit, as he gets shoved off the ball too often.
I'd have him on the bench at the Euro to come in for Gotze.
Lewis Holtby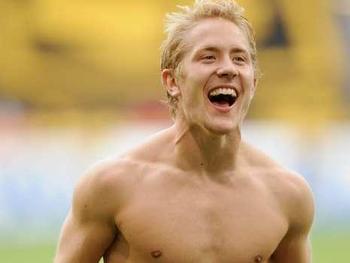 Holtby is basically Ozil No. 2. He plays very similarly to Ozil, assuming the central position at his home, Schalke. He is an excellent dribbler and crosser, and has a habit of nailing goals from far outside the box.
I'd utilize Hotlby as a power sub, coming in for Ozil at about the 60-foot mark.
He also appears to be very popular amongst the lady football fans. Although he does bear an uncanny resemblance to Ryan Gosling, leave him to do his job, girls. He's a footballer, not an actor.
İlkay Gündoğan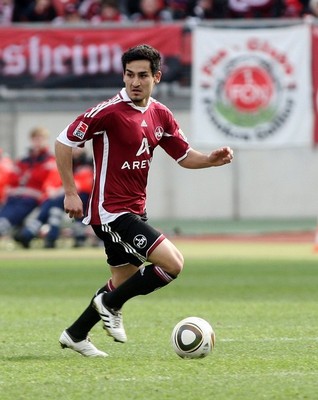 Gundogan has drawn many comparisons to to his fellow German-Turk, Mesut Ozil, but I think he plays more like Andres Iniesta. He is quick and nimble, but is also a solid defensive presence in the opponents' half. He plays excellent long balls, and is a pretty accurate set-piece taker.
It's difficult to figure where he'd fit in the German lineup, as they play with attacking mids and defensive mids, but no centre-mids, which is the position Gundogan thrives in.
Still, he deserves a chance to show the world what he is capable of at Euro 2012.
Holger Badstuber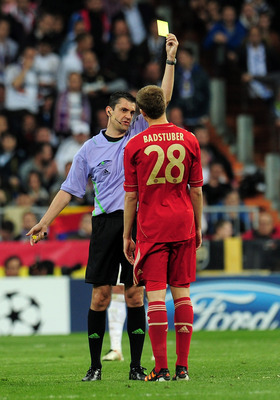 WHO DA **** YOU THINK YOU FLASHIN THAT CARD AT?!
Shaun Botterill/Getty Images
Holger Badstuber has emerged as the young star of the Bayern defense when they needed him most. He tackles and passes well, but he really needs to work on containing his emotions. He is passionate about the beautiful game, but he isn't scared of confronting players or the officials. He should look to Howedes on how to be both passionate and responsible.
But that dosen't detract from his sheer defensive prowess. He is a force to be reckoned with. Despite that, I still maintain that Howedes is the superior player.
Worthy Mentions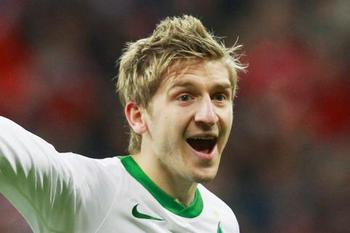 Young German players also worth mentioning:
Merkel
Leno
Leitner
Boateng
Zieler
Baumann
Marin
Tell me in the comments section below what you think.
Thanks for reading!
Keep Reading

Germany (National Football): Like this team?