Rickie Fowler Bridges the Generation Gap for Young Golf Fans
May 19, 2012

Mike Ehrmann/Getty Images
Greatest Generation, Baby Boomers, Generation X, Tweeners and Millennialism. How does golf fit into the flat-billed caps, hip huggers and wild colors of the next generation of golfer?
The 50s and 60s country club atmosphere of weekend Calcutta and the Saturday night dinner and dance are completely out of vogue with the skateboarders, rollerbladers and dirt bikers.
Is Rickie Fowler the Pied Piper that can bring the younger set into the golf kingdom?
Tiger Woods is responsible for the current plethora of athletically fit, long-driving, smooth-putting professional golfers.
Matt Kuchar, Hunter Mahan, Bubba Watson, Nick Watney and Bill Haas were teenagers watching Tiger accomplish Herculean feats with a golf club, garnering the sports world's attention and earning truckloads of money along the way.
Is Rickie Fowler going to be able to influence the teenagers of today to leave their Lacrosse sticks, soccer balls and other sports paraphernalia behind to pick up some golf clubs and beat balls on the range?
It's already happening.
Look at Rickie's gallery at any PGA golf tournament, and you will see several youngsters wearing the backwards hat and brightly plumed Puma golf wardrobe following Rickie's every move.
Everyone knows that the golf business has been in a slump ever since the economic bust of 2007.  Golf courses need new players, men, women, boys and girls to pay green fees and buy merchandise from the pro shop.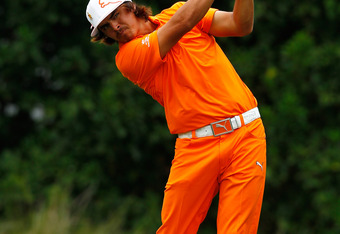 Mike Ehrmann/Getty Images
Rickie Fowler, and to some extent Rory McIlroy, can provide the impetus to bring a younger crowd out to the golf course.
An ongoing, head-to-head competition between Rickie and Rory in the majors over the next few years would be even better.
The next time you want to criticize Rickie Fowler for the flamboyant golf wear, the cap worn backwards or the scraggy facial hair, remember he may be exactly what can bring your kids to the golf course.
Trust me, there is nothing better in the world than playing golf with your children.
Good Luck, Rickie.