Bayern Munich vs. Chelsea: Last-Minute Predictions for Champions League Final
May 19, 2012

Handout/Getty Images
After a year of hard work and difficult challenges, Bayern Munich or Chelsea will win the 2012 Champions League on Saturday and fulfill a dream that all the players have had since they were kids.
These two clubs are well deserving of their place in the final, and the incredible amount of world-class players on both sides will make for a thrilling match.
Let's look at three last-minute predictions for the Champions League final.
Munich will dominate the right flank
Young Englishman Ryan Bertrand will start in Roberto Di Matteo's midfield for Chelsea, Sky Sports reports, and will feature on the left side of the pitch.
This means he will go up against Bayern Munich winger Arjen Robben and right back Philipp Lahm. Both are world-class players and are always willing to go forward down the flank and join the attack.
Against the inexperience of Bertrand, expect the Munich players to work the right side of the field a lot and try to exploit some favorable matchups they will have on that wing.
No strikers will score
This is a bold prediction, but with both Munich and Chelsea having several midfielders with fantastic attacking abilities, the strikers could be kept off the score sheet.
Mario Gomez of Munich and Didier Drogba of Chelsea will draw so much attention from defenders that they will be able to find midfielders making runs toward goal for scoring opportunities.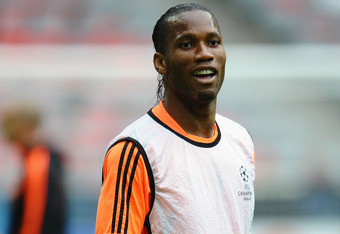 Laurence Griffiths/Getty Images
Bayern Munich will win 5-1
Munich will come out with a ton of energy and look to dominate Chelsea in the early going. They will look for a goal or two in the first 10 minutes that would emotionally destroy Chelsea and ruin their confidence.
With multiple defensive stars absent for Chelsea, expect the Munich attack to come at Petr Cech's goal in waves and score five goals in the course of 90 minutes for the victory.