Stanley Cup Playoffs 2012: American Players Making Differences in the Postseason
May 19, 2012

Bruce Bennett/Getty Images
Disclaimer: I am 100 percent, fully aware hockey is "Canada's Sport." I know Claude Giroux, Sidney Crosby and Steven Stamkos possess otherworldly hockey ability. I know Martin Brodeur stops pucks like no other. If you read this article and disagree in any way, please refrain from posting a comment about how "the States" know nothing about hockey. 
I also understand hockey exists in exotic places like Russia, Sweden and Finland. I know players like Evgeni Malkin, the Sedin twins and Teemu Selanne score lots of goals and points. I understand Henrik Lundqvist knows how to tend net. I know. We can strap on some football pads and settle this like Yankees if you still find the need to tell me how ignorant I am.
The 2012 Stanley Cup playoffs are well underway, and with four remaining teams, several players born south of the United States/Canada border are playing big roles on their respective teams. After a silver medal finish in the 2010 Winter Olympics and a slew of early draft picks in recent entry drafts, the US looks ready to start contending for hockey supremacy for a long time.
New Jersey Devils
A graduate of the stories varsity hockey program at Shattuck-St. Mary's boarding school in Minnesota and the United States' National Team Development Program, Minneapolis native Zach Parise serves as the captain of the New Jersey Devils.
The 27-year-old has scored four goals and nine assists in 14 postseason games, including two big goals and four points in a second-round series against the Philadelphia Flyers.
The former University of North Dakota Fighting Sioux winger starred for Team USA in the 2010 Winter Olympics, scoring four goals and finishing with eight points in six games.
Phoenix Coyotes
Keith Yandle arrived in the NHL after one season in the Quebec Major Junior Hockey League and a big year at Cushing Academy Preparatory School in Massachusetts.
The Coyotes' assistant captain has recorded eight assists in 14 postseason games and has registered a plus-6 plus/minus rating.
The 25-year-old has played in two consecutive NHL All-Star games and appeared for the red, white and blue once in the 2010 World Championships, in which he scored a goal and added three assists.
New York Rangers
The New York Rangers named Rochester, New York native Ryan Callahan team captain prior to the start of the 2011-2012 season.
The 27-year-old has scored four goals and added four helpers in 17 games this postseason.
After starring for the Guelph Storm of the Ontario Hockey League, Callahan worked his way on the Rangers' roster and eventually earned the role of team captain.
In the 2010 Winter Olympics, Callahan recorded only one assist in six games, but provided the Americans with tremendous depth, grit and energy.
Also playing for this Blueshirts is Boston native Brian Boyle. He emerged as a scorer for St. Sebastien's High School and the Boston College Eagles before making the Rangers lineup.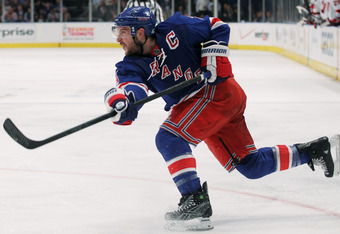 Bruce Bennett/Getty Images
The 6'7", 240-pound third-line center has three goals and three assists in 17 postseason games.
Los Angeles Kings
Perhaps no team has reaped the benefits of American players more than the Los Angeles Kings.
On defense, both Long Island native Rob Scuderi and Lansing, Michigan native Matt Greene have played strong defense for the Kings. 
Scuderi has made a career out of shutting down elite forwards, helping the Pittsburgh Penguins to a 2009 Stanley Cup victory, signing with the team after four seasons with the Boston College Eagles.  The 33-year-old has one assist this postseason, but is a plus-8 with only four penalty minutes, averaging over 20 minutes of ice time per game.
Greene, a product of the United States National Team Development Program and the USHL emerged as a heavy-hitting, rock solid defenseman for the University of North Dakota Fighting Sioux.  This postseason, the 29-year-old has a goal and three assists and has a plus-four rating.
Greene has played in three World Cups for the United States.
The true story for the Kings has been the play of team captain Dustin Brown and goaltender Jonathan Quick.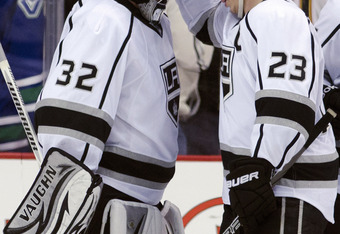 Rich Lam/Getty Images
Brown, an Ithaca High Little Red star played three seasons for the Guelph Storm and a season in the American Hockey League before cracking the Kings lineup.  The 27-year-old leads still active players with seven goals and 15 points.
Brown went scoreless in six games with team USA in the 2010 Olympic Games, but has had success for the red, white and blue in both the World Junior Championships and World Championships.
Quick, a Milford, Connecticut native starred for the University of Massachusetts-Amherst before emerging as an elite NHL goaltender with the Kings. He made the final roster for the United States 2010 Olympic team, but didn't dress in any games, serving as the third string goaltender behind Buffalo's Ryan Miller and Boston's Tim Thomas.
The 26-year-old leads all goaltenders this postseason in goals against average, save percentage and wins and trails only Henrik Lundqvist for the league lead in shutouts.
With his continued stellar play, Quick should definitely be considered a front runner for the starting job with Team USA in 2014.
At least one star from the United States will be winning Lord Stanley's Cup at the end of the postseason, and there's a 75 percent chance the captain to first hoist the Cup over his head will be a representative of the red, white and blue.