Royce White: Highlights, Analysis and Pro Projections
June 13, 2012

Jonathan Daniel/Getty Images
Royce White is a talented tweener that must overcome his off-the-court issues if he is to reach his potential. The 6'8" muscular forward led the Iowa State Cyclones to a NCAA tournament victory and a 23-11 record.
He averaged 13.4 points, 9.3 rebounds and five assists last season. He began his college career at Minnesota, but that ended badly. He sat out the 2010-2011 season and made an impact last year. 
White made himself eligible for the draft on March 22. His talent is apparent, but he has some obvious red flags that teams must consider before bringing him into the fold. White has an anxiety disorder, a fear of flying and a checkered legal past.
According to an article written by Jeff Jacobs of the Hartford Courant, White's anxiety issues started early in his life:
It started when he was 10. Royce lined up for wind sprints after basketball practice. And when he had gotten to the other end, he saw LaDream Yarbrough collapsed on the floor. He rode in the ambulance as paramedics worked furiously on his best friend. He thought LaDream was dead. He wasn't. Surgery to correct a cardiac abnormality saved him, but that's when the worries began.
This was obviously a traumatic experience for White, and it still bothers him to this day.
White will awaken several times at night, his mind racing with so many thoughts about life. Even now, he's afraid he'll drop dead doing wind sprints. When he does fly, he'll continually ask the attendant if everything is OK. White is open about his condition, refreshing for a strong athletic young man who stands 6 feet 8, 270 pounds. Bravado is not easily shed. He is eager to help others afflicted.

"I take my medication daily to keep balanced," he said. "Most mental illnesses are about chemical imbalance. It can often be easy to contain. The No. 1 thing is to get diagnosed. It's like any disease. If you don't treat it, it'll kill you."
White's introspection is a gift and a curse. It allows him to see the big picture in things, but it also seems to haunt him a bit.
Here is a scouting report on White highlighting his strengths and weaknesses.
(Height, weight and stats per statsheet.com)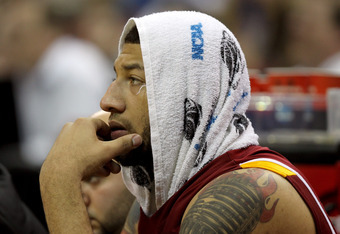 Jonathan Daniel/Getty Images
Profile
Height: 6'8"
Weight: 270 pounds 
School: Iowa State
Date of Birth: April 10, 1991
Best NBA Position: Small Forward
College Stats: (Key Stats Underlined) 13.4 PPG, 31.5 MPG, 53.4 FG%, 33.3 3FG%, 49.8 FT%, 5 APG, 9.3 RPG, 0.9 BPG, 1.2 SPG
Skill Grades
Athleticism: B+
Size: A
Intangibles: D
Rebounding: A
Ball-Handling: A
Defense: B-
Shooting: B-
Passing: A
Post Game: A
Basketball IQ: A
Upside: A
Strengths
White has good height at 6'8", and he is built like a tank. His incredible upper-body strength allows him to bull through defenders on the drive and finish with contact.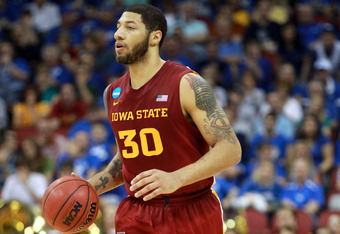 Andy Lyons/Getty Images
He rebounds very well for either forward position. He gets decent position and uses his length and width to become a factor on the glass. But White's most unique ability is his ball-handling and court vision.
He can put the ball on the floor and take his man, but he keeps his head up and has great vision for his teammates. This is a skill that could be used even more in the NBA, as he could be a real weapon off the dribble.
His width and solid footwork also make him a tough cover in the post, especially if he's playing the 3. Not many players will be able to handle his strength at that position. He also shows a good basketball IQ and is very unselfish.
White's versatility is on display in this highlight reel:
Weaknesses
White has an anxiety disorder, he's seriously afraid of flying, and he was suspended at Minnesota for his part in allegedly stealing a laptop. 
That is a ton of potential baggage for a team to take on.
Someone will, because he is so talented, but you best believe he will be poked and prodded before a decision is made.
On the court, he plays defense with his hands and doesn't move his feet well. He reaches too often in an attempt to recover after being beaten. That tendency will lead to foul trouble and overall bad defense in the NBA.
White can improve his mid-range game, but most of all he must improve his woeful free-throw shooting. He shot 49 percent from the line, and that is a major issue for a player that lives on creating contact.
NBA Player Comparison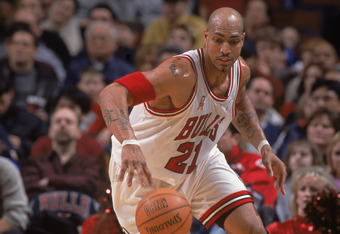 Jonathan Daniel/Getty Images
Playmaking Marcus Fizer
Fizer was also a bullish tweener from Iowa State. He had a great career with the Cyclones, averaging 19 points and 7.4 rebounds per game in three years; it got him selected fourth overall in 2000 by the Chicago Bulls.
Fizer's NBA career was not as successful. In six seasons, he averaged 9.6 points and 4.6 rebounds per game, never playing more than 26 minutes per game. His career was marred by injuries, and he never beat the tweener obstacle. 
Fizer is 6'9" and 262 pounds, which is similar to White's stature. White does have more ball skills, and he's a better passer, but every other aspect is similar. White could easily have a better career than Fizer if he gets a handle on his personal issues.
The playmaking element makes him a special prospect, but if he is derailed, the skill won't develop.
Draft Projection: Mid to Late First Round
Follow Brian Mazique and Franchiseplay.net for reactions, analysis and news from the world of sports and sports Video Games