Preakness Predictions: Horses Who May Steal the Show
May 19, 2012

Rob Carr/Getty Images
What a beautiful day for a race. It is once again the third Saturday of May, which means the 2012 Preakness Stakes has arrived. When the unheralded I'll Have Another took home the Kentucky Derby crown, he may have signaled the start of the year of the underdog.
If that is to hold true in today's Preakness Stakes, contenders like Bodemeister must falter and open the door for these three underdogs. 
Teeth of the Dog, 15/1 Odds
This past March, Teeth of the Dog celebrated his third birthday. He celebrated a little early, though,  winning the Maiden Special Weight at Gulfstream Park on February 4th. That was his first and only first-place finish.
Teeth of the Dog is coming into the Preakness with low odds at 15/1 and low expectations. He will be one of the least experienced horses in the race. However, that has yet to stop him and jockey Joe Bravo. In his lone victory, he had the second fewest starts of any horse in the race. Even now, Teeth of the Dog only has four starts. 
For him to pull off the upset at today's premier race, a lot of pressure will be placed on Bravo. With more experienced horses like Bodemeister and Daddy Nose Best racing alongside his mount, Bravo will have to keep Teeth of the Dog focused. Teeth of the Dog does have a history of racing well against poor odds. At his last race, the Wood Memorial Stakes, he entered with 53-1 odds, but finished an impressive third.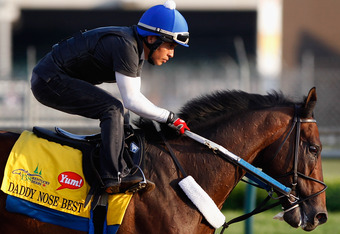 Rob Carr/Getty Images
Daddy Nose Best, 14/1 Odds
Boasting the most career starts of any horse in the Preakness, Daddy Nose Best is the most experienced of the contenders today. While it is easy to be impressed by his four victories, most recently he turned in a lackluster 10th-place finish at Churchill Downs.
Prior to that performance, Daddy Nose Best did kick off 2012 with back-to-back victories in the El Camino Real Derby and the Sunland Derby.
Both of his 2012 victories were of the "come from behind" variety. That should help jockey Garrett K. Gomez's confidence in his mount. In both races, Daddy Nose Best had a less than advantageous starting position and was able to overcome it for the win. In today's Preakness, he has poor 14/1 odds but will once again have a chance to prove the oddsmakers wrong.
Gomez needs to be able to use Daddy Nose Best's experience to his advantage and run a complete race, which he was not able to do at the 2012 Kentucky Derby.
Creative Cause, 7/1 Odds
Jockey Joel Rosario's mount Creative Cause has the best shot of the underdog field to upset Bodemeister and the other favorites. At 7/1, Creative Cause is on the borderline of being considered an underdog. But with three other horses starting with better odds, we will throw him on this list as well. 
Creative Cause has experience that is only bested by Daddy Nose Best. He has emerged victorious in four of his nine career starts, a very impressive statistic.
He turned in a decent fifth-place finish two weeks ago at the Kentucky Derby, but will be looking to get back to the front of the pack at the Preakness. Creative Cause had an amazing 2011, while he has fallen off just a tick this year with just one first-place finish at the San Felipe Stakes in March.
Rosario must keep Creative Cause engaged in this race throughout. He lost a third-place finish at Churchill Downs on the final straight, dropping to fifth. That is unacceptable for a horse of his stature and experience.