Bayern Munich vs. Chelsea: Arjen Robben and Stars FCB Will Count on in Final
May 19, 2012

Shaun Botterill/Getty Images
When Bayern Munich and Chelsea do battle on Saturday in the UEFA Champions League Final, it will be for all the marbles. Bayern will be looking for its fifth Champions League title, while Chelsea is hoping to win its first. FCB will have home-field advantage, but that won't mean much unless its top players step up and play big.
Both sides are star studded to say the least, but Bayern enters the match having fared much better than Chelsea in their league season. All things considered, Die Roten are a decided favorite in Saturday's match. Chelsea seems like a team of destiny and it won't go quietly, but if Bayern's stars play like stars, then the German squad has an excellent chance to reign supreme.
Here are three stars who FCB will count on most heavily to deliver yet another Champions League title to the storied club.
Few strikers in the world have more creativity and better pace than Bayern's Arjen Robben. The Dutch forward is arguably FCB's most dynamic offensive threat, so he will most definitely factor in to the result of Saturday's match.
Robben scored a huge goal in the second leg of the semi-finals against Real Madrid, as it was enough to push the game to penalty kicks. Bayern had fallen behind 2-0 in that match, but Robben's goal turned the momentum in a big way.
Robben missed several games during league play, but he was still highly effective with 12 goals and five assists in 24 contests.
Chelsea has a savvy and experienced back line that isn't easy to penetrate, as well as one of the best goalkeepers in the world in the form of Petr Cech. Robben is most definitely going to have his hands full, but he'll need to manufacture some offense if Bayern is going to come out on top.
Manuel Neuer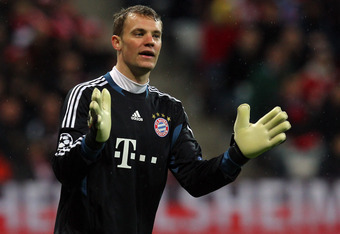 Martin Rose/Getty Images
He may not always get the credit he so richly deserves, but Bayern goalkeeper Manuel Neuer is one of the best there is at his craft, and his consistent play has been the lifeblood of FCB all season long.
Neuer notched a clean sheet in more than half of his league games this season with 17, and he has managed to elevate his play even more in the Champions League. He let up two quick goals (one on a penalty kick) to Cristiano Ronaldo in the second leg of the semi-finals, but he regrouped and settled in.
Neuer held the Blancos scoreless from the 14-minute mark on and was nearly unbeatable in the penalty kick shootout. Madrid went just one-for-four against Neuer as he raised his level of play in the biggest moments.
Every moment will be a huge one in the Champions League Final against Chelsea, but Neuer should be up to the task. He'll have several talented offensive threats to contend with, but Neuer is confident enough to stand tall and excel.
Bastian Schweinsteiger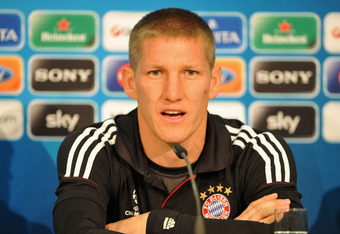 Handout/Getty Images
As much as players like Arjen Robben and Franck Ribery are responsible for putting the ball in the net for Bayern, it could be argued that midfielder Bastian Schweinsteiger is their most important player.
The 27-year-old German star may not own stats that jump off the page, as he tallied three goals and three assists during league play, but he has everything you look for in a midfielder. He's fast, creative, dynamic and smart, and he is the player who makes the FCB attack go.
Schweinsteiger is going to try to set a fast pace early in the match, and Bayern supporters should hope that he can as their overall skill level lends itself to that type of play.
On top of that, Schweinsteiger proved to be clutch in the semi-final against Real Madrid as he scored the game-winning penalty kick that propelled FCB into the finals. Schweinsteiger may not record a goal or an assist in the game, but all the little things he does will be vital to Bayern's success.
Follow @MikeChiari on Twitter