MMA: Can Strikeforce Survive as an Independent League Without the Heavyweights?
May 19, 2012

Strikeforce's Heavyweight Grand Prix Saturday is also a grand finale for the heavyweight division. Though there may be one more fight left in the league for the participants in the main event, Strikeforce is set to move on without a heavyweight division after that.
So, can Strikeforce really keep driving even while the wheels are falling off? Strikeforce CEO Scott Coker seems to think so.
Coker, who is one of just a handful of former executives still retained by Strikeforce after the takeover, is convinced that we'll see Strikeforce on Showtime "for many years to come." 
Coker also explained in the same recent Heavyweight Grand Prix conference call that the company has "a great relationship with Showtime."  
Coker's remarks focusing on the renewal of Strikeforce's cable television deal with Showtime also belie the main reason why the UFC hasn't completely consumed the brand just yet. 
The "business as usual" promises made by Zuffa President Dana White back in March 2011 seemed hollow from the start, and subsequent changes proved White's words were pure hype.
Multiple moves made since the purchase transformed Strikeforce into an entity obviously being groomed for ultimate demolition. Still, the league hung on despite losing a slew of popular fighters to the UFC. 
Rather than take the structure down like one of those controlled explosions instantly reducing everything to dust, Zuffa seems to be taking their sweet time removing one brick at a time from Strikeforce's foundation.
The bigger and bolder promotion that snatched up the second-tier fight club for a song is under a more intense microscope these days, and their past evisceration of PRIDE went a long way to taint the UFC's image. Those scars are still fresh.
MMA fans might seem more ready, willing, and able to see Strikeforce lumped in with the UFC these days, but Zuffa's brass is still slow playing this one.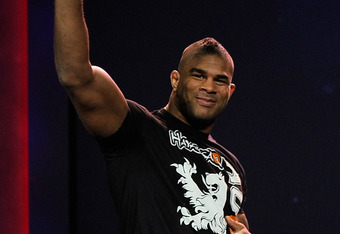 Kevork Djansezian/Getty Images
Few people were privy to intimate details of the purchase agreement hatched to make the Zuffa/Strikeforce deal happen, but it's probably a pretty safe bet that there was something in that contract to prevent a complete collapse of Strikeforce.
Additionally, there are some fringe benefits Zuffa enjoys by keeping the other fight club a going concern. For one, women's MMA is starting to gain a foothold with fans, and keeping Strikeforce running allows Zuffa to be on the cutting edge of developing the women's field.
Dana White's been outspoken about not wanting to add women to the UFC, and he's taken some heat for that stance. Thanks to the dynamic fighting of women's MMA sensation Ronda Rousey, White and Lorenzo Fertitta are coming around to the idea that girls really can fight. If they folded Strikeforce into the UFC completely, White would have to eat crow and let the ladies fight in the octagon. 
The Showtime exposure is also key, as indicated by Coker's confidence in that partnership. Zuffa is trying to ensure that the sport of MMA continues to be seen as "the fastest growing sport in the world." They even claim their own operation is "the fastest growing sports organization in the world."
So, keeping the Strikeforce train rolling down the tracks will keep a brand of mixed martial arts under the Zuffa label on a major cable network sharing the spotlight with boxing. The Showtime team also had their own independent media machine, which is a big plus for Zuffa, even though they still supplement that PR production and marketing on their own. 
As much as Strikeforce's doomsday seems imminent, it could actually be a long way off at this pace. What's more likely is that the league will wind up in a situation like the WEC, hosting lighter-weight fight cards and maintaining a long, healthy, independent history until it simply is no longer feasible or desirable for any reason to keep the entity separated from the UFC.
While some might see the UFC's acquisition of the best fighters in Strikeforce as the beginning of the end, it's really not. It's actually the beginning of the metamorphosis. The competitor is now part of the team, and it's taking on the look of the guy who gets picked last every gym class. That's where the UFC wants their underling: underneath them when it comes to quality.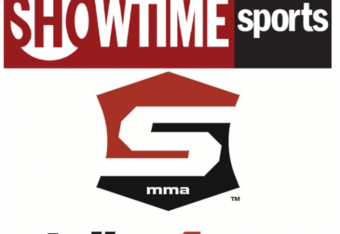 If the intent was to actually build Strikeforce into a powerhouse, the league would be adding more superstars instead of siphoning them off to fight in the UFC.
Keeping the league in a confined space where it can't grow into an upstart threat to the UFC's domination might seem silly to fans who want to see everything blended together, but right now Zuffa wants and may actually need Strikeforce to stay independent.
As fighter contracts begin to expire, there will be more Strikeforce guys making the exodus to the UFC, but not enough to kill the whole business model. Whatever the ultimate plan is, if Strikeforce winds up getting folded into the UFC completely, it's going to take a lot longer than most MMA analysts are speculating. 
While we watch and wait, Scott Coker is doing his level best to maintain the legitimacy of his operation. He takes the tone of someone who knows something we don't. He goes to great lengths to defend and promote what's left like a trained executive should.
Whatever agreement he signed to keep his job may hold the clue to why Strikeforce is still allowed to live on while so many other Zuffa acquisitions suffered a much different fate. 
Now, if Coker suddenly decides to quit or gets his walking papers for some reason, that's when Strikeforce fans can really panic. Then the speculators pointing to imminent disaster for Strikeforce will have something to really back up their claims. Meanwhile, enjoy the show while it lasts.