WWE Money in the Bank 2012: Creating a Card Through Logic and Wishful Thinking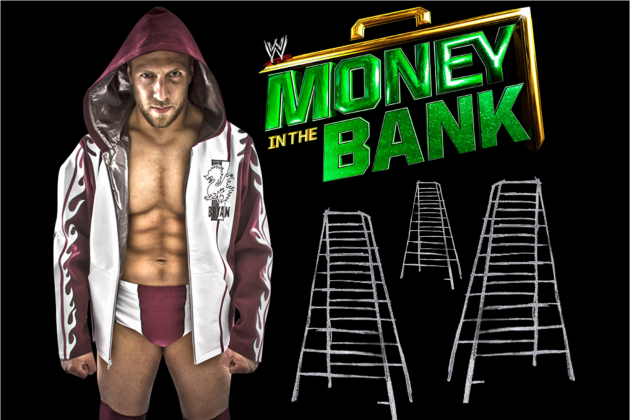 Last year's installment of the Money in the Bank pay-per-view was easily amongst the very best shows the WWE put together in 2011. So what's in store for this year's event?
As the pay-per-view before the company's summertime extravaganza, SummerSlam, Money in the Bank could lay down some significant build.
Will CM Punk continue his lengthy reign as WWE Champion?
Who will win the event's ladder matches and capture the opportunity for a major title shot?
And for whoever does, will they decide to cash in at the pay-per-view?
But more importantly, how will the card look?
Well through some logic and some wishful thinking, here is how I would book this year's Money in the Bank pay-per-view.
Begin Slideshow

»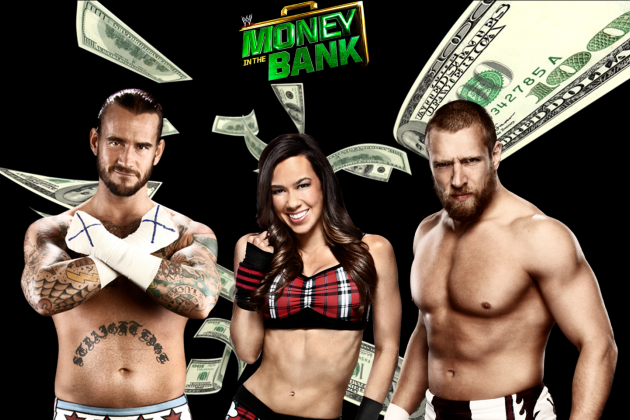 After watching the latest edition of Monday Night Raw, it seems as if the Punk-Bryan-Kane feud still has some legs to it.
Unfortunately for those who may have enjoyed their triple threat match at No Way Out, it's extremely unlikely that both Kane and Daniel Bryan will be challenging CM Punk for his WWE Championship. So on the "wishful thinking" aspect of this article, let's hope Bryan becomes the guy that battles for Punk's strap.
The feud can branch off after a No. 1 contender's match between Kane and Bryan. Bryan would, of course, win and earn himself a WWE Title match against Punk at Money in the Bank.
But since we've already seen these two go head-to-head at a pay-per-view this year, there has to be some sort of kicker. That kicker would come in the form of the crazy chick herself, A.J.
Yes, I apologize to those who would rather see a straight up match with an actual referee. In fact, my first thought of a stipulation for this potential match was an iron man one. However, I believe a 30-minute iron match between the two would be much better served as a blowout at SummerSlam.
A.J. would be named as the special guest referee, allowing her to finally devote to her allegiance to either Punk or Bryan.
So with that into consideration, I would have A.J. screw over Punk, allowing Bryan to capture his first WWE Championship. A.J. would realign with Bryan, and the two would then cut a promo detailing their extensive plan.
And as I stated earlier, I would then have Punk and Bryan ultimately finish off their feud with an iron man bout at SummerSlam.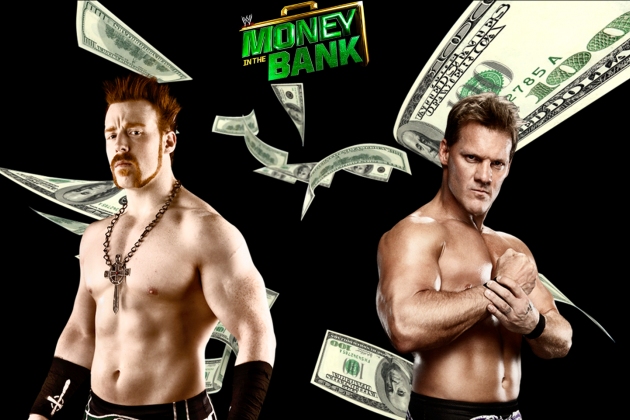 Alberto Del Rio was scheduled to fight Sheamus for his World Heavyweight Championship at No Way Out. But after suffering a concussion, he was scratched from the event and replaced by Dolph Ziggler.
So common sense would indicate that Del Rio is in line for his championship match at Money in the Bank, correct? Perhaps. But does anyone really want to see that?
That's what I thought.
But how about Chris Jericho?
Considering what he did for CM Punk, Jericho would complement and help push Sheamus in a feud rather nicely. Since he will be returning on the upcoming episode of Raw, Y2J could win a No. 1 contender's battle royal.
That would match him up against Sheamus for a very promising feud that could last all the way up to SummerSlam.
Currently, Jericho is not scheduled for any WWE events after their summer extravaganza.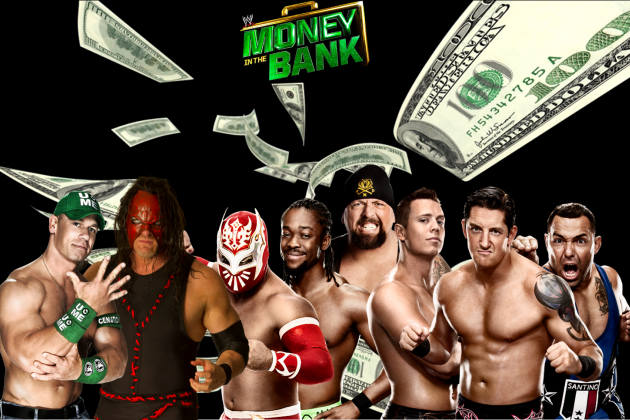 Given the current run of the Raw Supershow, I'm not even sure if the two Money in the Bank ladder matches will be distinguished by the Raw and Smackdown brands. So for the purposes of the WWE and World Heavyweight Championships, I'll just refer to the matches with their respective belts.
Here's who I would book in the WWE Championship Money in the Bank match and why:
John Cena: Please, stop shouting explicit language at me through your computer screen. I know Cena may be bigger than this and isn't to adept at ladder matches. But that's exactly why he should be here. We all want to see new things. More specifically, we all want to see something different from John Cena.
Kane: Perhaps listing Kane right after Cena in a proposed ladder match isn't the sexiest thing ever. Regardless, this should be where Kane is booked for this pay-per-view.
Wade Barrett: Hopefully, Barrett will be back for this. And if he is, this is the man I'd have win. Despite a minor setback, the Barrett Barrage must get back on track and on its way to a major title reign.
The Miz: He should be back in time after taping the latest WWE Studios installment of The Marine.
Big Show: Show claimed he was off to bigger things this past Monday. If we're lucky, we'll see how he'll fare in this ladder match opposed to another snoozer of a feud.
Kofi Kingston: With R-Truth out with a broken foot, it appears unlikely Kofi will be in any tag team action. Unless there's a replacement (crossing my fingers for Little Jimmy), he should be in this match.
Sin Cara: Of course he'll be here. He's Sin Cara. Maybe he can redeem himself with a nice showing in this match.
Santino Marella: I think Santino has earned himself a spot here. We saw him hold his own in the Raw Elimination Chamber match. So why not here?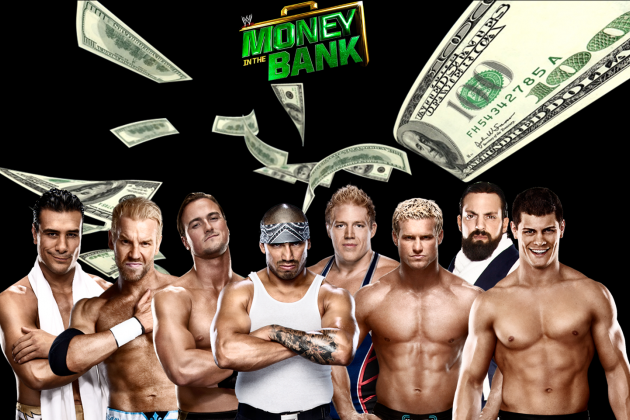 Here's who I would book in the World Heavyweight Championship Money in the Bank ladder match and why:
Alberto Del Rio: As long as he doesn't get a title match at the event, expect Del Rio to be a huge factor in either of the ladder matches. Since he won the WWE Championship one last year, I'll book him here to change it up.
Cody Rhodes: I can guarantee that 98 percent of the IWC is hoping for a Cody Rhodes win in one of these Money in the Bank matches. And to be completely honest, I'm wishing for it as well.
Christian: Pretty obvious choice. Hopefully he'll be here and not in another Intercontinental Championship match with Rhodes. Don't get me wrong, I enjoy both wrestlers. But to see them in another pay-per-view match is too much.
Dolph Ziggler: You can write this one in pen. Ziggler will and should be in this match.
Jack Swagger: When you see a Ziggler, there's always a Swagger nearby.
Hunico: Perhaps some of his acrobatic stunts and athletic ability can give us a nice spot.
Drew McIntyre: The Chosen One could deliver nicely here as an add-on.
Damien Sandow: We saw Heath Slater and Justin Gabriel in last year's Smackdown match. So booking Sandow here wouldn't be much of a stretch.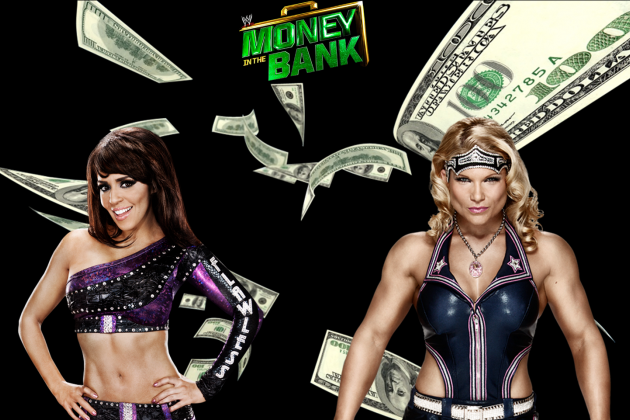 Wait, stick with me here...
Whether you like it or not, there has to be a Divas match.
I guess this would be it given that Layla and Beth are the only two doing anything right now.
But to throw a bit of a wrench into things, perhaps we book Kharma to make her return here and bring about some havoc in a shallow Divas division.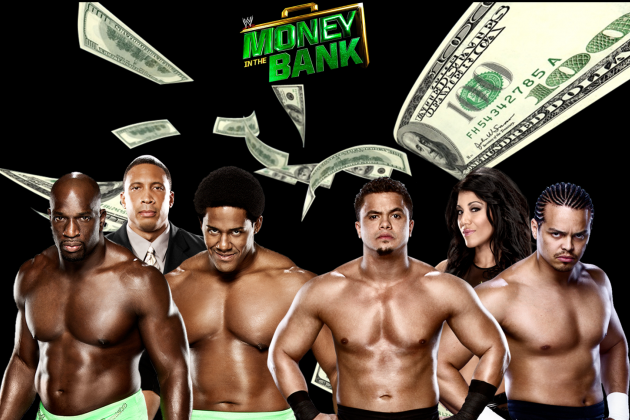 It seems as if the WWE is really putting a lot into their tag teams as of late. And if they want to keep the push of a revived division going, they should book a tag match at Money in the Bank.
This would show the fans, or WWE Universe, that the company is devoted and determined to get this type action back into the programs.
If so, I'd have the Primetime Players matching up against the next healthiest tag team, Primo and Epico.
Conventional wisdom would have the Primetime Players cashing in their No. 1 contender rights against the current tag champions, R-Truth and Kofi Kingston. But with Truth out with a broken foot, it seems unlikely he'll be back in time.
At first glance, this match may have Smackdown written all over it. The tag division, however, is on the rise and does deserve a spot in a pay-per-view event.
I would have the Primetime Player confidently place their No. 1 contender shot on the line against Primo and Epico, giving this match some sort of worth.
This would be a prime opportunity for these four men to show off their skill set and give the tag team division a much-needed boost.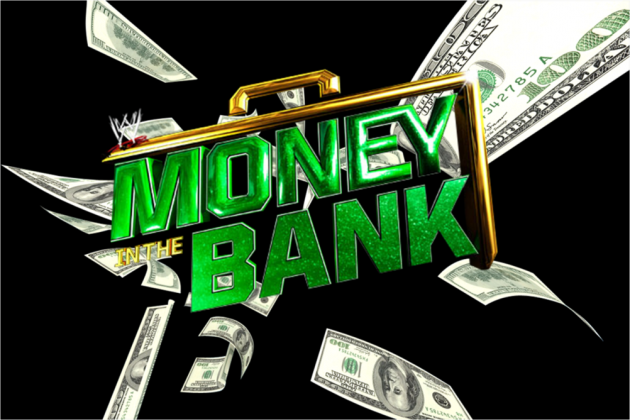 *Matches in order
1. World Heavyweight Championship Money in the Bank Ladder Match: Alberto Del Rio vs. Cody Rhodes vs. Christian vs. Dolph Ziggler vs. Jack Swagger vs. Hunico vs. Drew McIntyre vs. Damien Sandow
2. Primetime Players vs. Primo and Epico
3. Divas Championship: Layla (c) vs. Beth Phoenix
4. WWE Championship Money in the Bank Ladder Match: John Cena vs. Big Show vs. Kane vs. Wade Barrett vs. Kofi Kingston vs. The Miz vs. Sin Cara vs. Santino Marella
5. World Heavyweight Championship: Sheamus (c) vs. Chris Jericho
6. WWE Championship: CM Punk (c) vs. Daniel Bryan (A.J. as Special Guest Referee)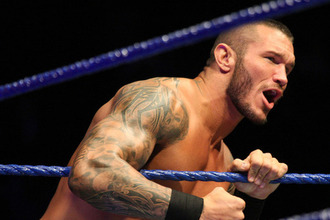 Randy Orton: Orton's scheduled return date is July 30. This pay-per-view takes place on July 15.
R-Truth: As stated, his broken foot should keep him out.
Mark Henry: Speaking of injuries, does anyone know when Sexual Chocolate is returning?
Brodus Clay: Eh. Pre-show?
Ryback: I'm sure they'll be yet another 2-on-1 squash. Is two really greater than one?
Albert. I mean A-Train. I mean Lord Tensai. I mean Tensai: Undergoing repackaging.
Zack Ryder: He could be a late add for one of the ladder matches.
Agree with the card? Disagree? Have a different one in mind?
If so, please feel free to leave your two cents in the comment section below.
Thanks for reading!