NFC North Mailbag: Letters from the Frozen North—May 18th
May 18, 2012

Only a couple of questions today, but before we get to them, I wanted to remind you guys (again) that there is a new Facebook page for the NFC North blog here at B/R. So head by and friend us to keep up with all that's going on, plus articles by other writers and hopefully down the road, some contests and stuff.
On to the questions!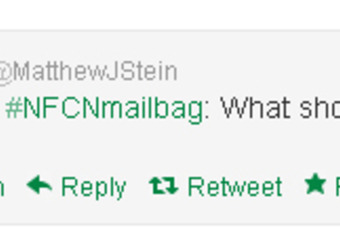 Driver is a bit of a sticky situation. We've seen vets beloved by a fanbase get treated badly such as Ladainian Tomlinson and the Chargers, or more directly GM AJ Smith aka The Lord of No Rings. We've also seen some guys get treated well.
You want to respect them and what they've done for you but you can't keep them around for giggles. You need every roster spot.
I think the Packers need to think long and hard about what they believe Driver brings to the table, and based on that, what they are willing to pay him, if anything. They need, more than anything else, to try and handle it with class—which, it being the Packers, isn't much of a concern.
Ultimately I think his time is done and unless they feel they don't need the roster spot, it might be time for him to move on.
I don't think he'll offer a ton this year, with Jermichael Finley healthy, Jordy Nelson playing well and Cobbs and Jones behind him. His presence may be steadying and that's worth something but ultimately I think he is finally out of gas.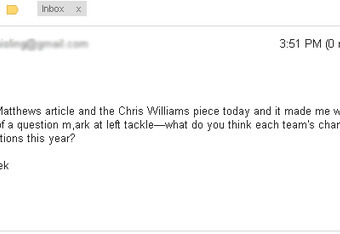 Good to hear from you again Malcolm. I think it is interesting that all four teams have some questions about their tackles.
The Vikings have the best option at their left tackle spot, though as Matt Kalil is a rookie there is always risk. Kalil is an elite player though, and while he may have some rough beats against some of the elite players in the NFC North defensive units, he'll be fine long term.
So, I think the Vikings have their answer on the roster, he just needs a little time to acclimate.
I happen to really like Riley Reiff. I believe that he is the answer to their left tackle prayers. He'll struggle more than Kalil, but the talent behind him is better so the Lions can compensate.
It will take a little more, but he'll get there.
The Packers would like Derek Sherrod to come back from his broken leg and step into tackle—he was doing well before he got hurt. Until then, Marshall Newhouse is a steady tackle, though not elite by any stretch.
I believe that by mid-season, Sherrod will be in his left tackle spot full time—at worst, he will be ready by the end of the season. I'd have the Packers higher up if we'd had a better look at Sherrod last year.
Not surprisingly, the Bears are dead last here, by a mile. J'Marcus Webb isn't the answer right now, though I have softened in my criticism of him. He is, after all, a seventh rounder who wasn't going to be a left tackle to begin with so his learning curve will be steep.
He wasn't good last year though.
Neither was Chris Williams, even at guard. If you can't hack it at guard, you won't survive at right tackle, let alone left. The potential move to him from Webb is a lateral move (as I said earlier today) not an upgrade.
Could Gabe Carimi come off the injured reserve he found himself on last year and step in? It might be a lot to ask, but at this point if he's healthy, he's their best option. He won't be worse than Webb or Williams and he looked good and was improving before he got hurt.
He's still an iffy long term answer but he's a better one than the others.
Well, like I said, short column this week. You can always email me at agarda@bleacherreport.com with questions throughout the week, hit me up on Twitter or post on the new facebook page.
Have a great weekend!