IMPACT 5/17: Planning for Bobby Roode's 'Celebration of Domination'
May 18, 2012

Sacrifice has come and gone. Some say it's the best TNA pay-per-view of the year thus far, so if you're debating whether or not to check it out, keep that in mind.
At Sacrifice, we've seen plenty of things go down. Bobby Roode was retained, A Double beat a bully, new champions were crowned and much more. On this episode of IMPACT, we dealt with fallout from the event. Here's what went down on IMPACT:
Party Planning
World Heavyweight Champion Bobby Roode started off the show. 
Roode reminded everyone that, in two short weeks, he'll become the longest reigning TNA Heavyweight Champion in history! He wants to celebrate with a massive party. Like, "Ric Flair not sleeping since he was 20" kind of party. He'll call it the "Celebration of Domination"!
Roode gives Hogan an entire list of demands for the party. The IMPACT GM rips up the champ's list and breaks the news that next week is Open Fight Night! Hogan says Roode will put his title on the line next week on OFN. But against whom...?
Members of the IMPACT roster crowd the stage all wanting a shot. Hogan books RVD/Bully Ray, Anderson/Hardy, a 10-man battle royal and Angle/Joe for the night.
Pretty good segment. Hogan's mic skills didn't carry the segment, the champ did! Bobby Roode has just been great throughout his entire reign. Hogan continues to look good as GM though by booking those four matches.
Bully Ray vs. RVD
Pretty good match between the two. Bully won after hitting a nice cutter and advances in this hunt for Bobby Roode's World title.
Bully Ray's win here definitely washes away the fact that he lost to Austin Aries at Sacrifice. I'm not sure if RVD was truly injured from Sacrifice, or just selling the brutality of the match. Either way, I'm glad Bully won because RVD, injured or not, should not be going for the World title again.
Backstage, Bully Ray is pissed off, though. Who could he be mad at? He just got one step closer to the World title! Oh, Bully Ray says he's made at the Kardashians for their anti-bullying campaign? Before Bully really cuts into them, Joseph Parks arrives. Parks thinks that Abyss was trying to warn him about Bully Ray last week. Bully, once again, walks off on the lawyer billed from Chicago.
Get Ready for 'The King'
This little video aired afterward to prepare fans, pro wrestling or MMA, for Muhammad "King Mo" Lawal. I'm interested in King Mo and his double signing between Bellator and IMPACT.
Mo has already been added to the IMPACT roster and is said to join the company over the Summer. It'd be interesting to see if he trains in their developmental territory, OVW, or just makes the big leap into professional wrestling.
Knockouts Confrontation
Knockouts Champion Gail Kim is trying to engage Madison Rayne into a conversation but is unsuccessful. Gail asks Madison if it's about the guy she has a crush on (her husband should love this). Madison brushes it off, denies Gail and walks off.
Brooke Tessmacher and Velvet Sky approach Kim warning her that her title reign may be in jeopardy.
I liked both things that went on. This crush that Madison has seems to keep her away from Gail, which is good. Madison shouldn't be her lackey anymore, and whatever it takes to split them up is good. Also, I'd love to see either Velvet or Tessmacher take the belt off of Gail.
Battle Royal
AJ Styles, Austin Aries, Devon, Crimson, Gunner, Robbie E, Rob Terry, Garett Bischoff, Eric Young and ODB all battled to get one step closer to the World title.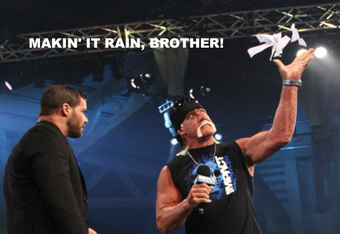 The battle royal went well. It started off a bit slow but, as you can bet, the action picked up quickly.
A highlight of the battle royal was AJ nearly kicking Bischoff's head clean from his shoulders. The thing that really made this battle royal really good was the confrontation between AJ Styles and Austin Aries. Taz even called it a dream match. The two went back and forth for a short while and I loved it!
AJ vs. Aries is definitely going to be a big match sometime. Destination X, perhaps?
AJ picked up the win, which was a bit unexpected. You know, with the whole thing between Daniels, Kazarian and Dixie Carter going on? Well, if Roode will become the longest reigning World Champion, AJ Styles should provide a good test for legitimacy, since he is the record-holder at the moment.
AJ Carter or Dixie Styles?
Right after the battle royal, AJ went into explaining his situation with Dixie Carter. Daniels and Kazarian came out, and by use of an iPad, had video proof of a sketchy relationship between employee and employer.
AJ walked out after a video of he and Dixie sharing a hotel room aired.
This whole angle has gotten much more interesting since the pictures were initially revealed. I'm curious about what'll happen next week on Open Fight Night. I don't really know what'll happen between these three.
Joe vs. Angle Revisited
Samoa Joe and Kurt Angle see each other backstage. Angle asks Joe if he remembered the headbutt that started it all. Angle slapped Joe, brawl broke out, several guys broke it up.
One thing I took away from this segment: The REAL Samoa Joe is back! It's been years since we've seen Joe in a prominent position on IMPACT and it's great to see him. Joe looks to rejoin the chase for the World title and I couldn't be happier about that.
Jeff Hardy vs. Mr. Anderson
Hardy and Anderson worked an even, back and forth match. Neither guy really had the upper hand in this match and it ended similarly to their Sacrifice match.
This time, though, Anderson was on the losing end. Hardy got Anderson in a crucifix pin and it was a really, really close pin. It looked as if Anderson kicked out, but Hardy moved on.
Good match. These two clearly have some good chemistry with each other.
Knockouts Championship: Velvet Sky vs. Gail Kim vs. Brooke Tessmacher
This was a pretty good three-way between the Knockouts. Gail's veteran instinct is what helped her in the long run. 
Gail retaining was expected because she's so close to becoming the longest reigning Knockouts Champion. Also, it was just an episode of IMPACT. Slammiversary, where a title change would be much more fitting, is just weeks away.
I could imagine a rematch between these three at Slammiversary.
Samoa Joe vs. Kurt Angle
I'm kind of sad that Samoa Joe lost, because we've seen Angle in the title hunt numerous times and it's been years since Joe has had that chance.
Either way, though, Samoa Joe or Kurt Angle would provide a great challenge to Bobby Roode's World title. 
This match was good and it was great seeing TNA revisit one of their greatest feuds this close to their 10-year anniversary. Here's to hoping Joe gets to main event more often, right?
I find it interesting that AJ Styles and now, Kurt Angle, both fought off Daniels and Kazarian at Sacrifice and have qualified for the number one contender four-way match next week.
Bobby Roode, who was on commentary, approaches the ring but stops. Jeff Hardy comes from the crowd, Angle is in the ring, Bully Ray comes from somewhere around the stage and AJ Styles comes down the ramp. Bobby Roode, being surrounded by potential challengers, closes the show.
Closing Thoughts
Whoever wins next week (Bully, Hardy, AJ, or Angle) should provide a great challenge.
There's Bully Ray, a top heel in wrestling right now. Then there's Jeff Hardy, a top face within TNA. Then there's AJ Styles, "Mr. TNA" and the record holder for longest reigning TNA World Champion. There's also Kurt Angle, Olympic Gold Medalist and multi-time World Champion.
Open Fight Night and Gut Check is next week. The build towards the 10-year anniversary, Slammiversary X, continues next week!