2012 NBA Draft: Toronto Raptors' Updated Mock Draft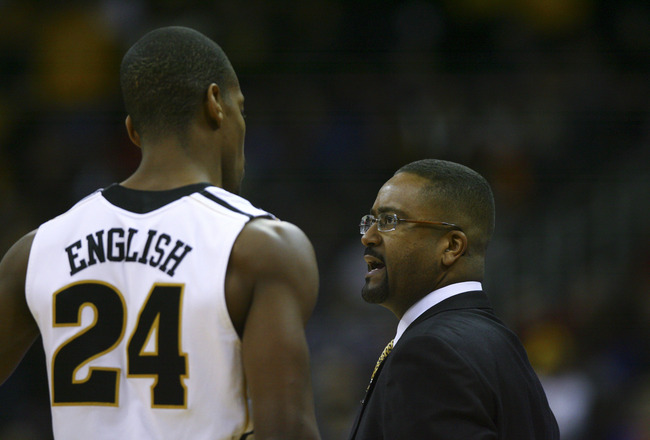 Ed Zurga/Getty Images
The Toronto Raptors regular season is done and over with, thus leaving fans with yet another offseason of theories of what could have been. While I'm admittedly one to get caught up in nostalgia, I'd much rather prove my abilities as one who can see the future.
Or just one with great hope and anticipation.
Enjoy the latest edition of the Toronto Raptors' 2012 NBA Mock Draft.
First Round, Pick 8: Terrence Jones, Kentucky Wildcats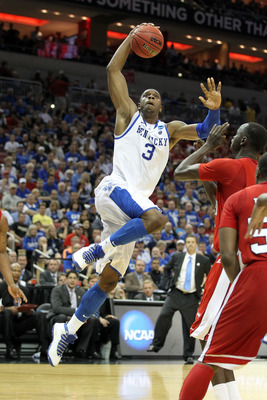 Andy Lyons/Getty Images
Player Traits: Forward—20—6'8"—244 pounds—7'3" wingspan
Pros:
Handles the ball and passes like a guard. Can score from the perimeter, 15-20 feet and the low-post. Very good rebounder. Underrated shot-blocker. Quick hands and massive wingspan. One of the better defensive prospects in this draft class. Well-rounded offensive game.
Cons:
Questionable shot selection. Poor body language outweighs leadership skills. Can be too passive.
Why It Works:
This pick will be a major turning point of the 2012 NBA Draft. The Raptors could select one of three players here, all leading to a complete alteration in the first round plans of the teams directly after them. The draft-shaking selection will just so happen to be Terrence Jones of the Kentucky Wildcats.
The benefits of this pick are limitless.
Jones is an excellent ball-handler, adding security in the instance of another Jerryd Bayless injury. He's also a solid shooter with three-point range, helping to spread the floor in a way Toronto failed to in 2012. Add in his massive wingspan, well above-average strength and versatility as a scorer and you've got a perfect prospect.
And then you talk about his ability to defend the 3 and 4, making him a dream player for defensive-minded head coach Dwayne Casey.
Season Averages: 24.83 PER—12.3 PPG—7.2 RPG—1.3 APG—1.8 BPG—1.3 SPG
Second Round, Pick 37: Tyshawn Taylor, Kansas Jayhawks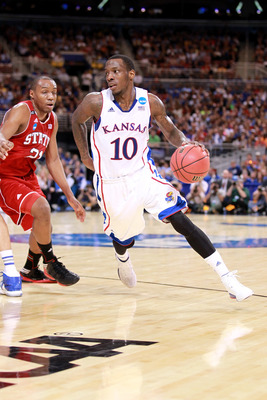 Andy Lyons/Getty Images
Player Traits: Point Guard—22—6'3"—185 pounds
Pros:
Excellent perimeter defender. Blazing speed. Very good athlete. Finishes well around and above the rim. Can play the undersized 2. Intelligent player.
Cons:
Struggles with his jump shot. Disciplinary issues. Can be reckless with the ball.
Why It Works:
The Toronto Raptors are in need of depth at the point, with Jose Calderon aging and Jerryd Bayless constantly sidelined by injuries. In drafting Tyshawn Taylor, the Raptors get just that and more.
Taylor is an excellent perimeter defender, something head coach Dwayne Casey would find invaluable. He's also a burner in transition, finishes well around the rim and can score in traffic. He's also versatile enough to play as an undersized 2, mainly due to his high basketball IQ and athletic ability.
Season Averages: 20.73 PER—16.6 PPG—4.8 APG—2.3 RPG—1.3 SPG
Second Round, Pick 56 (via Pacers): Kim English, Missouri Tigers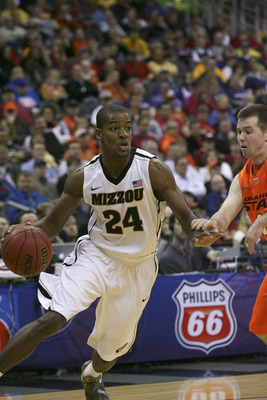 Ed Zurga/Getty Images
Player Traits: Shooting Guard—23—6'6"—200 pounds
Pros:
Lights out jump shooter. Can score from anywhere on the floor. Major improvements across the board from junior to senior season. Respected leader on the floor and in the locker room.
Cons:
Struggles to create own shot. Must add muscle. Could improve as a perimeter defender. Struggled until senior season.
Why It Works:
Arguably the biggest need for the Toronto Raptors is the presence of a three-point shooters. Toronto is shifting to a front-court heavy attack in which Andrea Bargnani, who is capable of knocking a three down, and Jonas Valanciunas are at the heart of their gameplan. While Jose Calderon can knock one or two down, there's a reason Toronto has ranked towards the bottom of the league in three-point shooting over the past two seasons.
In adding Kim English, the Raptors solve that problem. English shot a ridiculous 46 percent from distance in his senior season, also emerging as a locker room leader for one of the nation's best teams. While he must add to his game, his ability cannot be overlooked. English is a game-changer.
Season Averages: 21.33 PER—14.5 PPG—4.2 RPG—1.6 APG—1.3 SPG—45.9% 3PT
Keep Reading

Toronto Raptors: Like this team?