Wes Welker: Patriots' Frustration with WR Foreshadows Likely Exit After 2012
May 18, 2012

Jim Rogash/Getty Images
The New England Patriots have absolutely no problem playing hard ball with their biggest stars. They also have no problem saying goodbye to them when the time comes.
Wes Welker is well aware of this, and it is the No. 1 reason why he finally signed his franchise tender. But he didn't do it quietly, and the Pats aren't too happy about it.
Shalise Manza Young of The Boston Globe writes:
According to a team source, Welker's decision to go public in recent weeks about negotiations has not gone over well with the Patriots; two weeks ago, when he made appearances on various ESPN programs, he made reference to holding out at least through full-team minicamp next month. His words have only increased the chances that 2012 will be his final season with the team.
The Patriots offered the star receiver a two-year, $16 million deal, but Welker wants a long-term contract. At 31 years old, coming off a massive drop in the Super Bowl and being only two years removed from a bad ACL injury, Welker has only his supremely impressive production to bargain with—especially considering the public stance he's taken against his club.
New England's hesitancy to offer him a bigger, longer deal stems from several things. Obviously, his age and durability are a concern. His disrespectful nature is bothering them, too, but this is also an organization that preaches team over self.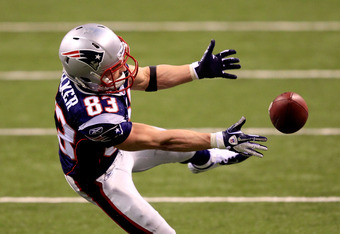 Chris Trotman/Getty Images
When the Patriots won their three Super Bowls in the 2000s, they did so with Tom Brady's timely passing, a staunch defense and a lack of superstar receivers. Since that time, they've been to the Super Bowl with both Randy Moss and Wes Welker and lost both games.
There is no link between a star receiver and the Pats' demise, but it does give them a solid argument as to why they don't need a star receiver to win. By their thinking, they've won with much less before.
Now, Welker is set to be paid $9.515 million for the 2012 season, assuming the two sides don't come to an agreement before the July 15 deadline. If that is the case, this will more than likely be Welker's final season in New England.
The Patriots have a veteran-heavy receiving unit (with two young tight ends), and sooner than later, they'll have to start adding youthful players at the position. Welker is on the wrong side of 30 years old and will cost too much money for anything beyond two years.
Does he deserve to be paid big money? Absolutely, but he's playing for one of the few teams that won't back down to demands or any one player in particular, either (save, perhaps, Tom Brady).
Barring a surprise turn of events from one or both sides, the Welker-Brady connection is likely playing its swan song this fall.
Going separate ways is one part of the business the Pats have become accustomed to dealing with, and it happens to be the reason they win so many games—no team is better at knowing when to say when.