Jonathan Papelbon: 5 Highlights of His Red Sox Career
Hunter Martin/Getty Images

The Boston Red Sox start a three-game series in Philadelphia tonight, meaning they'll be reunited with a former pitching hero for the second time in eight days.
Last Thursday it was Derek Lowe, who returned to Fenway as a member of the Cleveland Indians. Starting tonight, it's Jonathan Papelbon—the best closer in Red Sox history.
His departure via free agency this past offseason was painful, but it did nothing to diminish his vast accomplishments in Boston. Or the mark he left on fans with his quirky (often outlandish) personality.
So while the Red Sox hope they don't have to face their former closer at any point this weekend, fans can spend the series celebrating the memories that Papelbon left them with during six-and-a-half great seasons in Fenway.
There are a lot of them, as is expected for someone with 219 saves in his Red Sox career. And it goes beyond mere statistics.
Begin Slideshow

»
Nick Laham/Getty Images

It's hard to believe that Papelbon was destined to be anything but a fire-balling closer. But remember: Theo Epstein and company originally drafted him to be a bellwether of Boston's starting rotation.
And it was as a starting pitcher that Papelbon made his Red Sox debut.
Alas, he did not receive a decision for the 5.1 innings he threw against the Minnesota Twins that day. And he was nervous to make it to the Show, as evidenced by the five walks he issued.
But as a fan, you had the sense that you were watching the arrival of a special pitcher. The late life of his high-90s fastball often overwhelmed the Twins (seven strikeouts). And the intensity that he showed each time he stared in to get his catchers' signs was palpable.
Papelbon never became a mainstay of the starting rotation like Epstein had envisioned, but his physical and mental tools assured that he was in the majors to stay.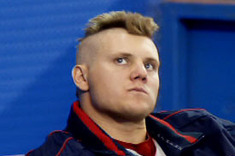 Credit: redsox.com
What started as bet with teammate Kevin Youkilis came to shape Papelbon's closer persona.
In April 2006, Papelbon changed his hair to a Mohawk style—after Charlie Sheen's character Ricky Vaughn from Major League—due to a wager with Youkilis in which they bet whether Papelbon could start the season with 10 scoreless innings.
Papelbon won the bet—but went with the Mohawk anyway.
From that point on, Papelbon's tenure in Boston took on a life-imitating-art quality. There was the blazing fastball and the devil-may-care personality. Even his use of "Wild Thing" as an entrance song at Fenway (although he opted for the original Troggs version rather than Joan Jett's).
It didn't matter that Papelbon's image wasn't original material. He became a Boston cult figure for whom every save opportunity was an experience—both for him and the raucous Fenway crowds.
What mattered was that he was a big part of the Red Sox as they were, to quote Sheen, "Duh…winning."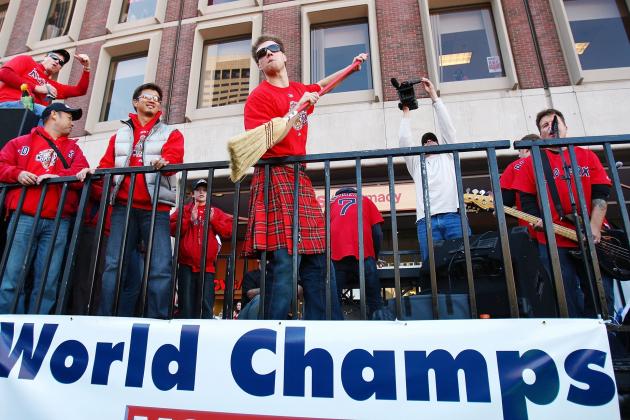 Elsa/Getty Images

Of course, Papelbon did have a song that he made his own.
Who knew that "I'm Shipping Up to Boston" by the Dropkick Murphys could make folks think of anything more than the memorable opening scene of The Departed? (I likely speak on behalf of many when I say that my introduction to the song was that movie.)
Now, more than five years later, whenever I hear those opening cello notes, I think of Fenway coming alive in anticipation of Papelbon's jog to the mound from the right field bullpen. Or of Papelbon celebrating the Red Sox's comeback win in the '07 ALCS with a jig to be remembered (a dance he reprised during Boston's World Series victory parade).
It has been well-documented that Papelbon and Dropkick Murphys lead singer Ken Casey agreed that it was for the best if Papelbon stopped using the song now that he's the Phillies' closer. Still, you'd be hard-pressed to find someone who thinks of something (or someone) other than Papelbon whenever that song comes on.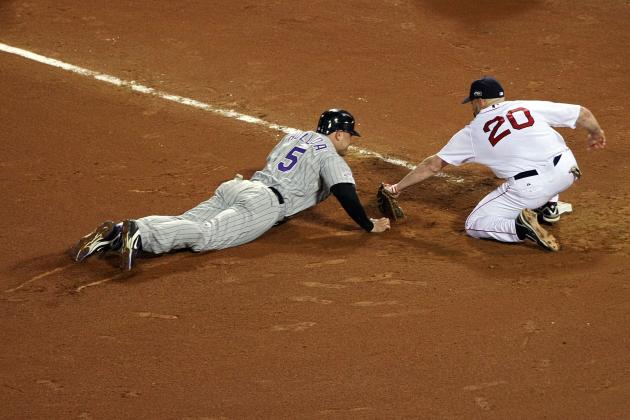 Jed Jacobsohn/Getty Images

Papelbon had plenty of memorable pitches during his tenure in Boston. Yet one of his most clutch moments in a Red Sox uniform was not a pitch he threw.
In Game 2 of the 2007 World Series, Paps had lost the Rockies' Matt Holliday on an 0–2 count in the top of the eighth inning of a 2-1 game. Before throwing another pitch, Papelbon caught Holliday leading too far off first base and picked him off—the first pickoff of his career.
Credit must be given to then-bench coach Brad Mills (now the Astros' manager) and Boston's team of scouts—led by Allard Baird—for anticipating that Holliday would try to steal on the first pitch. But all the scouting in the world means nothing if the players don't execute properly.
Boston was heavily favored in the '07 World Series, and Papelbon's clutch pickoff may have snuffed out any last hope the Rockies had of pulling off an upset.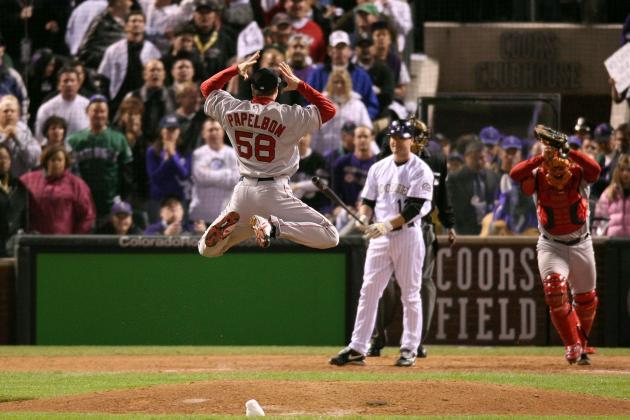 Stephen Dunn/Getty Images

"Game over. Series over. And the Red Sox are world champs again."
That's how Joe Buck signed off after Papelbon blew a rising, 95-mile-per-hour fastball by Colorado's Seth Smith to complete Boston's World Series sweep of the Rockies.
That strikeout completed a dominant postseason run for Papelbon during which he allowed just nine baserunners (five hits and four walks) and no runs in 10.2 innings pitched.
Always one to show his emotions after a big save, Papelbon soared above the Coors Field pitcher's mound before embracing Jason Varitek in a rib-crushing bear hug.
At that moment, all was perfect in Red Sox Nation. It wasn't the cathartic, once-in-a-generation victory that occurred in 2004. Rather, it was that moment when Boston fans knew their team had won because they were the best team in baseball—not because of cosmic forces or anything like that.
Thanks for the memories, Paps. It's great to see you again.